Geno Smith and the New York Giants fell in defeat in Week 1 to the Pittsburgh Steelers by the final score of 20-12 at MetLife Stadium. 
New York Giants 12 (0-1)
Pittsburgh Steelers 20 (1-0)
NFL, Final, Box Score
MetLife Stadium, East Rutherford, NJ
It may only be the preseason, but New York Giants football is back. Let's take a look at some of the takeaways from the Giants 20-12 loss to the Pittsburgh Steelers.
The offensive line is still a work in progress
Anyone that saw the game noticed that the Giants offensive line is not yet a finished product.
On a third and one in the red zone, Giants faithful witnessed what has come to be an all too common occurrence. The ball was handed off to tailback Paul Perkins and he was unable to get anywhere. The offensive line did not gain any ground and Perkins was left with nowhere to go, failing to get a first down. However, on the very next play, head coach Ben McAdoo went for it on fourth down and Perkins was able to fall forward for a first down.
While there were some bad plays for the offensive line, it was also clear that there were some nice holes opened up for the running backs.
The offensive line did not fare that much better in pass protection, but it was noticeable that tackles Ereck Flowers and Bobby Hart performed better than they had in their dreadful 2016 seasons.
The New York Giants will only go as far as the offensive line allows them. Keeping Eli Manning upright is a major key to a successful season.
Jay Bromley
looks like he might finally be showing his worth as a former third round pick
As the starting defensive tackle next to Damon "Snacks" Harrison, Bromley began to show flashes of why Jerry Reese decided to spend a third round pick on him. It appears as though the position is Bromley's to lose.
Check out this tweet by Pro Football Focus:
1st HALF UPDATE: Landon Collins might be even better this year pic.twitter.com/muxCfoc4vX

— Pro Football Focus (@PFF) August 12, 2017
Geno Smith
appears to have a lead over
Josh Johnson
in the battle for backup quarterback
Geno Smith was having a pretty solid night until he threw an awful interception, a boneheaded play where he threw the ball into double coverage while the receiver and himself had a miscommunication.
Even if the receiver, Travis Rudolph, were to run the route that Smith expected him to run, it appeared as though the ball was destined to be intercepted anyway. Other than that blemish, Geno was able to control the offense in a way that Josh Johnson was simply not able to.
Johnson generally struggled to move the ball and was unimpressive. Although he did have a nice scramble, which is not something that one usually sees from a New York Giants quarterback.
One thing that really stood out was that when the pocket started to collapse, Johnson looked to escape the pressure by putting his head down and running often times. Geno on the other hand always had his eyes downfield.
Even though Johnson started the game, it appears as though Geno has a lead in this battle.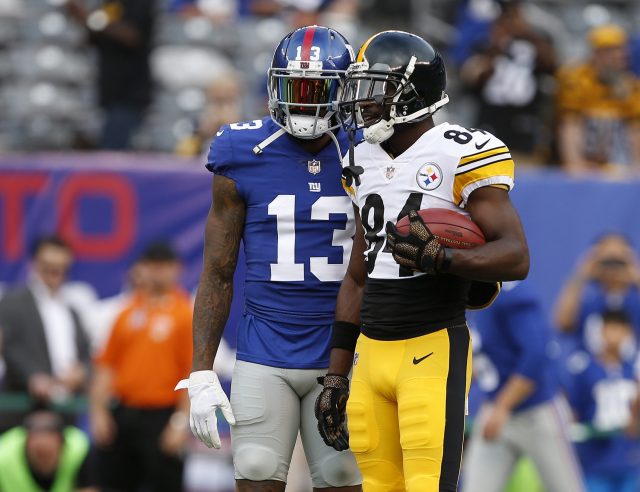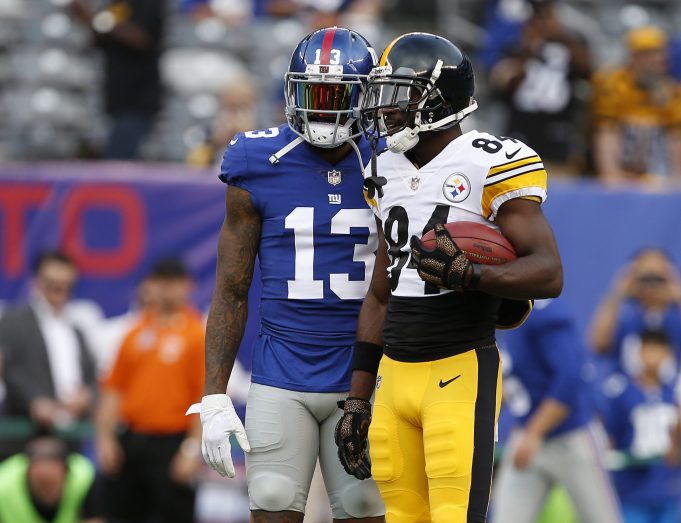 The offense is not going to be as basic as it was in 2016
Even though some main members of the offense were absent it was apparent from the get go that the offense in 2017 will be a far cry from 2016.
In the past season, around 90 percent of the offense was run in the 11 personnel. In the 11 personnel, there are three wide receivers, one running back and one tight end.
Throughout the game, it quickly became clear that the offense was not in the 11 personnel as often as 2016. Which should pay dividends to the offense and hopefully kickstart it after a brutal showing the past season.
Aldrick Rosas
may be a rookie but he has a heck of a leg
What may have been a negative for Geno Smith and the offensive line, when he got sacked on third down, may help out Rosas.
The rookie kicker from Southern Oregon was given the opportunity to take a shot at a 52-yard field goal. He stepped up and nailed the shot, with the kick going through the middle of the uprights and looking like it would have been good from deeper as well.
Mike Nugent, not wanting to be left behind, later would step up and nail a 45-yard field goal.
But for now, I think that it is safe to say that it is Rosas's job to lose. One could say that Rosas has a leg up on the competition.
The New York Giants might have found a solution at middle linebacker
Last year, B.J. Goodson was a fourth round selection and barely saw the field on defense. However, he did play a lot of special teams.
This year Goodson is slated to be the starting middle linebacker for the New York Giants.
In his first start of his young career, he showed both the good and the bad. He played fast and physical defense. However, there were instances where he allowed himself to play too fast and get swept up in the play instead of waiting for it to develop. But it was overall an encouraging beginning for the for the former Clemson Tiger.
This group of tight ends is better than last year's bunch
Last year Will Tye was the Giants top tight end, he finished the year with 48 catches for 395 yards. This year he is fighting for a roster spot. That is just a byproduct of the depth that the Giants now have at tight end.
In the offseason, Reese went out and picked up Rhett Ellison, a tight end that specializes in blocking. In addition, Evan Engram was drafted in the first round to give the offense a much need additional dimension.
Ellison was supposed to be a one trick pony whose specialty is blocking. However, against the Steelers, he surprised by being an effective receiver. He could be key to the Giants season.
Eli is going to have some fun with Evan Engram. Even though the rookie only had one catch his explosiveness was on full display. He is basically a wide receiver playing tight end, a matchup nightmare for any defense.
Somewhat of a forgotten man in a now suddenly crowded group of tight ends, Jerell Adams also looked pretty good out there today. He appeared to be more confident and quicker than his rookie season. Although it appears that his opportunities will be limited this season.