The takeaways from the New York Jets preseason Week 1 game against the Tennessee Titans were easy to spot, Christian Hackenberg included.
New York Jets 7 (1-0)
Tennessee Titans 3 (0-1)
NFL, Preseason Week 1, Box Score
MetLife Stadium, East Rutherford, NJ
If you watched the entire game and still believe the 2017 New York Jets are going 0-16, you're among the group who just doesn't understand football. If you witnessed the entire game against the Tennesee Titans at MetLife Stadium on Saturday night and still hold the thought that this personnel can rival the worst of the last decade, you don't have a clue.
Nobody at Elite Sports NY is proclaiming these Jets to be a competitive football team in 2017. There's no chance of that. But these guys are certainly not tank-worthy.
This roster is much improved from last season's 5-11 squad who faced a nightmarish first seven weeks of the season and it's blatantly obvious.
Sure, what we watched unfold was just preseason. Vanilla defenses run amuck and offenses rarely look to push the limits, but that doesn't mean actual "talent" didn't correctly showcase itself.
Gone are the big name veterans who offered very little and in are young, hungry kids who can fly around the field — in true football style.
Christian Hackenberg Handled Himself Well
Young Christian Hackenberg jumped right into action with the first team when the second offensive series was ready to go. It helped that starter Josh McCown engineered a masterful 8-play, 78-yard drive that finished with a 4-yard touchdown reception by Charone Peake.
First TD of 2017. #TENvsNYJ pic.twitter.com/Vl1s7N43Bi

— New York Jets (@nyjets) August 12, 2017
Hack experienced a good chunk of action with both the first and second team, finishing 18-of-25 for 127 yards.
He was sensational, but constantly took what the defense provided. The check-downs were evident and his lack of forcing the football downfield pretty sound.
By no means did he walk away with five gold stars, but he handled himself very well. Bryce Petty entered the game with the third quarter winding down and played in a very pedestrian sort of fashion.
.@neversleepon13's stiff-arm game is vicious ?#TENvsNYJ pic.twitter.com/Y1GkyJLQC5

— New York Jets (@nyjets) August 13, 2017
Jamal Adams and Marcus Maye are the Real Deal
No longer can opposing quarterbacks straight-up abuse this Jets defense. These two rookies, Jamal Adams and Marcus Maye, are, in fact, the real deal.
They didn't show up in the box score over the course of a quarter and change they played, but while they were playing with the first team, it was evident that each's athleticism and smarts took a ton of the field away from QB Marcus Mariota.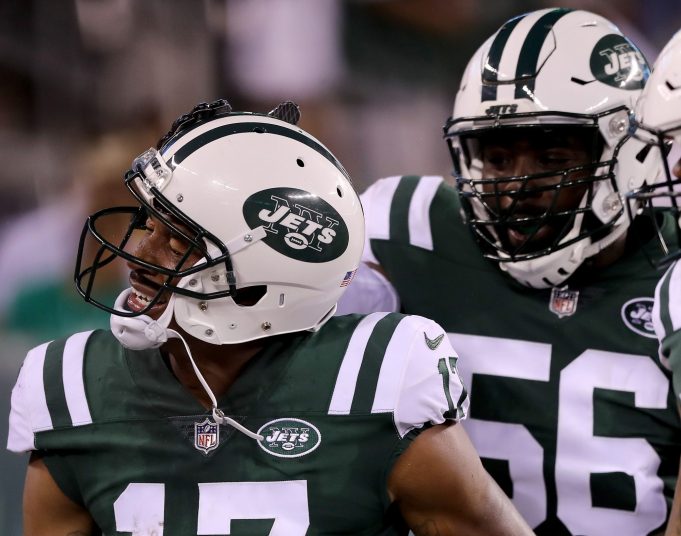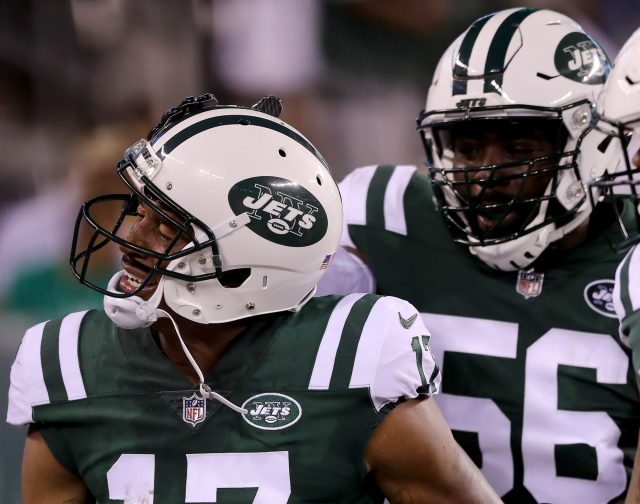 Part of the problem with the offseason narrative that the Jets were thinking "tanking" with an eye on the 2018 NFL Draft came when these so-called football experts took a glance at the big names that were shed.
One of these names was David Harris.
As a longtime great Jet, the reality of the fact is Harris was more a name than a producer.
Without him on the field, young Darron Lee and Demario Davis were in the middle of a young, athletic, extremely fast defense. No longer can the Tom Bradys of the world take advantage of the slow-footed Harris and abuse the defense with matchups via the tight end or running back.
Bruce Carter, Julian Stanford, Leonard Williams, Josh Martin, Devon Still, Anthony Johnson, Patrick Gamble and Jordan Jenkins all picked up sacks, eight in total. In fact, the pass rush looked tremendous from start to finish.
Look @DAWG59_MOM, one hand! #TENvsNYJ pic.twitter.com/2jEivp1XCr

— New York Jets (@nyjets) August 13, 2017
Safety Doug Middleton tallied New York's only interception, coming early in the fourth quarter:
.@ronald26lsu hauls in the first INT of 2017…

…with just one ?. #TENvsNYJ pic.twitter.com/UPPafxWZyQ

— New York Jets (@nyjets) August 13, 2017
The Titans finished with just 82 passing yards in total.
Not playing Sheldon Richardson out of Position Does Wonders
Finally, Todd Bowles has come to his senses and is rotating his big three interior defensive linemen along the interior instead of playing Sheldon Richardson horribly out of position at the outside linebacker. It's amazing what happens when the D actually has a true edge presence on both sides.
Whether it was Jenkins, Freddie Bishop anybody else, these guys did a great job on the edge.
Final Thoughts
An incredible 14 different receivers came away with a reception on Saturday night. Robby Anderson led the way with three catches for 71 yards, doing damage on the first drive with a 53-yard haul.
In case you forgot, @youngamazing9 is hard to cover. #TENvsNYJ pic.twitter.com/wsneXDyLys

— New York Jets (@nyjets) August 12, 2017
The running game was a non-factor on both sides (until the fourth quarter). The Jets went for just 51 yards on 27 attempts while the Titans went for 121 on 20. Not until Akeem Judd burst for a 40-yarder in the fourth did Tennessee's total look solid.
The Jets offensive line wasn't spectacular, but offered up a positive for those naysayers who don't believe in the five-man starting group.
What's most promising for the home team — aside from the first team-on-first team play — is the depth didn't display as overmatched. Right until the final whistle, the guys in green outplayed the guys in white. This is something that's extremely uncharacteristic of a "worst roster in league" franchise.
Even when the Titans had one final chance, the defense shut it down to preserve the 7-3 victory.
Next up for the Jets will be the Lions in Detroit next Saturday.