In the New York Rangers math lesson of the century, Oscar Lindberg and Antti Raanta are greater than Lias Andersson and Anthony DeAngelo.
I
n the rough and tumble world known as Rangerstown, there's a pesky math problem that's been haunting all for weeks during this summer of 2017.
Is Oscar Lindberg + Annti Raanta > Lias Andersson + Anthony DeAngelo?
Many stubborn (and very arrogant) New York Rangers fans failed to even want to ask themselves the all-important question. Once Jeff Gorton decided to protect Derek Stepan prior to the expansion draft, fans were totally on board with the move for one or two reasons.
They loved Stepan and didn't want to see him go.
They already figured Gorton had a Stepan deal in place with the Arizona Coyotes.
A few of us at Elite Sports NY spurned the move to protect Stepan when his hefty $6.5M no-trade clause contract still had four years remaining. We wanted to see the Las Vegas Golden Knights take the chance on No. 21 in hopes that he could be their No. 1 center, thus removing this brutal deal and allowing guys like Oscar Lindberg, Michael Grabner and the extremely valuable Antti Raanta stay in Manhattan.
Despite our thoughts, obviously, the Knights stole young Lindberg and the Rangers traded Stepan to the Coyotes for a first-round pick that turned into Lias Andersson and Anthony DeAngelo.
This brings us to the math problem at hand that's confused so many in Rangerstown: Is employing Lindberg and Raanta better than Andersson and DeAngelo — with an aging Henrik Lundqvist who's looking for a Stanley Cup as soon as possible to boot, as the final qualifier.
I believe the package of Lindberg and Raanta is greater.
If you fail to see the logic concerning how this problem was arrived at, then you just may fit into that annoying group of Rangers fans who simply wave those pom-poms despite the level of ineptitude showcased by a front office who's simply not gotten the job done.
If Stepan was left unprotected and Vegas stole him, both Lindberg and Raanta would still be in New York. Andersson and DeAngelo would not be, as the Coyotes trade would have never occurred. Obviously, if Stepan was left unprotected and Lindberg kept on the safe side, it's absolutely possible the Knights steal Grabner or Raanta. This is a notion that's never escaped us, but one that's still more profitable than losing Lindberg to the west.
Should that former scenario have gone down, if Grabs was taken, the Coyotes trade could have still commenced. If Raanta was stolen, the Rangers would be in fantastic shape with Stepan, Lindberg and Grabner all up front. New York possesses a little over $3M in cap space at the current moment. In order to have snagged Kevin Shattenkirk — even at the crazy hometown discount that we all witnessed — Stepan still needed to be cleared from the books.
Whether he was cleared via Vegas through expansion draft or a trade to the desert, it still would have worked out in terms of obtaining Shatty's services.
Now, this club is desperate at center which is, arguably, the most important position in the game.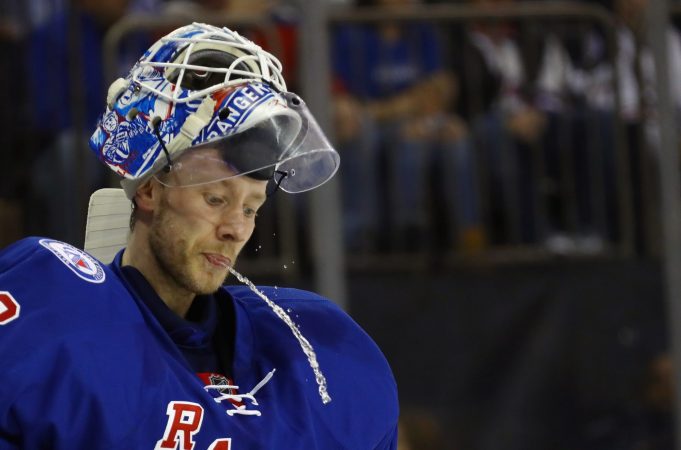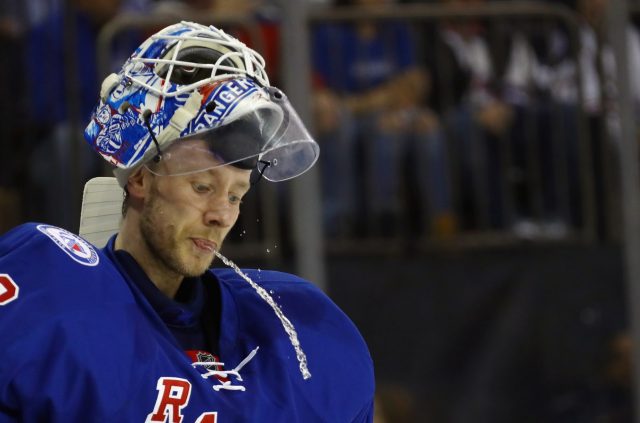 It's the Rangers luck to possess a hall of fame goalie during an NHL era that doesn't reward fantastic goalie play. Look around at the latest cup winners. Does it help to employ a terrific goalie? Of course. Any hockey idiot understands this. But finding a more than capable guy under a reasonable cap hit is the ticket these days. When a team is forced to pay a superstar goalie … say $8.5M a season, fewer mistakes can be covered up (i.e. Dan Girardi, Marc Staal, Rick Nash).
After Mika Zibanejad and Kevin Hayes, there is literally nothing up the middle. I have no earthly idea how this lineup's going to navigate through 82 games without moving J.T. Miller to the middle. But that's another story for a different day.
When comparing Stepan to Lindberg, everybody raves about the former's point level. They look at 55 points and start spouting off leader numbers for the last several years. In reality, that's not the real issue. Points matter very little in determining true value.
Lindberg, with his play and salary is head and shoulders more valuable than Stepan, who's salary can feed a small village while he tries his best to portray a No. 1 center. Lindberg as a No. 3 center (possibly No. 2) is much more valuable than Stepan as a No. 1. That was the issue at the center of Gorton's universe.
A No. 1 center putting up 50 points next to the team's most talented wingers is not a positive. In fact, the point total is low enough in that spot to represent a serious negative.
If New York played its cards right, they would have protected Lindberg and left Stepan dangling in the draft. Not only would the club still be strong up the middle with Shatty along the blueline (assuming the Stepan deal with Arizona still happens), but Zibs, Hayes and Lindberg would still make for a dangerous three centers.
And don't think twice — losing Lindberg is a big deal.
The kid is just 25 with a two-way mentality to die for. Not only was he killing penalties and maintaining defensive responsibility with the best of them, he was actually scoring on the fourth line — with offensively-challenged guys like Tanner Glass playing as one of his wings. This kid — a pure center mind you (don't forget about that) — came back stronger than ever after hip surgery a season ago.
In 65 games played a season ago, he tallied eight goals and 12 assists for a total of 20 points. These are modest numbers, no doubt. During the Stanley Cup Playoffs, however, Lindberg stepped up like a brilliant pro compiling four points and a +3 in 12 games. Again, this offensive line is modest, but we speak of his brilliance in terms of his production on all areas on the ice. As the season went along and he finally took over an every game status on the bench, he grew stronger. He started to showcase offensive prowess like we've never witnessed prior.
No, folks. Third or fourth line centers usually cannot pull off some of the things Lindberg showed us a season ago. The kid has serious, untapped talent with the puck. And to place the phenomenal-tasting cherry on the top, he's only making $1.7M over the next two years.
When the status of Lindberg and Stepan are this close, there is no decision. Nine times out of 10, the guy making $6.5M with a full no-trade clause needs to be left unprotected.
That didn't happen.
The only thing that can save Gorton now is the production of Andersson and DeAngelo. So we really won't be able to evaluate this for good amount of time, and even though Andersson's prototype falls in the same category as a possible Jesper Fast (two-way grinder), he's still a top 10 pick.
No matter, though. Until he's finally relieved of his horrible contract after the 2020-21 NHL season, Henrik Lundqvist should be equipped with the more talented team "right now" as opposed to the "future." In no way should Hank hold the organization hostage, but when it's this close between both sides, the "now" team is the way to go.
Before you start going crazy about a theory of leaving one of the Rangers recent heroes unprotected, first understand the actual plan of attack.
The problem about that last notion always comes to form loud and clear: Rangers fans have a difficult time saying goodbye to anybody who's coined a "trademark moment." Thanks to Game 7 against the Washington Capitals in 2015, Stepan clearly picked up that moment.
As your teacher, if you screamed about the possibility of Stepan as a free bird during the expansion draft, you failed miserably. If you screamed about the Stepan trade, again, you failed (although not miserably) — as Shattenkirk would have gone elsewhere.
If you opened that mind of yours and understood that putting the pressure on the Knights while using Stepan as bait was a viable strategy, you absolutely passed with flying colors. Why? Well, because with that open mind you'd finally get to the New York Rangers math problem of the century …
Lindberg + Raanta > Andersson + DeAngelo.