Ladies and gentlemen welcome to the New York sports pom-pom waving rankings. We know New York Rangers fans are up there, but are they No. 1?
W
elcome to the New York sports pom-pom waving rankings, an area of the internet that'll surely have you confused right off the bat.
What exactly are the pom-pom waving rankings? Well, we'll explain it to you in the plainest of forms.
Here, at Elite Sports NY, we cover the 12 big teams for the most part while sprinkling in everything else New York sports:
New York Yankees
New York Mets
New York Giants
New York Jets
New York Knicks
Brooklyn Nets
New York Rangers
New York Islanders
New Jersey Devils
St. John's Basketball
New York City FC
New York Red Bulls
For his exercise, we'll exclude New York City FC, the New York Red Bulls and St. John's Basketball. I'm not a soccer guy, never have been and can't pretend to be one now. And as for the Johnnies, it's appropriate to exclude the collegiate fan base.
Walking around this great Earth as a sports fan, especially for the Mets or the Jets, is one hell of a thing. If you're a diehard, you can't explain to anybody what you're doing. Investing so much time, energy and unconditional emotion into an organization, despite its actions and awfulness, seems like a fruitless venture.
In fact, it is. WFAN's Joe Benigno, one of the most diehard fans you'll ever come across, understands the notion all too well when he utters his classic, "Oh, the pain."
And as a fan, a paying customer, nobody has the right to tell you how to cheer on your team. You have all of the power. You can do whatever you'd like.
But don't think for one second there aren't rules surrounding your fandom.
If you're a true diehard, yes, you're there rooting on your favorite colors of fabric every game. Some diehards don't understand reality at times. Some do. The casual fans rarely understand reality.
This is where the pom-pom waving term comes in to play.
The casual phony who doesn't get it will cheer, justify and rationalize almost every move his or her organization performs. That individual will bash those who bring up alternatives to the actual move and raise a brow on occasion.
Signs of a pom-pom waving fan:
Justification of every organization move, despite its stupidity.
Overreaction when a fan-favorite is dealt.
Showing up and believing a championship is near when it's not reality.
Hammering those who attempt to look at things objectively while tossing aside fandom for a moment.
The diehard, who does question and scrutinize every transaction and public relations affair, understands that if nobody were to challenge the authority in question, his or her organization can simply do whatever they want. They can literally get away with murder and walk free.
That's why the diehard is so great. He or she is there rooting like a mad person while also thinking as an individual, never allowing the franchise to do whatever it pleases simply because they have the power.
These are the non-pom-pom waving fans. The pom-pom waving fans don't understand reality. They rarely question authority and will allow the organization to pull the wool over their eyes at every turn.
In New York, the greatest sports city in the world, there are different levels to the pom-pom waving for our nine teams. Some are worse than others. Some are tough to call.
One is far and away the worst of the group.
Here is the New York Sports fandom pom-pom waving rankings:

9. New York Jets
Without a doubt, the least of the pom-pom wavers are the fans who root for the New York Jets. This is neither to destroy nor prop up this fan base.
The Jets fan base is a diehard group. It's a smaller group than its big brothers for obvious reasons. Founded nearly four decades later, this Long Island/Queens group of diehards are absolutely rabid when the team is good, but still get the job done when it's poor.
The reason why this group is the least of the pom-pom people is simple: they always expect the worst.
Success has been hard to come by and it's never easy being green. Fans are constantly always over the franchise for every move and never expect the best. But they'll always be there on Sunday.

8. New York Mets
Much like the Jets, fans of the New York Mets can't ever look on the sunny side.
The reason is pretty much simple: these people are usually both Jets and Mets fans.
Like the Jets, success is hard to come by at Citi Field … and Shea Stadium before it. Sure, the young pitching Sandy Alderson put together coupled with Yoenis Cespedes and Daniel Murphy led to a thrilling 2015 that saw everybody get on board in full force, but these fans never stop questioning the narrative.
How often do Mets fans whine about manager Terry Collins? How often to do they get on Alderson about a certain non-move?
Mets fans, for the most part, keep it real.

7. New Jersey Devils
While it's tough to completely gauge the New Jersey Devils fan base in this area, it's clear that they've been spoiled for the better part of the organization's existence.
Three Stanley Cups to go along with one of the greatest goaltenders in NHL history will do that.
Devils fans don't live in an alternative reality and do a great job supporting Newark's club.

6. New York Yankees
Surprisingly, you'd think the most successful organization in history would finish No. 1 in terms of pom-pom waving.
It's not the case at all.
Despite Joe Girardi's accolades, many New York Yankees fans want the guy laid out on the table to be tortured, William Wallace style.
Twenty-seven World Series championships just aren't enough for this group. They question everything. If Girardi were to put Aroldis Chapman in the game in the ninth-inning with a one-run lead and he blew the save, fans would be dialing into WFAN to question the obvious move in droves.
Questioning the baseball manager for either team has been a rite of passage over the New York airwaves for decades. It's uncanny.
While, of course, there are plenty of pom-pom waving Yankees fans, there are just as many diehards who live in the reality that'll question each tactic that comes from Brian Cashman and the suits above.
It's just baseball in New York. The Big Apple is a baseball town. It always has been. It always will be.

5. New York Knicks
It's not a coincidence that the New York Knicks fan base finishes at No. 5, right in the middle of these rankings. It's tough to place this group.
On one hand, the Knicks fan feels the pain of the Jets and Mets fan, with very little success to brag about. On the other hand, Madison Square Garden still sells out despite the awfulness James Dolan's squad stinks up the joint with.
Those who sell out the place even out the diehards. The Knicks fan base is completely split between pom-pom wavers and diehards who live in reality who'll question the moves of such an inept organization.

4. Brooklyn Nets
The Brooklyn Nets are, perhaps, the trickiest fan base to rank. They've also found success hard to come by and boast one of the smallest groups in the city.
For the most part, Nets fans are cool, calm and collected. There are diehards at the Barclays Center who completely get it. They know Kenny Atkinson and Sean Marks are doing the right thing and they won't question it until the final produce is finally unveiled … many, many years later.

3. New York Islanders
Hockey in New York boasts some of the most irrational sports fans in the world. For one, this isn't Canada. Most of the fans in the five boroughs know baseball extremely well. They know basketball as well.
Hockey, at times, escapes them. New York Islanders fans aren't exempt from this notion at times.
Granted, there are many intelligent Isles fans. The run in the early 1980s created a core following that'll last for a lifetime. And while many Isles fans fall into the same category as Jets and Mets fans, they often also fall into the same category as their biggest rivals. (More on this in a bit.)

2. New York Giants
The top two New York sports fan bases that are the most passionate, non-fair-weathered fans are unarguable: the New York Rangers and New York Giants.
This also means they are the most irrational.
Think of Odell Beckham Jr. It's completely obvious the kid has the chance to be the greatest wide receiver of all-time. He literally has everything. All he needs to do is be held accountable for his negative actions.
But still, Giants fans fail to recognize this. They make incredible excuses for the kid that'll do nothing but hurt him even more. Instead of holding him accountable and asking for greatness, they rationalize and say, "OBJ won't care anymore if he isn't emotional on the football field."
Wrong. Sorry.
The great ones are able to use his emotions and energy for the positive without hurting his own team with silly 15-yard penalties. The great ones still care about winning and performance while not acting like a petulant child in public.
Interestingly enough, many Giants fans still don't appreciate Eli Manning. But I believe this comes down to the group's spoiled nature. Once the two-decade awful football era passed, these fans have been treated to four Super Bowl titles. Not bad at all.

1. New York Rangers
Without a doubt, in unanimous fashion, New York Rangers fans are the worst pom-pom waving group in New York sports. (Full disclosure: I'm a diehard Rangers fan who watched Stephane Matteau "swoop in behind the net to intercept" when I was 12-years-old.)
You cannot dare question Henrik Lundqvist's greatness. If you do, you're a Nazi. You're a traitor. This is how the average Rangers fan thinks.
Never can you bring up the fact that Hank's $8.5 million annual salary hurts the team's success on the ice. If you do, you're literally the hockey equivalent of Hitler.
Again, maybe it's just the hockey thing in New York. We know our baseball, our basketball, and, for the most part, our football (including the great high school football-playing state of New Jersey). When it comes to hockey, so many of us are clueless.
The Rangers have navigated through a busy offseason thus far. Fan-favorite Derek Stepan was traded. Oscar Lindberg was stolen in the expansion draft. If anybody suggests that Stepan and his hefty salary should have been unprotected in the expansion draft, irrational pom-pom waving fans of the Blueshirts literally go nuts.
And what's worse is that those who question the moves, believe they are the expert of all experts. They feel as though they are the gods of New York hockey.
— Fitz (@FitzyGSN) June 21, 2017
So the Rangers are worse today than they were yesterday…..perfect. Hope all you idiots who bash Stepan realize how good he was

— Brandon Fitzpatrick (@FitzyGSN) June 23, 2017
It's almost as if the 2015 Game 7 overtime goal Stepan scored against the Caps provided him a free pass for the rest of his life. The same exact thing happened with Derick Brassard a summer ago. We all know how that one turned out (as Mika Zibanjedad is far more talented).
Earlier this week, ESNY's Tom Castro suggested leaving Stepan unprotected in the expansion draft might have been the better move. Rangers fans called the thought "reaction seeking."
Castro brought up the argument that employing Lindberg and Antti Raanta would be a better situation than the current reality of Lias Andersson and Anthony DeAngelo. This would have been the result of Stepan was left unprotected and Las Vegas snagged him. It's a reasonable argument. Yet some fans just can't grasp questioning their beloved organization: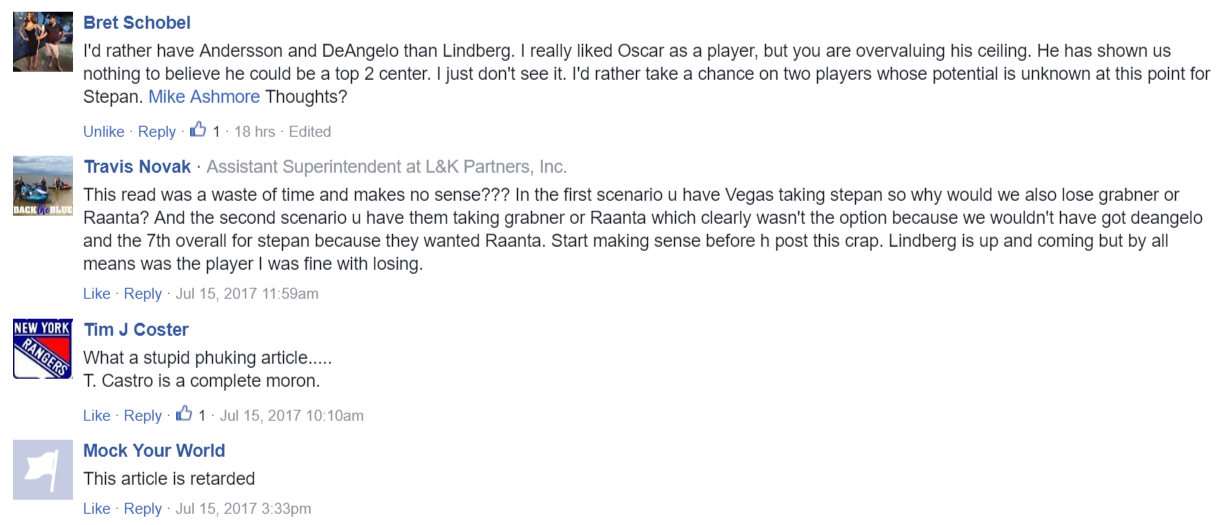 To disagree is fine. To call the premise garbage is pom-pom waving.
Two years ago, I suggested trading Lundqvist was the best move the organization could make at the time. The fan base went completely bananas.
You would think I just threatened to burn down MSG.
The positive side about the Rangers pom-pom waving nature is that they are, without a doubt, the most diehard group in the city. Despite minimal success, they are there, at the Garden, no matter what.
The downside is, they are also the most completely irrational fan base in the city.
What diehard, intelligent fans do so well that casual diehards can't do is separate fandom from objectivity. They are there in full body and spirit while looking completely ridiculous with how much emotional time is spent while still understanding the objective point of view.
The pom-pom waving crowd simply can't do this. They don't have the ability.