We now present to you the top 25 wide receivers in fantasy football for 2017. Did New York Giants' Odell Beckham Jr. make the top three?
W
ide receiver is the deepest position in fantasy football and the top 25 is full of elite players. If you have any of these players on your team, you are on your way to having a solid receiving core this year.
My advice for drafting wide receivers this year is grab as many as possible as early as possible.
The top 14 at the position can finish as the number one this year and that wouldn't surprise me. If you are doing a first-year keeper league or dynasty draft, grab one of the top 10. Wide receivers have longer NFL careers than running backs and once you reach the top 25 on my rankings, they will give you production in almost every week.
We are in the golden age of the wide receiver and this list of the top 25 will help you win many games this year. Good luck and let me know who I over ranked or under ranked going into the 2017 season.
Larry Fitzgerald doesn't seem to age on the football field. He is one of the most talented players at the wide position in NFL history. Larry is still the number one option on a good offense. Don't let his age scare you. Expect another 100 catches and over 1,000 yards for him to go along with a lot of targets and a handful of touchdowns.
Jarvis Landry averaged just 7.1 targets per game over the final 12 games under Adam Gase. Landry is a PPR stud and is a top 10 receiver in PPR. What is stopping Landry from going into the top 20? He only has 13 touchdowns in his three-year career. If he can find the end zone more, his value will skyrocket. Good floor and a high ceiling.
Julian Edelman was targeted 159 times last year and always seems to be open in the middle of the field. Another PPR stud who has a hard time finding the end zone. Another solid option and if he can get up to five or six touchdowns this year, he will finish the season inside the top 20. I love a receiver with an elite quarterback and especially when that quarterback is always looking for Edelman.
Michael Crabtree is Derek Carr's go to target in the red zone. With 89 catches and over 1,000 yards with eight touchdowns last season, those are around the same numbers he should end up with again this year. Good floor but the upside isn't great. If you miss out on Amari Cooper, Crabtree is a good second choice in a good Raiders offense to have.
I am higher on Willie Snead than most. Snead finished as a top 35 receiver last year and he was the third option on most weeks. Snead has had over 100 targets in his first two years and he could easily add another 30 or 40 this season. Snead will end up on most my teams because I will draft him early. Great upside and will be a good bargain in drafts this year.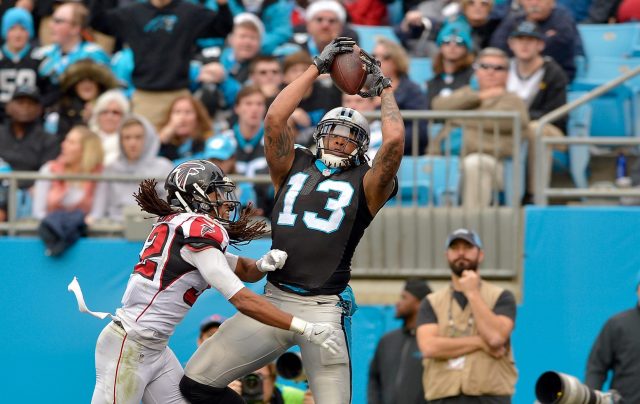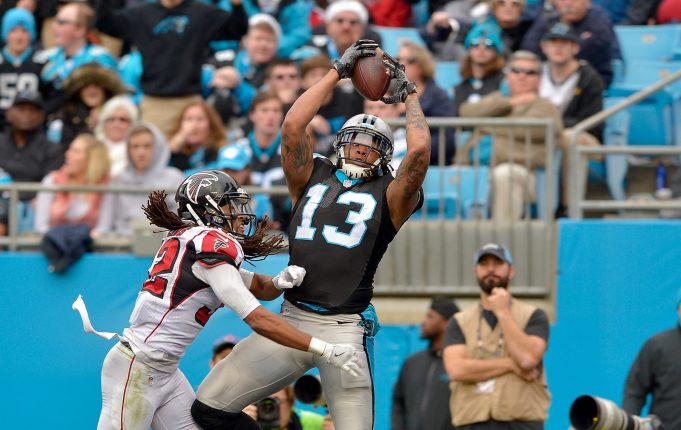 Kelvin Benjamin had an "off" year last year and still finished as the 19 best receiver in fantasy. He may love to eat, but who doesn't? Benjamin is a touchdown monster and with his size he is almost impossible to stop in the red zone. I am expecting a huge year out of Benjamin and he could easily finish inside the top ten if his mind is on football. Take a chance on him, if he stinks cut him and if he explodes into a fantasy stud again, you're welcome. He's going way too late in drafts and is a great wide out to take a flier on this year.
I will have zero Sammy Watkins on my teams because he always gets over drafted but his talent is elite. In Watkins last 14 games with Tyrod Taylor he had 110 targets, 67 receptions, 1,236 yards and nine touchdowns. If you were to carry that pace over 16 games, it would amount to more fantasy points than Antonio Brown scored in 2016. He could finish as a top five wide out but he has a big injury history and I tend to stay away from players like that. Great upside but easily the riskiest receiver in the top 20.
The number two packers wide out shows up on the list at number 18. From Week 4 on last season, the only wide receivers to outscore Adams were, Odell Beckham Jr., Jordy Nelson, Antonio Brown, and Mike Evans. He will be on most of my teams this year. Good player with a great quarterback in Aaron Rodgers. He is Aaron Rodgers number two target behind Jordy Nelson this year.
Keenan Allen is the type of wide out that needs targets to produce. When he gets less than 10 targets a game, Allen has averaged just 3.96 receptions and 49.2 yards per game. With Mike Williams expected to miss a big chunk of the season, Keenan Allen should get all the targets he can handle in 2017. He is coming off ACL surgery so he might be slow coming out the gate. I'll be staying away from him but he can be a solid number two receiver all year.
I never thought I'd see the day that an Eagles wide out would be a unanimous top 20 in fantasy football. He has the greatest quarterback maybe in league history in Caron Wentz throwing him the ball and the Eagles will throw a lot this season. In all seriousness, he is an elite wide out when he's healthy and he has the chance to have his breakout season this year. The Eagles took a shot on him this year and so should you guys. Fly Eagles fly!
The fact that Brandin Cooks went to the New England Patriots shouldn't make you over draft him. Around 15-20 is where he belongs because he is the number three option on the team. He will be a top five wide out some weeks but I am afraid that the other weeks he will be a letdown. He has played much better in a dome than outside, especially in cold weather games where he can struggle. Don't over draft him but if he falls to you around this range, draft him with confidence. Great potential in Brandin Cooks.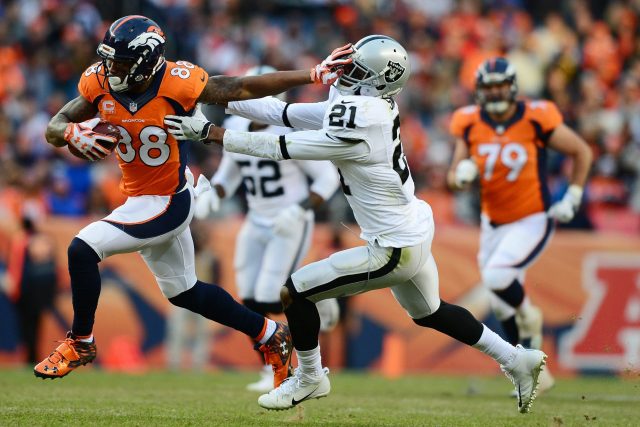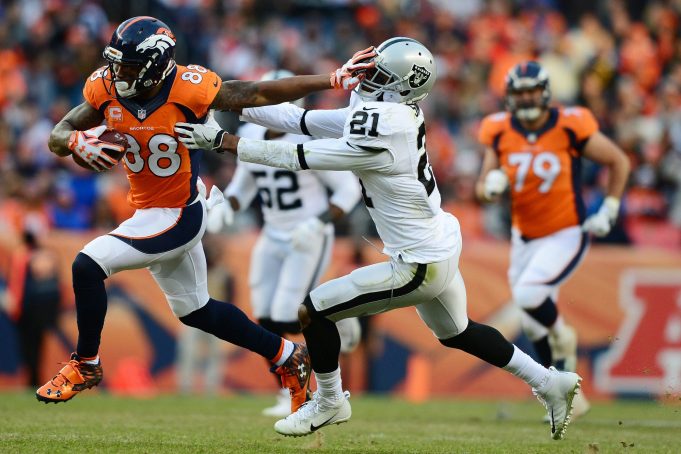 Demaryius Thomas would be a top 10 receiver if he had a better quarterback throwing him the ball. He has the size, speed and talent to be the best one in the league. He will be another one I will avoid in most leagues because of his quarterback but he has a good floor and great upside.
If Blake Bortles can figure out how to throw the football to his own team again, Allen Robinson is a top five wide out. He has great upside and already showed us how good he can be when him and Bortles are on the same page. Was 2016 just a sophomore slump or was 2015 the real Allen Robinson? I believe that the 2015 Allen Robinson is the real one. Draft with confidence.
Doug Baldwin showed that the second half of 2015 was no fluke last year. Baldwin has been a top-10 wide receiver in back-to-back seasons. He will have over 90 catches, 1,100 yards and should see around 125 targets like last season. The biggest difference was his touchdowns that went down from 14 to seven last year. We can live with seven touchdowns and his owners should be confident in another top 15 season from Doug Baldwin.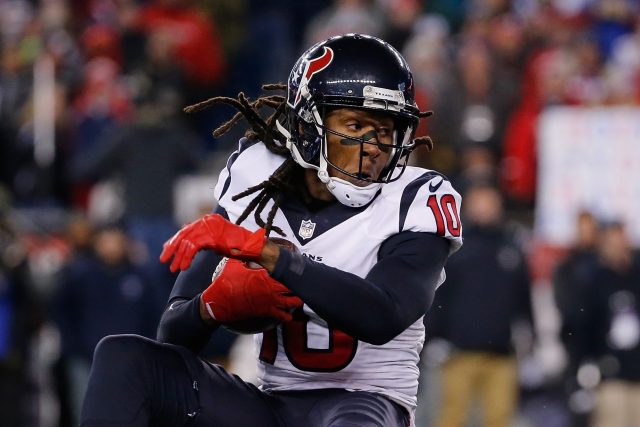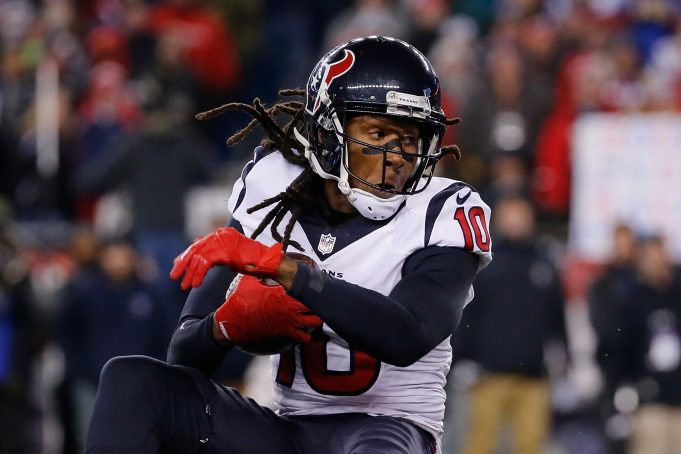 If you lined up every wide receiver in the league and told every GM to rank them just off their talents, DeAndre Hopkins would be in the top five. He can do everything on the field but having poor quarterback play last year hurt his production. He is only 25 and if whoever is throwing him the ball can get the ball near him, he will come down with it. Great upside and can finish the season in the top four easily. Buy low on Hopkins now because by this time next year, he can be going in the first round or early second.
Do you know who led the league in receiving yards last year? It was T.Y. Hilton. If Andrew Luck is healthy, he has a great chance to led the league again in yards. He only scored six touchdowns last year and he is averaging just under six per season. Another player who is better in PPR but if you need a receiver in the late second or early third round, Hilton is a solid one to build your receiving core around.
Dez Bryant would be top five at his position in my rankings, if Tony Romo was still his quarterback. Another reason he isn't higher on my list is that the Giants shut him down twice last year (held him to two catches for 18 yards on 14 targets last year), he see's Josh Norman twice and will face the Broncos, Cardinals, Falcons, and Seahawks. Scary matchups for half his games and I am not sold on Dak Prescott yet. Great wide out but has little around him to take another teams top shut down corner off him. This ranking is more off his talent than production this year.
Amari Cooper finished as the number 15 wide receiver despite finishing the last four games without having more than 77 receiving yards in a game. His biggest downside is he only caught five touchdowns last year. That number will go up and he has the talent of a top five player at his position. Like DeAndre Hopkins, this can be the last year we draft him outside the first or second round. Great upside and he is only 23 and has a good young quarterback throwing him the ball.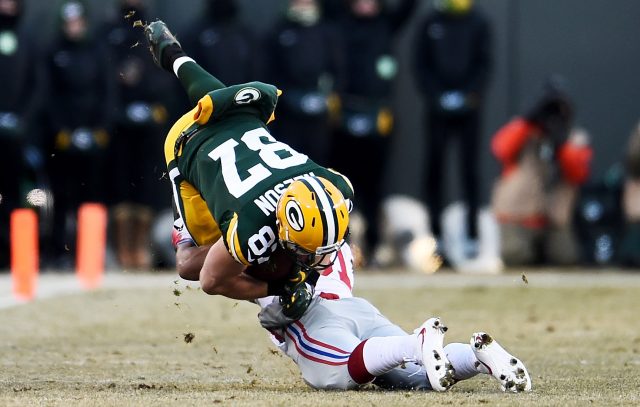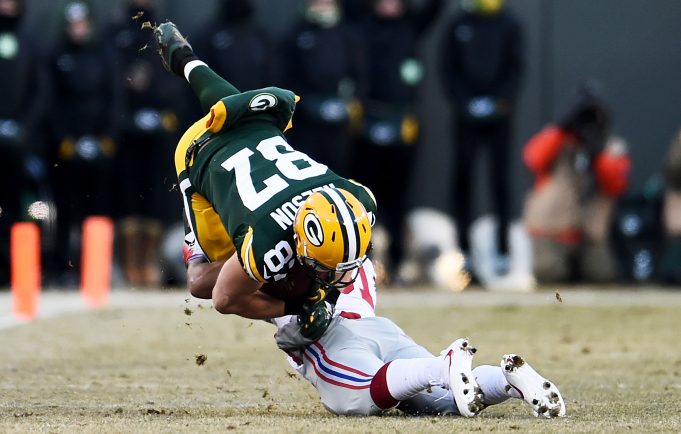 7. Jordy Nelson, Green Bay Packers
Jordy Nelson is the most underappreciated wide receiver in fantasy over the last five years. All he does is put up monster number (when he's healthy) and he is the favorite target of one of the best quarterbacks in the league, Aaron Rodgers. I don't care about his age (32), all the guy does is make great catches and scores touchdowns. He will be dominate for the next two or three seasons. He is as sure of a bet to get double digit touchdowns as any other wide out in the league.
His 16-game pace last year was 101 catches, 1,259 yards and 11 touchdowns. Mike Evans finished last year as the number one wide out and had 98 catches, 1321 yards and 12 touchdowns. With Drew Brees as his quarterback, his numbers will stay among the elite at the position. If you have Mike Thomas on your team now and can keep him, do it. He is on a good offense that loves to pass the ball.
5. A.J. Green, Cincinnati Bengals
In the years he played all 16 games, his finishes are WR4, WR4, and WR7. Not bad for a guy who plays on a team who loves to run the ball. He is healthy going into the season and there should be no reason he falls outside the top six or seven at the position. A.J. Green isn't a pick people will be impressed with when you get him but he will carry your team is a top wide out. Good floor and should have no problem finishing outside the top ten at the position.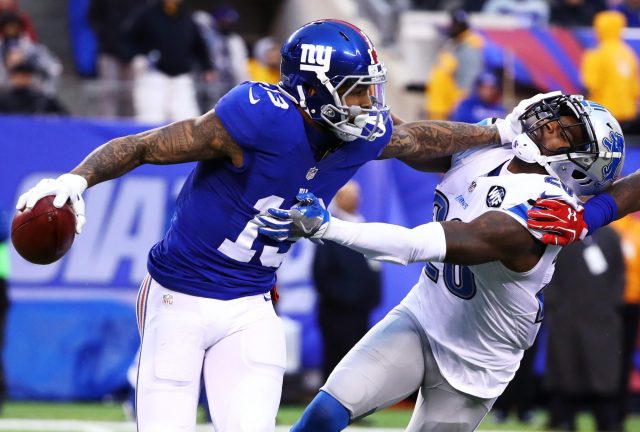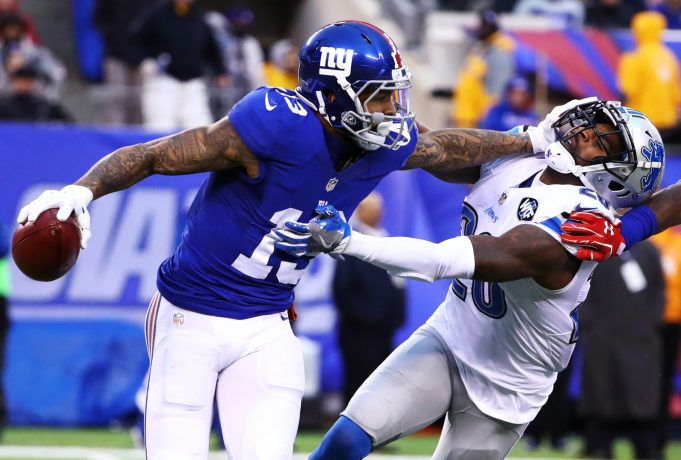 4. Odell Beckham Jr., New York Giants
Besides being a compete head case, Odell Beckham Jr. is a great choice in fantasy this year. If he can stop proposing to kicking nets and freaking out whenever a corner touches him, he will have another solid season. The reason OBJ doesn't make it in the top three of receiver is Brandon Marshall will take away targets and that can be the difference between him, Mike Evans, Julio Jones and Antonio Brown. He will be close to 100 catches again and should be around double digit touchdowns but don't be surprised if this is his "worst" season of his career. Which would be the best for most other wide outs in their career.
3. Mike Evans, Tampa Bay Buccaneers
Mike Evans is a target monster and there isn't any reason why he can't finish as the number one wide receiver in fantasy, again. He's fast, has great hands and he made Johnny Manziel look like a decent quarterback in college. Evans is only 24, he's 6-foot-5 and again, anyone that makes Manziel look like a decent quarterback must be a good receiver. Mike Evans is a great pick in the first round in any size or type of league. Great player to have in a keeper league and should go in the first round in any type of league.
Julio Jones is a madden create a player in real life. He's big, fast and catches pretty much everything. The Atlanta Falcons offense is one of the best in the NFL and Julio is the focal point of it. He's only played in all 16 games once and that can give me some hesitation but he gives you elite production in almost every game he plays. If he can stay healthy for a whole season like in 2015, he will lead the league in targets and receiving yards. He is almost impossible to stop and is still in the prime of his career. Draft Julio with confidence this year and if you do, make sure to have a solid replacement because chances are he will miss a game or two this season.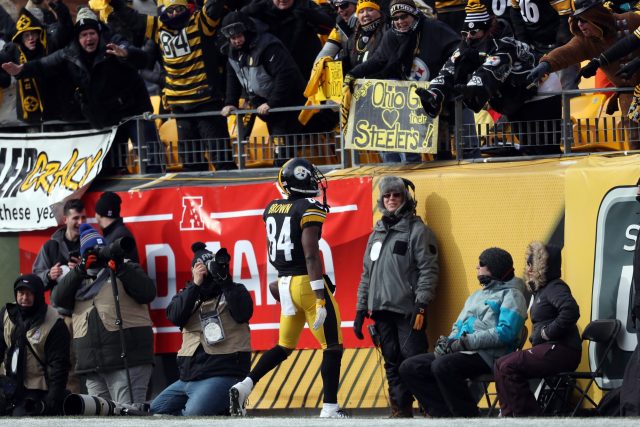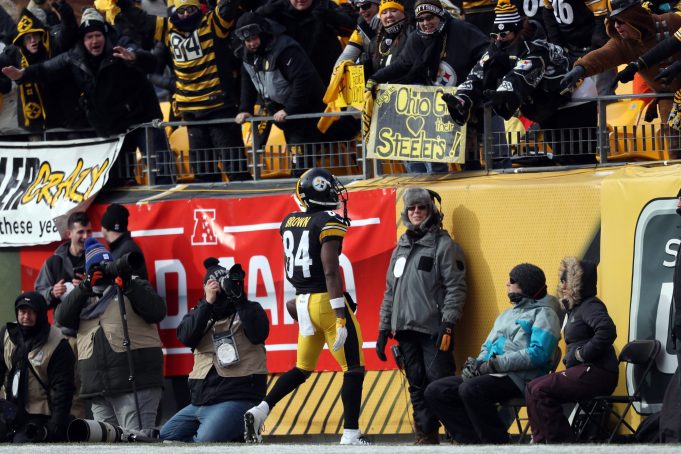 1. Antonio Brown, Pittsburgh Steelers
Antonio Brown has now four straight seasons where he has finished as a top-seven wide receiver, including two seasons as the number one. That's' the reason you draft him as the top wide out, he is consistent. He's averaged 1,579 yards and almost 11 touchdowns during the last four seasons. People will be scared off now that Martavis Bryant is back but Antonio's two best seasons have come with Martavis Bryant on the field, but seasons he finished at the top wide receiver. If Big Ben is throwing him the ball, he will see well over 150 targets again this year. If that isn't enough for you, he is durable and only has missed one game in the last four seasons.