Not that the 2017 New York Jets are on the brink of greatness, but the doom and gloom rhetoric has been blown way out of proportion.
F
orget about it. The Jets? The New York freaking Jets?
Like I already said, "Forget about it."
The ugly, energetic, youthful little brother to the supreme football team in New York City has never been able to fully soil its oats over a decent period of time. Just one man and one Super Bowl triumph — one that basically turned the sport on its head — reside as uber important in team history. It hardly stacks up against the big brother's four titles over the course of the last 30 years.
That pesky, depressing cloud over Florham Park, New Jersey remains, much to the dismay of the diehards who, for so long, were forced to enter a home stadium with a big blue sign over top reading another name.
Then 2016 happened. The floundering notion of "hope" this fan base experienced one year ago evaporated quicker than Ryan Fitzpatrick's career in the green and white. Mix in several veteran cuts and no splashy headlines and suddenly, the Jets are tanking for Sam Darnold, Josh Rosen or Josh Allen.
At least that's what everybody is shoving down our throats.
Be careful here. This 2017 roster is head and shoulders more talented than its predecessors.
While it's true that these Jets aren't Super Bowl material, to group them in with the bottom-feeders of the league isn't the most intelligent move. We've seen this story before.
In 2005, the Herm Edwards era in New York came to a crashing close with just four victories over 17 weeks. He finished an up-and-down regime, surprising in the playoffs one year only to take two steps back the next.
When Eric Mangini took the helm in 2006, these so-called NFL experts had these very same New York Jets rated in the bottom-three of the National Football League.
Sure, Mangini was exciting. To finally pry something so precious away from Bill Belichick and imagine him pounding his right foot into the floor while wearing that sweat-drenched hoodie was a Jet fantasy which tingled all the senses. In reality, the squad didn't have much else going for them.
At quarterback, there was nothing.
The oft-injured Chad Pennington was coming off another injury-filled brittle campaign. It was he and Kellen Clemens heading into the season at the position. The weapons, well … the weapons rivaled the worst in the league. There was Laveranues Coles, Justin McCareins, Kevan Barlow, Derrick Blaylock, Chris Baker … and that's pretty much it. These were the known quantities heading into the brand-spanking new season.
On defense, guys like Shaun Ellis, Jonathan Vilma, Erik Coleman, Bryan Thomas and bust of a first-rounder Dewayne Robertson were still around, but there weren't any serious ballers on that side either.
The experts took notice and quickly pointed the finger at one of the few worst personnel groups in football. They pointed loudly, as they usually do, Nelson-style in The Simpsons' animation.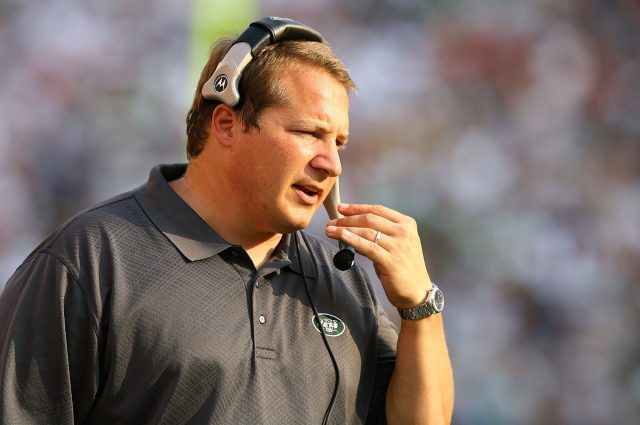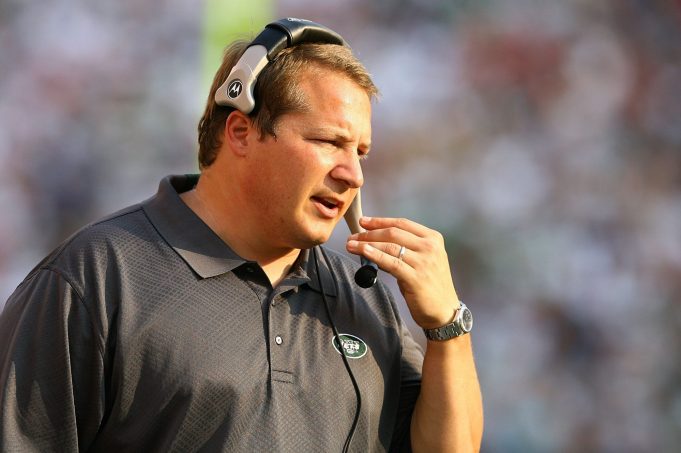 Here's a dandy from footballlocks.com. These geniuses had the Jets finishing at 4-12 for the season, going just 1-7 over the course of the first eight games. ESPN, Fox and so many more outlets had the team winning very few games.
In addition, the offseason prior showcased a perceived shedding of talent, quite similar to what the club was forced to do with the likes of David Harris, Darrelle Revis, etc. Finding themselves $25M over the salary cap, they traded John Abraham to the Atlanta Falcons. They also rid themselves of veteran Jason Fabini, Jerald Sowell and stud center Kevin Mawae.
The Jets even lost Pro Football Hall of Fame running back Curtis Martin to retirement.
How in the world could this team possibly compete? Nobody had this team doing good things in '06. Nobody.
Despite the doom and gloom, what the so-called experts didn't count on was blindsiding production and regular NFL breaks.
The 2006 rookie class was one for the ages. There was Nick Mangold, D'Brickashaw Ferguson, Brad Smith and Leon Washington. There was also a little-known workmanlike wide receiver named Jerricho Cotchery who Mangini immediately fell in love with. He was immediately placed atop the depth chart alongside Coles, providing Pennington enough weaponry along the outside. This, along with excellent O-line production, allowed the Jets offense to do just enough to compete.
The regular NFL breaks this squad received was a pretty easy schedule, allowing Mangini's rookie season to turn out sparkling at 10-6. They went on to be handled pretty well by Tom Brady and the New England Patriots during Wild Card Weekend, but all in all, 2006 was a surprising, successful campaign.
Two-thousand-six continued the trend of Edwards and Mangini teams alternating surprising and disappointing seasons. Just when you thought they were ready to bust out, like in 2003, they fall flat on their faces. And just when you thought they'd finish with the worst record in the league, like in 2006, they rise to the occasion of 10 wins.
Mike Tannenbaum and Mangini did the correct thing that summer, despite the so-called "experts" piling on. They shed themselves of unproductive veteran bodies and welcomed in the next generation.
This narrative is so similar to what we're experiencing now with the 2017 Jets that a tougher comparison would be difficult to come by.
I'm under neither delusions nor spells. I don't believe this depth chart to be playoff or even winning quality. Having no answers at the quarterback spot in such a heavily-dependent QB league is always a recipe for disaster.
But that doesn't mean the Jets are without real talent — real, unrealized talent nobody can quite see yet.
This 2017 rookie class may just turn out a winner. Jamal Adams could turn out to be even more productive than the '06 Mangold. Marcus Maye may just be as talented as Brick. ArDarius Stewart could bust out in a Jerricho Cotchery type of fashion.
These are the things that only movement on the football field will reveal.
So, yeah, go ahead and point and laugh like Nelson. Be careful, though. Nelson usually ends up sorry on the other side while Bart, Moe, Homer or even that loser named Barney reap the benefits.