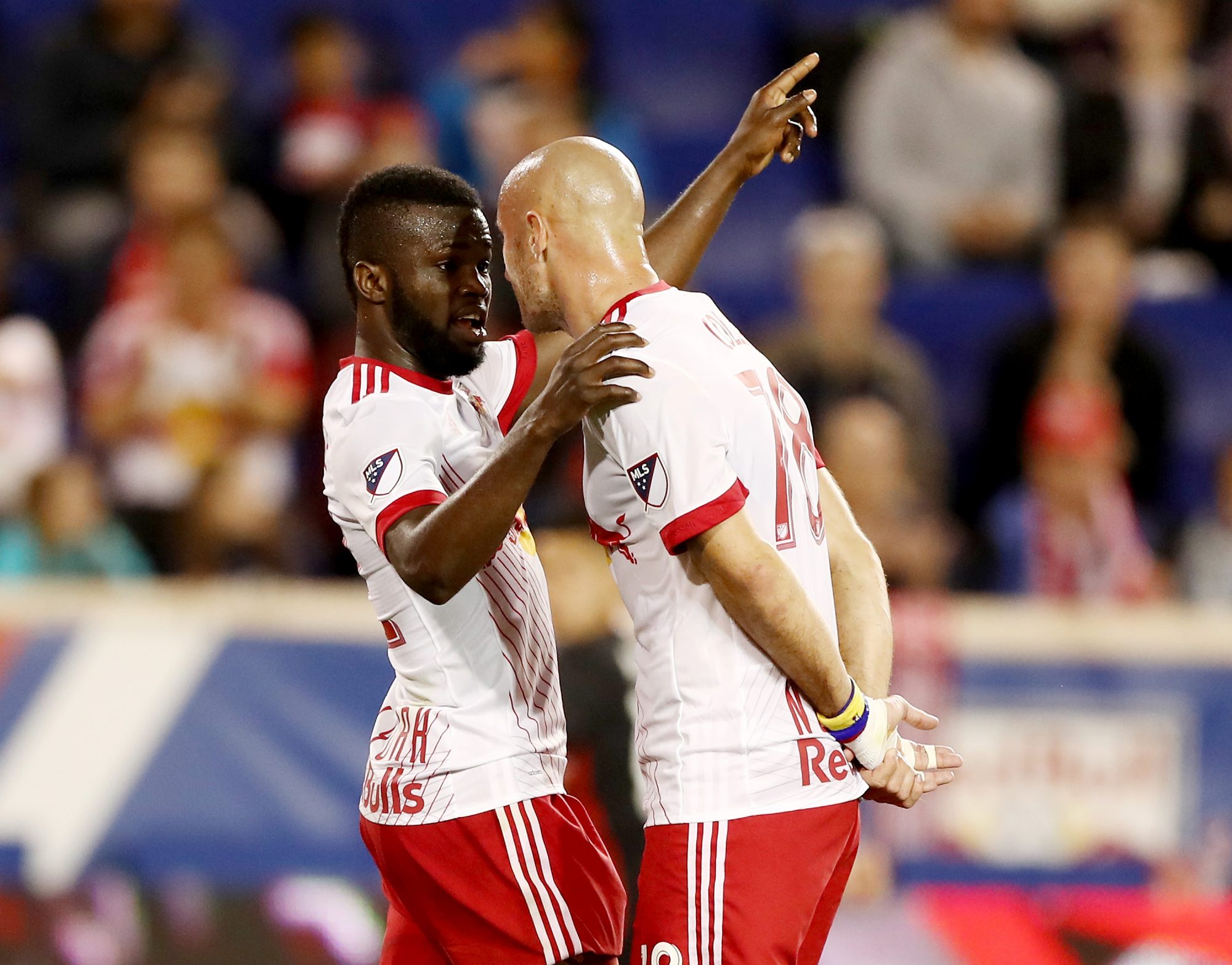 The New York Red Bulls can see themselves in second place in the East within the week, plus solidifying a spot in the US Open Cup Final.
T
he New York Red Bulls have been on a hot streak. Four wins and two US Open Cup wins sums up their last results since their last loss against NYCFC in late June.
Much has changed since their last loss. RBNY seem to have found their attacking stride, as they outscored their opponents 17-4 since June 24th. This is quite an outstanding turnaround for the team that struggled to score goals in the beginning of the season.
The RBNY defense has also been near-impermeable. In their last three matches, RBNY only allowed one goal. The team has been defensively solid all season. The team, however, has seen help from the attack looking to keep the ball in their opponent's side of the field.
It is this midseason turnaround which has RBNY as the owner of the longest active win streak at four after Atlanta tied their last match. The other hopefuls in Seattle and Dallas did not win their previous matches.
While approaching 4-0, the New York Red Bulls find themselves in a position to climb the standings and solidify a spot in the MLS Open Cup finals.
This week is certainly a week where RBNY need to bring their A-game as a rematch of the Hudson River Derby and a battle against a non-MLS team will take place.
Here's where we stand heading into New York Derby Week! #NYCvNY | #RBNY pic.twitter.com/MmzyoAA6bB

— New York Red Bulls (@NewYorkRedBulls) July 31, 2017
NYCFC currently sit in third place, one point behind second place Chicago. New York City also has an extra game played. This could add to RBNY's incentive for the upcoming game. If RBNY win, they will have 38 points and a game in hand against their Hudson River rivals.
It is unlikely, but If RBNY win by a large enough margin, they can surpass Chicago on goal differential and goals scored. This, of course, would require an eight-plus win by RBNY.
While hopeful, third place with a game in hand is an extremely positive outcome for a team whose playoff hopes were nearly shattered early on.
With a win, RBNY's 38 points will have them sitting a mere five points behind the East's-best in Toronto. They will also be five points behind in the Supporters' Shield race.
"We're in a good way so we're going to go in there with confidence"

Full Interview ? https://t.co/LtUS3KB8xR#NYCvNY | #RBNY pic.twitter.com/pTfmP9oZzV

— New York Red Bulls (@NewYorkRedBulls) August 1, 2017
Do not count RBNY out of any competition races yet, as team chemistry is starting to click. This newfound team chemistry could also serve as an important element in their US Open Cup matchup.
Tomorrow, August 2, Miami FC will play Cincinnati FC in a rescheduled quarter-final match. Miami FC is an NASL team who in 2016 finished 5th in the league.
Cincinnati FC on the other hand, are a member of the United Soccer League. Cincinnati currently sit in sixth place in the USL.
Interestingly enough both the NASL and USL are considered lower-leagues. While the USA does not have a tiered system, the MLS attracts the most talent and consists of bigger club names.
The USL ironically is the home to various MLS II sides. Orlando, Toronto, and RBNY are all clubs among other who currently have a team in the league.
In fact, Red Bulls II are scheduled to play Cincinnati on August 19, only 10 days from the semi-final match on August 9.  It would be extremely interesting if Cincinnati FC moved on through to the semi-finals. In this case, they would have to play both RBNY sides in a close time frame.
Either way for a semi-final match, while non-MLS sides have proven formidable, RBNY are sitting comfortably. The other semi-final match consists of MLS sides San Jose and Sporting Kansas City.
In any case, Head Coach Jesse Marsch will report to the Miami-Cincinnati game tomorrow to scout the competition. A personal investment of this nature could only mean one thing: RBNY plan on bringing their first US Open Cup title back to New York.
"I'll be down in Miami…it'll be interesting to see who is able to gain an edge"#USOC2017 | #RBNYhttps://t.co/rh4lYU6WcY

— New York Red Bulls (@NewYorkRedBulls) August 1, 2017
How will RBNY fare in the upcoming weeks? Time will tell. If the team continues to play a cohesive game against their opponents, then we should see RBNY rise. If RBNY regress to their old ways of offensive difficulties, we will see a disappointing fall of a promising team.
For now, let's hope that RBNY can prevail in their upcoming matches. I would not mind if another banner or two or three waved in the rafters for the 2018 MLS Season. A triple win, MLS Cup, Supporters' Shield, and US Open Cup are all within reach for the club. It is up to Marsch and the team to execute their game to pursue this goal.