While the New York Giants' primary receiving core prepares to spearhead an offensive revival, Tavarres King and Roger Lewis are competing to be a part of the fight.
An impetus inspiring improvement from the New York Giants offense in 2017 has welcomed an intriguing fight for a spot high on the receiving depth chart. Behind an undisputed first choice trio of Odell Beckham Jr., Brandon Marshall and Sterling Shepard sit two wideouts itching for more opportunities.
The Giants are looking to respond to an offensively disjointed 2016 by implementing a more dynamic approach. To remedy that, they've invited Tavarres King and Roger Lewis to present themselves as valuable alternatives.
Training camp will play stage to a healthy and much-needed contest between the pair as both strive to not only justify a spot on the Giants roster but also prove they are worthy of more snaps come September.
A desire to make strides and give head coach Ben McAdoo a reason to utilize them could also prove crucial in setting the tone for the level of dedication expected from those in position battles elsewhere on the team.
McAdoo will hope to apply this to the entire receiving unit, whether it be driving Shepard to take his game to the next level in his second or demanding that Marshall hit the ground running as an experienced veteran in his first season with the organization.
The preseason contributions from Lewis and King could light a fire under Beckham, Marshall and Shepard, forcing them to elevate and reach their full potential as a collective.
Past experiences make both men prepared for a tough fight
King and Lewis represent two guys who know all about overcoming the difficulty in a cutthroat league.
After being picked by the Denver Broncos in the fifth-round of the 2013 draft, King has since endured a stuttering pro career. Short spells with the Carolina Panthers, Jacksonville Jaguars and Tampa Bay Buccaneers in his first two seasons were eventually followed up with a place on the Giants practice squad in 2015.
The 27-year-old qualifies as someone well aware of just how crucial starring in the offseason is, not to mention finding himself up against the odds. Although King has only played nine career games, he promises a resilience that threatens to pay off at some point.
The optimism surrounding his chances in 2017 stems from his noteworthy contributions at the spring OTAs. There's also the belief he can translate that same work ethic into an eye-opening training camp.
It's his dedication behind the scenes — despite his limited involvement — that undoubtedly puts him in the mix to earn the attention of his coach and give himself a platform on which to showcase his ability as a useful contributor.
Lewis also finds himself facing a crucial month of offseason preparations as he looks to move on from a recent run-in with the law.
The undrafted free agent out of Bowling Green got arrested on June 4 for allegedly operating a vehicle while impaired, but has since seen the charge dismissed.
He can now turn his entire focus toward securing a spot on the Giants roster and making up ground on King, who raised his value toward the end of last season and with his early efforts this summer.
Though Lewis himself has maintained a relaxed and assured stance towards his legal situation, all eyes will be on the 23-year-old to showcase his worth while also demonstrating his commitment to the cause.
However, the doubts that arose amid his minor setback carry the potential to be an unusual yet welcomed motivation capable of propelling a significant leap.
Lewis' hunger and the desire to make a name for himself on the field in New York now accompanies an undeniable raw talent.
Both with a foundation to build on
The belief King can go on to play a more prominent role in 2017 is fueled by his standout finish to last season.
The 27-year-old led the Giants with 117 receiving yards over the team's final two games, including a 41-yard touchdown reception from Eli Manning in the 38-13 Wild Card defeat to the Green Bay Packers.
This alone will have given him something to progress from and the confidence that he can be a useful weapon for a quarterback who will be expected to return with an added creativity.
At 6-foot-1, he represents a vertical threat that Manning can make use of. King is also a fluid route-runner capable of benefiting from the attention that Beckham will generate.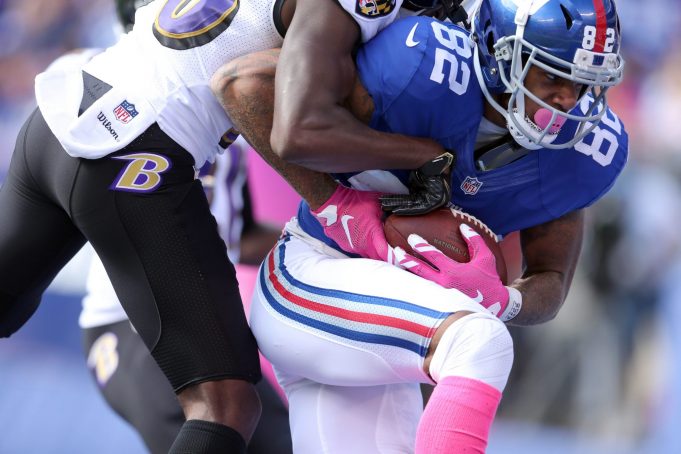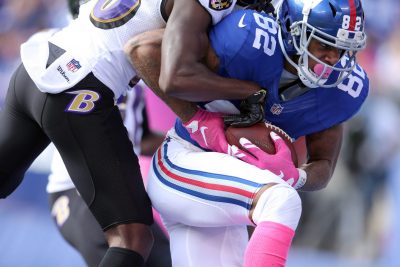 In 2016, Lewis registered seven catches for 97 yards, including two touchdowns, in the 13 games he played for the Giants.
An unspectacular rookie year on paper didn't pass without providing crucial experience and showing glimpses of what he can offer. That said, the onus is on him, perhaps more so than King, to fight off serious competition from rookies Travis Rudolph and Kevin Snead.
Such stiff competition behind Beckham, Marshall and Shepard bodes well for a step up on offense.
King versus Lewis is one to keep a watchful eye on.