You can laugh at the 2017 New York Jets all you want, but if certain things do shake out, this roster can turn legitimate in a hurry.
D
evelopment. It's the word of the day.
If Florham Park, New Jersey suddenly morphed into Sesame Place, Grover would lead friends in a very special word of the day. D-E-V-E-L-O-P-M-E-N-T. Development. To the chagrin of many, the wildly popular Count would continuously be ignored as numbers suddenly turned irrelevant in this very special Sesame Street episode.
Sure, the number of one or two may turn out correct (in representing the 2017 New York Jets win total), but it wouldn't determine the level of success over the course of 16 contests.
Rather, development would remain key and Grover's letters would trump the Count's numbers.
At this point, we all know the overwhelming narrative concerning the color green in New York. Depression is at an all-time high while legitimate competitiveness is all but fleeting. Veterans such as Gary Myers of the New York Daily News has already mapped out the team's 0-16 season while Daniel Jeremiah of the NFL Network has unnamed personnel decision-makers calling this Jets roster "the worst in a decade."
From an NFL exec- "I think the Jets might have the worst roster I've seen in a decade."

— Daniel Jeremiah (@MoveTheSticks) June 7, 2017
While we'd never proclaim this roster to represent anything special, we don't buy the extreme silliness. In fact, we've already shown why the Jets aren't the worst roster in a decade and just how this 2017 personnel is far superior to the 5-11 version from 2016.
Nevertheless, don't think we're filled with delusions and silliness. Not even we can dream a Jets 2017 dream like Big Bird could.
The current version of the Jets roster is pretty rough to glance at. This isn't a competitive team on paper. But while the so-called experts do their best in piling on, we take into account the many things they fail to grasp.
This is football. It's a league that plays a mere 16 games a season and sees a club's fortunes change based on one week of momentum. Schedules play an important factor and that extremely important word of "development" cannot be accounted for on paper.
Admittedly, through two years of the Todd Bowles, Mike Maccagnan era, development has been tough to come by. The "aggressive rebuild" not only failed, but it cost the franchise a chance of developing players in certain areas.
Still, there is a great opportunity at success this coming season and when the New York Jets open camp on Friday, four players need to stand out above the rest not simply because of their ceiling, but because each has the opportunity to change his team's fortunes greatly.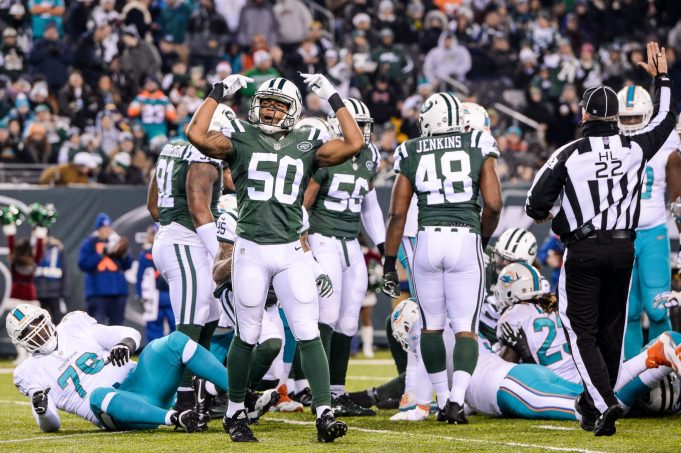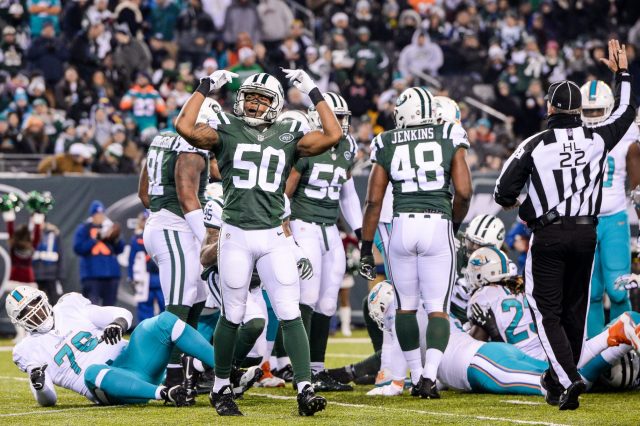 Listen … this is the guy.
Cutting longtime and respected Jet David Harris wasn't just about shedding money for next offseason. The move is also directly tied to the future of Darron Lee.
New York would not know if Lee could be that defensive captain unless he assumed the top spot first.
A funny thing happened on social media shortly before fan-favorite Harris was cut. On No Fly Zone, the greatest collection of Jets fans in the world, I suggested that Lee needed to assume the No. 1 middle linebacker spot in favor or the older Harris.
I was immediately challenged by a Jets fan who will go nameless, though he puts together a lot of the graphics you see on Instagram and on your t-shirts. He said, "How could Lee take the No. 1 spot over Harris when they play different positions? Harris is the strong side guy (SAM) while Lee is weak side (WILL)."
Well, it's simple.
First of all, SAM and WILL are 4-3 terms. In a 3-4, while Bowles may try to line up his bigger ILB on the strong side, both middle backers need to be interchangeable. This is how the 3-4 works, as opposed to a true SAM and WILL who operate much closer to the sidelines in the 4-3.
Taking over the No. 1 ILB spot meant he would assume the defensive headset, making it easier for Lee to play and run the defense on all three downs. This would especially be crucial in making sure Harris hits the sidelines on passing downs (as his pass coverage rivals the worst in the league).
Long story short, the conversation meant very little as Harris was cut. Barring Demario Davis earning Bowles's trust to a heightened degree, Lee will be taking the headset.
Lee's development in 2017 is crucial to not only his future with the organization but the entire defense as a whole. As the leader who can play all three downs effectively, this is man No. 1 who'll make a significant difference in the success or failure of the 2017 campaign.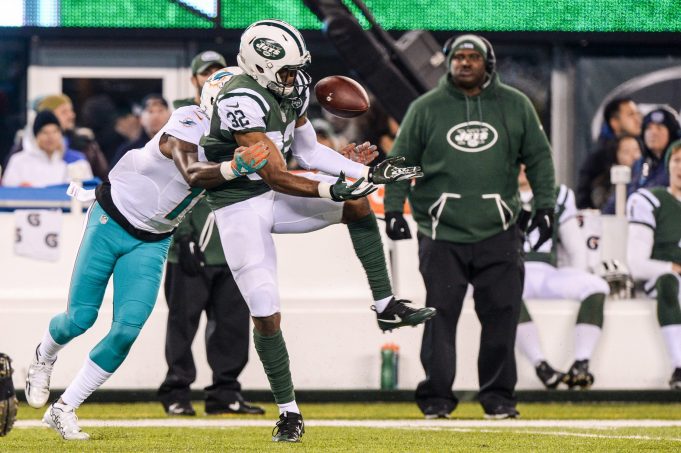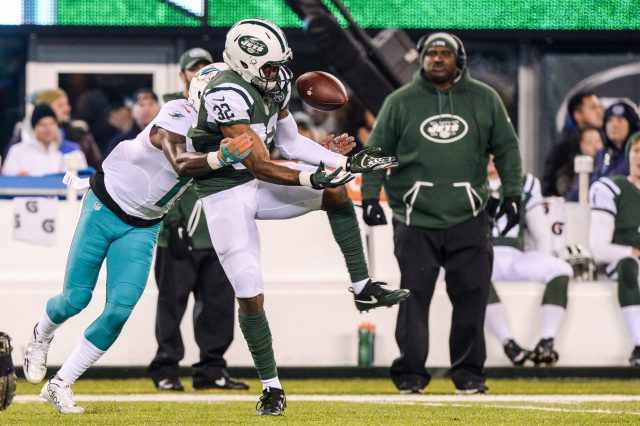 Here's where we really get down to business. Aside from the quarterback position, the most important spot in professional sports today, which are the two most depleted positions on the New York Jets roster?
I can easily tell you one. It's the cornerback spot.
In 2015, despite the name of Darrelle Revis, the Jets corners were horrible. Revis, himself, was dreadful. Buster Skrine, who excels at the nickel spot, was forced to play the No. 2 and even at times, the No. 1 corner.
This is where second-year man Juston Burris comes into the picture.
Morris Claiborne was snagged during free agency to act as the No. 1 guy, but isn't one in reality. Burris, a fourth-rounder in 2016, is a kid who possesses every raw talent a talent evaluator wants out of a corner. At 6-foot, 212-pounds, his 4.53 40-yard speed is more than enough to get it done from a straight-line stand point. His 19-reps and 36.5-inch vertical at the combine pours on the evidence that he's a raw ability talent.
During his rookie season, Burris dressed for all 16 games but started just one, tallying one interception, five passes defended and nine tackles.
Against Pittsburgh in Week 5, he played 32 snaps with Revis injured and held his own. For some reason, he played very little thereafter. Nevertheless, everybody could see the potential of a starting-caliber NFL corner.
Should Burris bust out, he'd move Claiborne to the No. 2 guy and Skrine to the nickel, each's natural positions.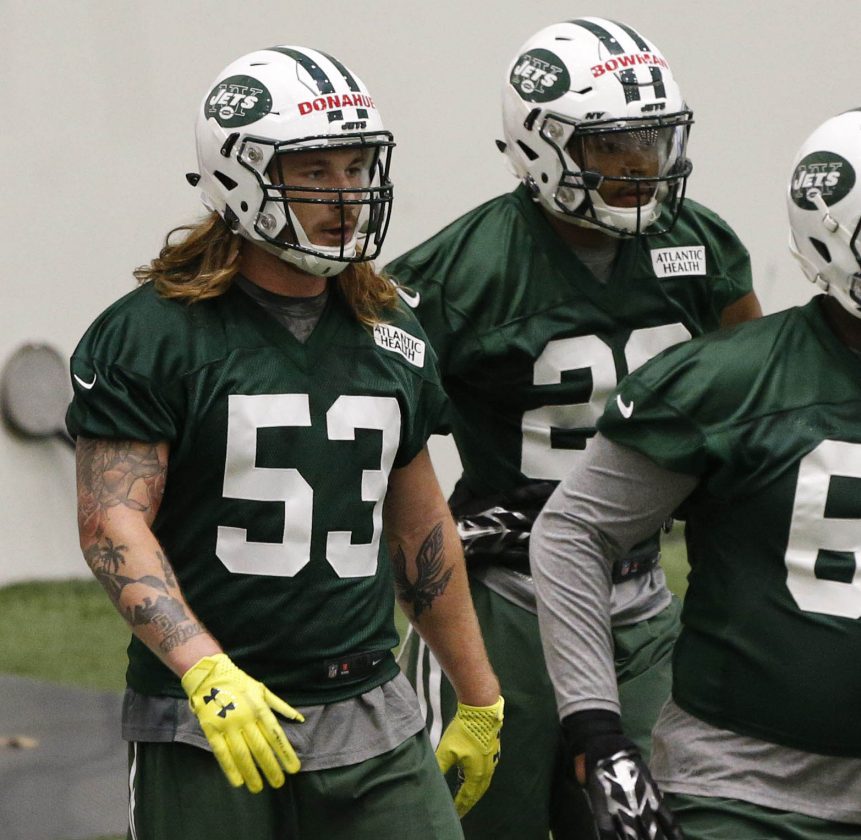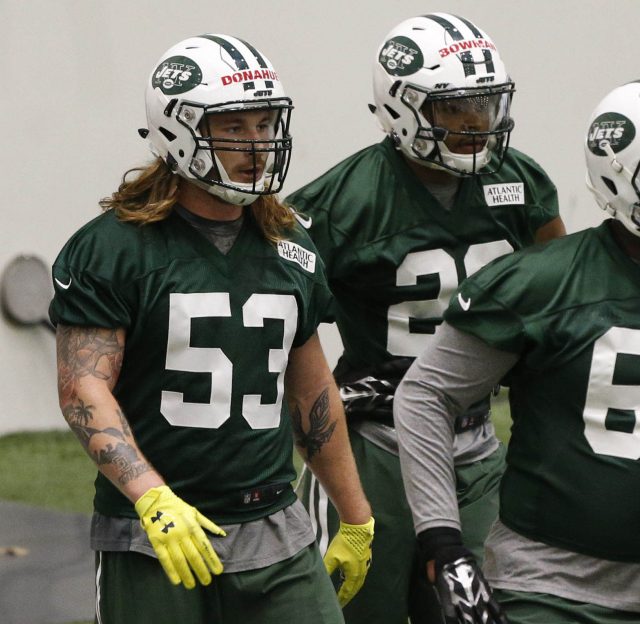 3. Dylan Donahue
I've seen enough of Lorenzo Mauldin. By all accounts — even with his recent off-the-field issues — he's a great kid.
He's just not a starting NFL defensive player.
Jordan Jenkins will man one of the edge bookends for Bowles's defense. And while Jenkins is certainly starting-caliber, he's not that edge guy who can wreak havoc.
Ladies and gentlemen, we introduce Dylan Donahue.
Donahue is a 6-foot-3, 248-pound high-motor assassin who's right now being guided by Kevin Greene, one of the very best off the edge in the history of the game. While the fifth-round outside linebacker lacks raw abilities at this level, his motor and sheer will may be enough to carve out a successful career.
The other position the Jets are in dire need of other than corner is the edge spot, outside linebacker. If Donahue can make Greene one proud papa, watch out for the Jets defense in 2017. It's a longshot, granted, but this kid holds a lot of the cards when determining a successful Jets developmental season.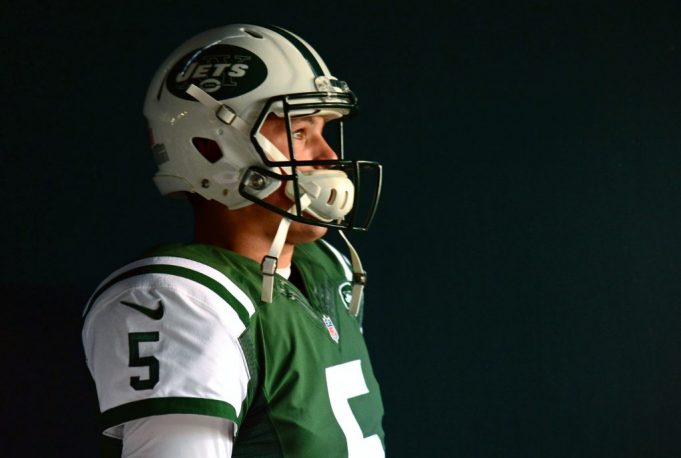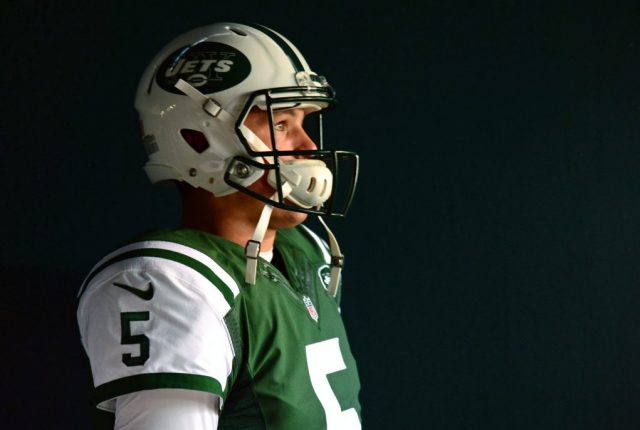 4. Christian Hackenberg
Last but certainly not least comes the quarterback position and Christian Hackenberg.
Thus far on the list, we have a corner, an edge player, an inside linebacker who we're looking to assume the defensive leadership role and now the offensive leader in the quarterback.
Whether it's hitting reporters on the sideline with errant passes or not possessing the football IQ to get it done in between plays, you've heard it all regarding the Penn State product. And quite honestly, there's not much we can add at this very moment.
We just know that Hackenberg is the most important piece to a successful developmental season for New York, for obvious reasons.
Final Thoughts
It honestly comes down to positional need and importance. Should Darron Lee and Christian Hackenberg turn out as legit players, the Jets suddenly have leaders on both sides of the ball for the next decade.
Should Juston Burris and Dylan Donahue break out, New York suddenly possesses two key ingredients on defense — at both corner and edge rusher, two of the more critical positions in the NFL.
While the tournament is all but gone, already, these four kids can turn the Jets 2017 nightmare into a legitimate success — a success not even Big Bird could dare dream of.