Contrary to the beliefs of some pundits, the New York Giants defense will only improve off of its successful 2016 campaign. 
W
ith training camp now just under two weeks away, the New York Giants will be looking to rekindle and build off of their 2016 success. The Giants were one of the NFL's biggest surprises in 2016, going 11-5 and making their first postseason appearance in five years.
Their defense was a big reason for that success. After committing over $200 million to that side of the ball in free agency, the Giants defense saw a significant improvement after giving up the most yards in the league the year prior.
Despite their 2016 success though, Will Brinson of CBS Sports has the Giants winning just eight games in 2017, stating that their defense could potentially "catch up" with them. However, the reality is that the Giants' defense can only get better next season, based on the fact they're a young bunch, but also one that has plenty of great football left in them.
Here are three reasons why the Giants' defense won't "catch up" with them in 2017.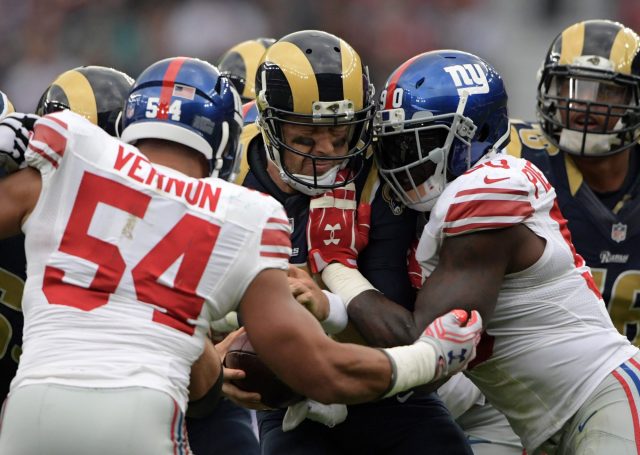 The Defensive Line Is In Its Prime
Last year, two of the Giants biggest offseason additions came on their defensive line. Inking defensive end Olivier Vernon and tackle Damon Harrison to hefty five-year deals, the Giants showed their willingness to spend whatever it took to upgrade their front four. Luckily for them, both players played up to their respected deals.
Vernon served as a run stopping presence on the outside but was also an explosive edge rusher for Big Blue. Finishing the year with 64 combined tackles, to go along with 8.5 sacks, Vernon was a lethal option for defensive coordinator Steve Spagnuolo's defense; the same goes for Harrison.
While not a pass rushing threat, Harrison clogs up the run. Finishing the year with the most combined tackles out of all defensive lineman in the NFL (86.0), Harrison was an irreplaceable force in the middle for the Giants — one that was the key ingredient for their defense surrendering the 3rd fewest yards per game on the ground in the league. Jason Pierre-Paul though was another big reason for that success.
Much like Harrison, Pierre-Paul has also been adept at stopping the run. Finishing the year with a combined 53 tackles, to go along with 7.0 sacks in 12 games, Pierre-Paul was a force on the outside for the Giants — one that defended the rush at ease.
With both Pierre-Paul and Harrison at 28 years of age and Vernon at 26, the heart of the Giants defensive line still has plenty of high-level football left in them — making it highly unlikely that they'll fall off their pedestal next season.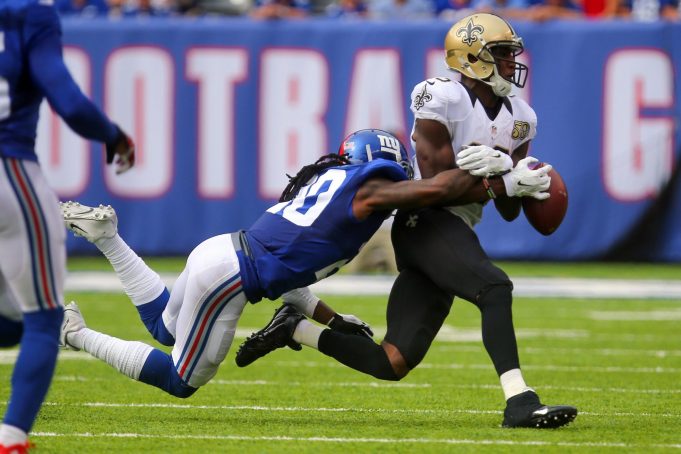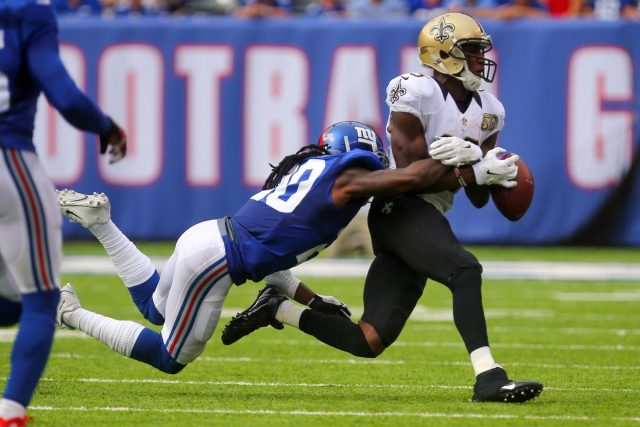 A Lethal Cornerback Duo
Last year, the Giants secondary was arguably the most dangerous and reliable facet of its defensive attack — their cornerbacks especially.
With a duo consisting of free agent signee Janoris Jenkins and Dominique Rodgers-Cromartie, the Giants possessed one of the best cornerback duos in the NFL.
On one hand, it was already well documented that Jenkins was a lockdown one-on-one corner, however, the Giants didn't expect him to produce at the high-level of which he did.
In every game they played in, Jenkins took on opposing team's go-to option on the outside. Jenkins thrived in the set role and even locked down some of the game's best wideouts.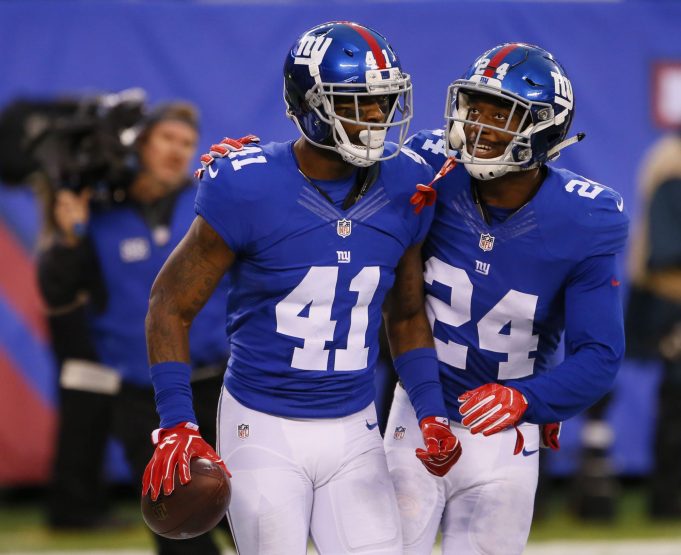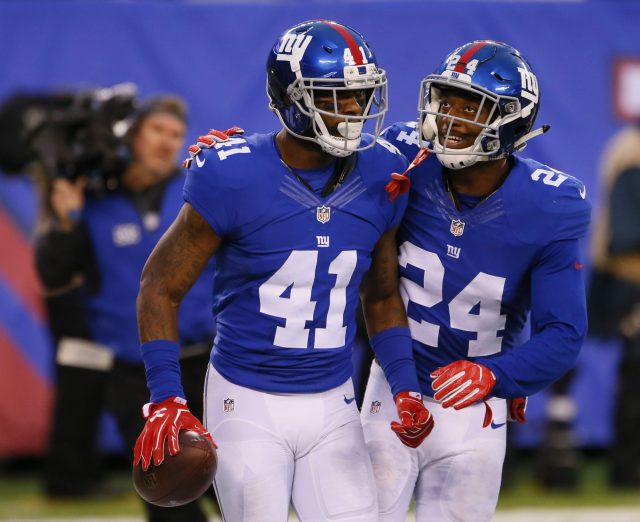 Restricting Saints' Brandin Cooks and Bengals' A.J. Green to 68 yards a piece and the Cowboys' Dez Bryant to a combined 18 yards in two matchups, Jenkins was everything and then some for the Giants secondary. However, Rodgers-Cromartie was just as impressive.
Going into the third year of his five year deal, many were unsure as to how well Rodgers-Cromartie would perform given he was starting to get up there in age (he turned 30 last April), but he erased all doubt.
Finishing the season with a career high six interceptions and playing tight one-on-one coverage, Rodgers-Cromartie had arguably the best year of his nine year career. In fact, Pro Football Focus ranked him as the third best playmaking corner.
Jenkins and Rodgers-Cromartie have both shown no signs of regression and have in fact improved, making the notion that the Giants defense could take a step back look even less likely.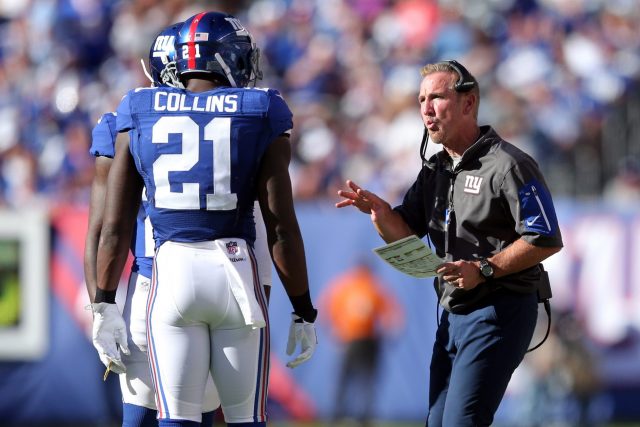 Landon Collins And Eli Apple 
Last year the Giants secondary was nicknamed the NYPD (New York Pass Defense). While the production they received from their stellar cornerback duo was a big piece to that puzzle, the play from their youth was just as crucial — Landon Collins in particular.
After a mediocre rookie season, Collins broke out, shattered all expectations in 2016. Finishing the year with a career high 125 combined tackles, to go along with five interceptions and four sacks, Collins was a gnat for Big Blue's defense. His tenacity and grit all over the backfield helped him come in third for defensive player of the year behind Von Miller and Khalil Mack.
However, in addition to Collins, the Giants also received plausible production from rookie corner Eli Apple.
Despite getting out to a slow start in the year's early stages, Apple began to come into his own as the year progressed. After learning to stay with his man and not get blown by, Apple became a reliable product for the Giants' backfield. While he will need to improve his consistency, Apple's youth, as well as his encouraging second half give off a positive vibe going into this upcoming season. Apple's second half play, paired with the potential for Collins to grow into an even bigger star, make the Giants' secondary even more dangerous in the 2017 season.
Put it all together: an elite defensive line in its prime, a lockdown cornerback duo and additional promising young pieces in the secondary. Those three facets of the Giants' defense make it virtually impossible that they'll see a decrease in production on that end of the ball.