Last year, the New York Giants saw several of their young players emerge as stars. This year, expect more of the same from Big Blue.
2016 was a turnaround year for the New York Giants, finishing 11-5 after three consecutive losing seasons. The reasons for the reversal in fortune are aplenty. GM Jerry Reese has been drafting better of late and no NFL team has had more success in the free agency market. Several former draft choices and young free agent signees took major steps forward in becoming the team's new core of stars.
Last season saw second-year safety Landon Collins bounce back from a disastrous rookie season and become an All-Pro. Collins was considered a Day 2 steal at the 2015 NFL Draft but was hung out to dry as a rookie. The light went on in his second season and now the Giants' secondary is considered one of the league's best.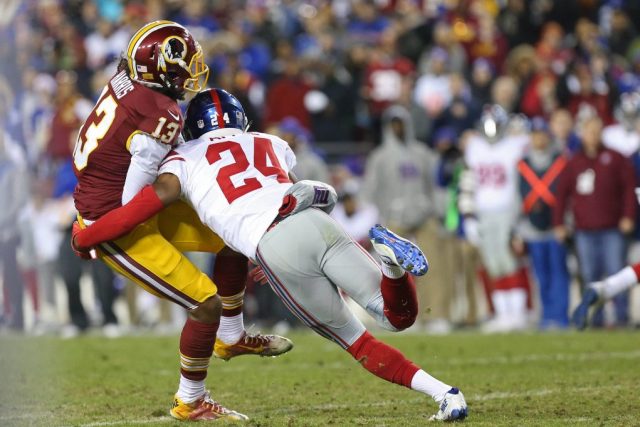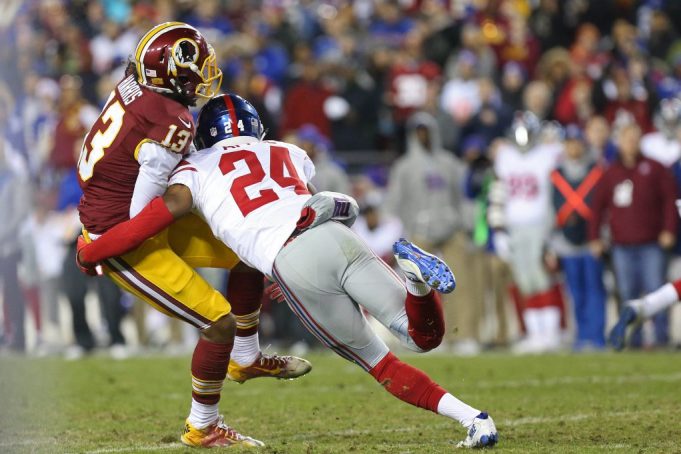 2017's roster is full of breakout candidates. CB Eli Apple, who showed flashes as a rookie last year, is expected to be an integral part of the Giants' defense this season. He is not alone. The Giants are expecting their other selections from last year's draft, WR Sterling Shepard, safety Darian Thompson, LB B.J. Goodson, RB Paul Perkins and TE Jerell Adams, to step into prominent roles as well.
Thompson won the free safety job in camp last summer, only to have his season derailed by a Lisfranc injury. He's healthy now, and will battle UDFA Andrew Adams, who replaced him last year, for the right to start alongside Landon Collins. Adams is currently penciled in as the starter but the team is higher on Thompson, a more heady and vocal player.
Shepard had a fairly productive rookie year (65 catches, 683 yards and 8 TDs) but the Giants suddenly have a multi-pronged passing attack with the additions of top pick TE Evan Engram, free agent WR Brandon Marshall and the return of RB Shane Vereen, so the question of how Shepard will fit in has yet to be determined. We know the Giants will get Odell Beckham, Jr. his touches but how the rest of the passes will be distributed are anyone's guess.
Defensive coordinator Steve Spagnuolo has given Goodson glowing reviews and has pretty much decided that he will be the team's new MLB barring anything unforeseen. Goodson is nailing down the nuances of wearing the defensive headset and that means they plan on him being a three-down player. The Giants, like many teams, tend to employ five defensive backs more often than not, and since they use a four-man front, that means one less LB. The Giants are hoping Goodson can be their new centerpiece.
Perkins is being touted as the teams' top back and should start the season getting the lion's share of the touches. Rookie Wayne Gallman and Orleans Darkwa will serve as change up backs and Vereen will be used primarily in the passing game. Perkins has to improve the blocking and pass-catching aspects of his game but the Giants are confident he will become their guy.
Adams is a dogfight at tight end and it may be one he can't win. He has the prototypical skills and size to become a solid NFL tight end, but he's not quite where he needs to be and that will hurt him. With Engram coming on the scene and Rhett Ellison signed to be a blocker, Adams will see less reps. Throw in the fact that Matt LaCosse looked like a seasoned pro at workouts this spring and Will Tye is still in the plans, things could get dicey for Adams.
The two players the Giants really hoping have breakout seasons are the two tackles they drafted back in 2015. Ereck Flowers and Bobby Hart, the team's current left and right tackles, both took a step back in their progress in 2016 and, after a dedicated offseason program that saw them get sleeker and quicker, they are expected to "make the jump" this season.
Sizing up this year's draft class, there doesn't appear to be any candidates outside of Engram that will jump out. Second-round pick Dalvin Tomlinson will be used in the defensive line rotation, so how many reps he'll see is still up in the air. QB Davis Webb won't play at all. Gallman will have a small role in the offense and will mainly be a special teamer.
The Giants last two draft picks, DE Avery Moss and OT Adam Bisnowaty, are both highly touted but where they fit in as rookies is in question. It's doesn't look like either will see a great deal of playing time this year.
Other players to keep an eye on this season: DE Romeo Okwara, WR Roger Lewis and CB Donte Deayon.