The Mike and the Mad Dog 30 for 30 Documentary on ESPN aired on Thursday night. A review of the much anticipated documentary and looking back at memories from the fans of sports talk radio icons in New York.
For 19 years on WFAN, the afternoon drive was led by Mike Francesa and Christopher Russo co-hosting the "Mike and the Mad Dog" radio program. The ESPN 30 for 30 documentary series aired a special on the program and the impact it had on New Yorkers.
I thought the documentary was spectacular. The evolving change of media is a topic of interest to me and it makes working in this field exciting to be part of. To see where talk radio was in the late 1980's and how WFAN evolved as a station 30 years ago in 1987 was interesting. Everything new is going to be a challenge but even more of a challenge in the Number 1 media market. This specific part of the documentary was good for the whole audience so fans across the country can see how this sports talk radio station evolved which led to other ones coming in years after.
Suzyn Waldman got a decent amount of air time on the special which was appropriate. She gave the first WFAN update and spent many years as a reporter for the station and now is part of the Yankees broadcast team. The key point she made that I found interesting was when the station had to transition to get voices on the air of fans who attend games in New York. It took time for WFAN to get the right talent and the right programs on the air. The evolution of Mike and the Mad Dog might have been the greatest accident that happened.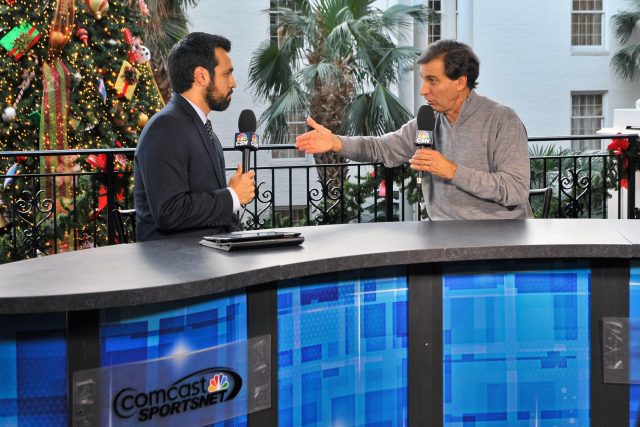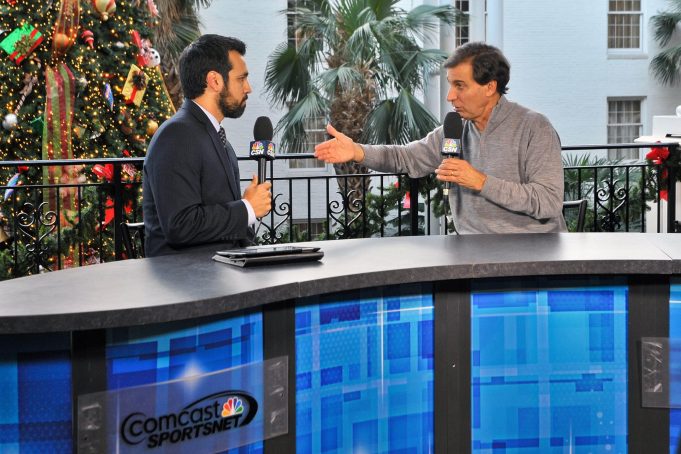 The pair of Mike Francesa and Christopher Russo knew they were stuck together and never thought it would last as long as it did. The knowledge, passion, and style that each of them bought to the air and as shown on here are the reasons why it lasted for 19 years. It gave me a better understanding of how big the show was in the 1990's and why for me growing up, I wanted to work in sports. I have the same love and passion for it just as they do and always believed someday I can host a show like Mike and the Mad Dog.
You knew every day at 1pm a sports talk show for the fans was going to be on and Mike and Chris were there and gave you everything you needed to know. They later made history when they became one of the first programs to get a TV simulcast on the YES Network. I thought more time should've been spent on this subject than what was done. What was not said on the special and Francesa has said it many times over the years was that George Steinbrenner pushed for this simulcast to happen.
It was cool to see the sights of the spring of 1994 when the Rangers won the Stanley Cup and the Knicks were in the NBA Finals. The moments of the dynasty Yankees in the late 1990's and how stronger the show was when the teams were doing very well. The biggest challenge they had and they did it for the people was appearing on air the day after September 11, 2001 and taking some heated calls. As far as the callers, I thought it was great to include regulars such as Mike in Montclair who himself has made headlines in the news this week.
The documentary was very informative to the passionate sports fans and those involved with sports media. The biggest challenge has yet to come for WFAN with the afternoon drive as they will replace Mike Francesa's show when he leaves the station in December. Both Mike and the Mad Dog and Francesa's solo show have been number 1 for so long that they will now need to find the right combination to fill that afternoon vacancy. It could be another arranged marriage that wasn't planned like Mike and the Mad Dog, but no show can top what they did for New Yorkers.
I asked the readers on social media to share some stories and memories of the program over the years and here is what was responded…
Kristopher Daly- Middletown, NY
My best memory of the show was when my late father picked me up from school and it was the day the Redskins brought Joe Gibbs back as head coach. Mike and the Mad Dog covered it live and had the press conference on and it restored the faith in my lifelong favorite team. You can't forget about the marquis either. The super bowl contest will never be the same again.
They had the best intro song in the business. Know it word for word and I remember waiting on the line for hours after school hoping for a chance to win that Super Bowl contest.
Mikey Caruso- Bay Shore, NY
I remember having my father pick me up from school first day of March Madness and we would listen to them give updates on the day games. It was like you missed nothing because they were always prepared and gave you everything you needed to know.
Mike Trezza- Lindenhurst, NY
I started listening to Mike and Chris regularly around 1994. By that time they had been on together for five years. I was hooked almost immediately. As a sales rep, at least half of my workday was spent in and out of my car. Mike and Chris were appointment radio, especially if there was a BIG story in New York sports. You knew where on the radio you needed to be at 1pm (originally they on 3-7pm, then 2-7, then 1-6:30). The fun was predicting what either or both of them would say about a big story. And all the focus was on NEW YORK sports, the teams and players and coaches you knew and cared about. They didn't talk about the Broncos or the Cubs.
The first time I ever called Mike and the Mad Dog, I told the producer I was Mike from Lindenhurst. Despite both hosts having grown up on Long Island, it became clear Chris had no idea where Lindenhurst was. When he put up my call, he said Mike from Lindenhurst, New Jersey is next (there's a Lyndhurst in New Jersey). I figured that being a first time caller, they're probably gonna give me 30 seconds. I can spend half that time explaining where I was calling from, or just get to my point. I chose option number 2. The next time I called them, I was Mike from Babylon. And every time after.
The one period of time as a listener that was especially memorable was the couple weeks following 9/11. It was really strange listening to them during those days. The whole country, and especially New York, was devastated. It was a strange mix of disbelief, shock, grief, anger, frustration and sadness. Mike and Chris switched from 2 guys doing a sports talk radio show to 2 guys doing a news talk radio show. All they talked about was 9/11. There was nothing else TO talk about. When 1:00 came each day, you just tuned in out of habit. There were no sporting and events, and no other news stories. This story was the mother of all news stories and it needed to be told from so many angles. For days. Once the second week came though, part of you wished they would return to talking about sports, partly out of a need for a distraction, and partly due to the desire (selfishly) to return to normalcy. But there was also a part of all of us that understood WHY they couldn't go back to talking about sports. When so many had sacrificed so much, couldn't Joe Sports Fan sacrifice his sports for a couple weeks. In a strange way though, those couple weeks signaled and unexpected and unwitting transition from sports talk show hosts to simply talk show hosts on the parts of Mike and Chris. They did a really good job under tough circumstances.
Every summer when Mike would go on vacation and Chris would fly solo, Chris would be on his worst behavior, antagonizing Yankee fans for fun and for ratings. I'd always take the bait and call and argue with him. Summer of 2008, he came in to the studio wearing (I could see on YES) a Tampa Bay Rays cap, and a rugby shirt with blue and white horizontal stripes. I called him "Hey Chris, I heard you're getting into the movie business." "The movie business? What are you talking about?" "With that outfit, I thought you were auditioning for the sequel of Brokeback Mountain". They show the guys in the control room, and they're both doubled over laughing. Chris was a good sport. "Mike from Babylon always give me a hard time!"
Fast forward to the day late that summer when Chris announced on the air he was leaving. "I'm gonna miss Yankee fans calling to fight with me. Steve from Bayside…………..Mike from Babylon". My daughter was in the car with me. "Mike from Babylon, Dad? Isn't that you?" We both laughed.
I thought I would end this piece with what Mike and the Mad Dog meant to me…
For me, Mike and the Mad Dog was a show and WFAN is a station I grew up with. As a lifelong Mets fan it was one of the first sports talk radio stations I was introduced to as a kid and they always were the lead into Mets games. When I was younger, I didn't really get the hype of these two guys going on the air for 5-6 hours a day talking sports but as I got older I started to appreciate it more.
I watched them more on YES Network than listening on the radio before I started driving and overtime I started to feel the same connection as many of the listeners in the area did for that time. They were always there every afternoon and I knew if I wanted to hear the big sports news and takes of the day that I would tune into Mike and the Mad Dog on WFAN.
This industry of sports was always something I wanted to be part of and I love the concept of hosting a show. As I got older, got my driver's license and had the ability to listen to sports talk more I always thought that this could be something I can one day do. Mike and Chris to me are the pioneers of New York sports talk radio and no one can ever top what they did for all those years.