When it comes to fantasy baseball, patience is always a virtue, especially in the case of Michael Conforto and Justin Verlander this season. 
O
ne of the hardest decisions in fantasy baseball is when to cut ties with a player. When we use a high draft pick on a player and they struggle early in the season, it can be difficult to drop them.
What happens when we pick up a player on the free agent list and the hot streak runs out? I would recommend staying patient with your players because there was a reason why drafted the player or added them.
Here is a list of players that I would stay patient with who will have a big second half of the season.
Hitters to stay patient with:
Michael Conforto is the future of the New York Mets, but he is having two problems now. Terry Collins is problem number one. For whatever reason, he won't keep Mikey C. in the everyday lineup. He is the type of player who does better when he is in the lineup every day and gets at bats. The second problem is he is dealing with a hand injury. Right now, it's better that he sits out and gets healthy. I always believe that hitters should sit out until they are healthy because they will not put up the same numbers playing hurt.
Over the last 30 days, it has been tough to roster Mikey C. He is batting .211 with one home run and only has eight runs batted in. Not all of that has to do with the injury but before the month of June he was hitting the cover off the ball.
In his previous two seasons, he was pulling the ball 72% of the time when he hit it and only hitting the ball to the opposite field seven percent of the time. This offseason he put the time in and started to understand what it takes to become a major league hitter. It is a small sample size but this season he is hitting the ball up the middle 53% of the time and hitting it to the opposite field fifteen percent of the time.
He is letting the ball get deep and he is hitting the ball back up the middle. Stay patient with Michael Conforto. Once he gets healthy, he will be the hitter that we saw at the start of the season.
Jonathan Lucroy was a top three catcher in every rankings article that you have read in the offseason. I projected him to have a better season than Buster Posey, .For his owners this year, he has been a disaster. On the season, he is hitting .261 with four home runs and nineteen RBI's. Those numbers are not what his fantasy owners were expecting from Lucroy. However, things will get better for Jonathan Lucroy in the second half.
Personally, I have no shares of Lucroy on any of my teams so it's very easy for me to tell you guys to hold on to him. This is one of the reasons why if I didn't have Gary Sanchez or Buster Posey, I would be the last person in my league to get a catcher. If he played a different position, I would say there is a replacement on the free agent list. Catcher is poor this year, like most years. Unless you can grab Wilson Ramos, you need to hold on to him. In the second half of the season for his career he is a .275 hitter. This tells me that can still have a productive second half. If he hits .275 with double digit homers then his owners will be thrilled. Hold on to him, it can only get better from here.
Carlos Gonzalez might be the biggest disappointment of the 2017 season. It's rare to be excited for when a player gets placed on the disabled list but when Car-go was placed on the DL, it told me his poor play was because of injury. Anytime there is a shoulder injury, that is bad news for a hitter. When the shoulder is hurt, a hitter loses their power and it affects their bat speed. There was a reason why CarGo was a top 30 batter at the start of the season and once he gets healthy, he will produce like the fantasy stud he is.
If you have read any of my articles in the past you will know that I love hitters that play half their games at Coors Field. He has been a streaky hitter throughout this career and he has hit double digit homers in a month multiple times in his career. He would be the perfect buy low candidate and he can carry your team to a fantasy championship. Carlos Gonzalez has been frustrating but he can reward the owners who have him on their roster for the second half of the season.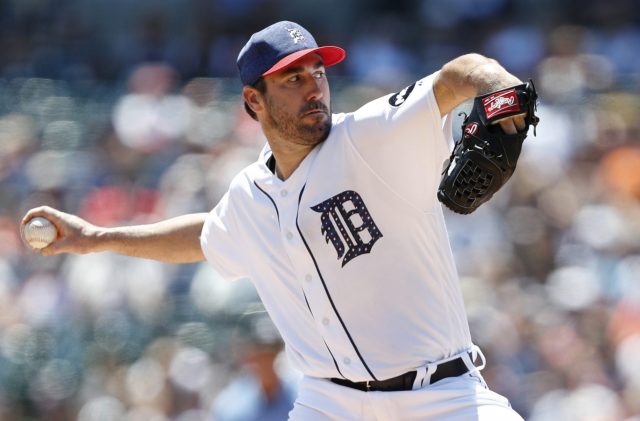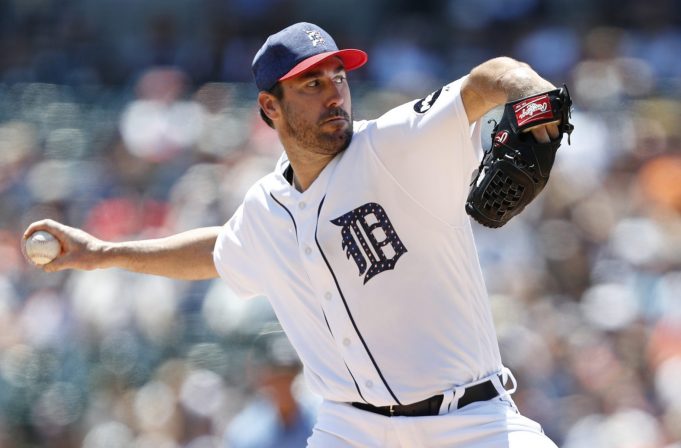 Pitchers to stay patient with:
Justin Verlander has been one of the most consistent pitchers over the last decade. His season numbers aren't pretty. He has a 4.47 ERA and has walked 44 batters in only 92 innings. This is the only time in his career where he has had a double digit walk percentage. However, he has turned it around over the last month of the season.
Over the last month, Verlander has a 3.74 ERA and is averaging over nine strikeouts per nine innings. He is still walking batters but he is still striking out a batter an inning and he is throwing harder this year than he has since 2011. His arm is still strong and he has run into some bad luck at the start of the season. From this point forward he should be looked at as the top twenty pitcher that he was at the start of the season. He has a great history of performing at a high level and with his track record, fantasy owners should be ready for a big second half.
Danny Salazar is averaging 12.6 Ks per nine innings this year. Those are elite strikeout numbers for a pitcher. He has given up a lot of hits and he has walked too many batters this year. He has a high WHIP and is averaging over four walks per nine innings. Having a high WHIP can be frustrating to fantasy owners because a high WHIP usually leads to a high ERA. However, Danny Salazar can be a top 25 starting pitcher in the second half.
I may be biased but whenever a pitcher has those type of strikeout numbers, I want them on my fantasy team. I am willing to take the hit on ERA and WHIP because after a while, the strikeouts should start equaling better success. The problem with Salazar is the Cleveland Indians might put him in the bullpen and he may only get spot starts. If the Indians put him back in the starting rotation, he will be a great pickup for the second half of the season. Danny Salazar is a great bounce back candidate.