Carlos Gomez and Jacob Faria are just two examples of fantasy baseball players who are ripe to be snatched up by you in your league. 
N
o matter how late it gets into the season, there will always be help for our fantasy teams on the free agent list. Over the last couple of weeks, there have been veteran players who have been fantasy relevant in the past show signs of life again. We have also seen rookie pitchers who have stepped up and are looking like future aces in the MLB.
When it comes to free agents, I like to take chances on them if they have had fantasy success in the past or they are a highly ranked prospect.
If a player has done it in the past for a stretch longer than a year that shows me that they can put up good fantasy numbers again. It is hard to tell with Rookies but this year I was very high on Cody Bellinger and I grabbed him early just to make sure I had him. That moved payed off but there are plenty of times I added a prospect and I ended up dropping them because they under performed.
When it comes to adding players on the free agent list there is a lot of risk involved but you need to take that risk. Add players and give them a couple weeks, if they are under-performing, cut ties with them and take a chance on another free agent. Here is my list of players that you guys should look at and add them if you need the help.
Hitters:
Carlos Gomez (Owned in 39.7% of ESPN leagues)
Carlos Gomez was a top 25 hitter a couple years ago in fantasy baseball. He was one of the few players who could go 20-30. From 2012-2014 he averaged 22 home runs and averaged 37 steals a season. He may not reach the steals but he is in a great hitters park for power hitters. He came off the disable list on June 16th and since then he has been on fire. He has nine runs scored, four home runs and fourteen RBIs. Gomez falls in the category of players that have done this in the past and did it at an elite level. He may not steal as many bases since he is 31 now but if he keeps up this home run pace there is no reason why he can't finish the season around 25. I have been a huge Gomez fan for a couple years now so I grabbed him on the 18th and got lucky. If he is available in your league, go out and add him. If he keeps it up, you can trade him and sell him to the another owner and tell them that he has done it in the past and he is no fluke. If not, hold on to him and enjoy the production.
Cameron Maybin (Owned in 52.9% of ESPN leagues)
Cameron Maybin has been running wild this season. In only 55 games, Maybin has 21 steals. If he keeps up this pace, he will end up with a lot of steals (solid fantasy advice right therem I know). He is batting .276 with a .382 OBP, which tells me he is taking walks and that will be good for him to keep up these stolen base numbers. He won't hit for a ton of power but if he can continue to get on base, he has the green light to steal. He scares me a little bit because he has shown flashes of greatness in small doses in the past and fizzled out by season's end. He will get all the playing he can handle even when Mike Trout comes back and when Trout does return he will bat behind Maybin in the lineup and that will mean he will score more runs. If you need speed and runs scored, Cameron Maybe is a solid pickup.
Tommy Pham (Owned in 9.2% of ESPN leagues
Tommy Pham spent twelve seasons and to say he put his time in is an understatement. He is only 29-years-old which seems young for a player who was in the minors for so long. He is in the prime of his career and there aren't too many franchises that I trust more to develop players than the St. Louis Cardinals. He is the exception to both my rules to when it comes on adding a free agent. He doesn't have a past of putting up elite numbers and he's too old to be a top tier prospect. He's just a good ball player and he will hit around .270, hit 20 home runs and drive in around 70 runs. Those numbers aren't great numbers but in deeper leagues, that is what you need. He can also be a good fill in if one of your outfielders is out for a couple weeks.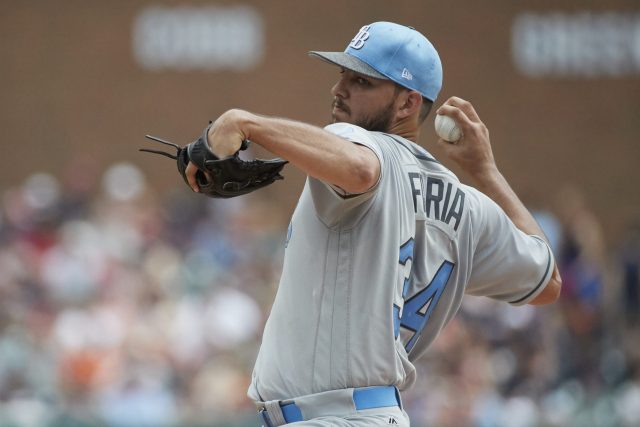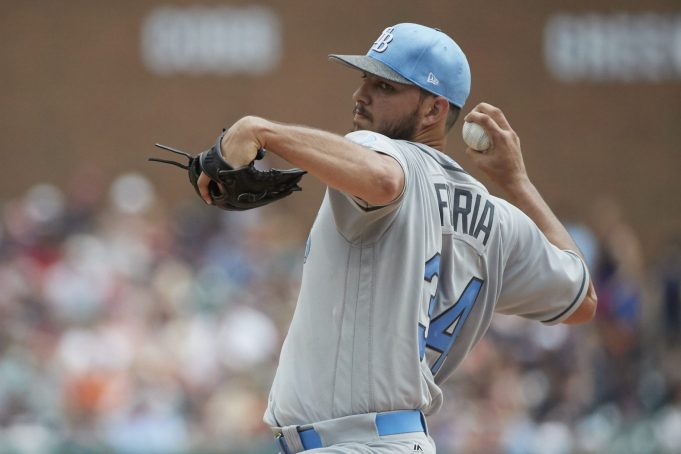 Pitchers:
Jacob Faria (Owned in 61% of ESPN leagues)
The Jacob Faria train may have already left the station but if he is available in your league, add him immediately. In 19.2 innings this year he has 22 strikeouts, only  gave fifteen hits, only four walks and three earned runs. In 2015 while in the minors he went 17-4 with a 1.92 ERA and he had 159 strikeouts in 149 innings. He has shown dominance in the minors at a young age and that is what we are looking for in a pitcher prospect. The numbers say he is going to be a solid number two starter or a potential ace in the league. He pitches in a good pitchers park and he will be able to help fantasy owners right away.
I have already mentioned Alex Meyer in another article so I won't go into too much detail. The kid is 6-foot-9. I don't know if you know this, but you can't teach height. Height can be good for a pitcher. At all levels in his career he is averaging over 10 Ks per nine innings. He has great stuff but the problem is he has control issues. He can ruin your WHIP in one week with a bad start but he also can win you K's if he gets two starts. He has great upside and is worth the add even in ten team leagues.
Finally, I get to write about an Atlanta Braves prospect not named Dansby Swanson. Sean Newcomb is the Braves number six prospect in which many call the best farm system in the league. He averaged over 10 strikeouts per nine innings but like Alex Meyer, he has a problem with walks. The good thing about Newcomb is that he doesn't give up the long ball and he only allows seven hits per nine. He doesn't have the upside like some of the pitching prospects but if he can keep the walk total down he can be a solid option for the rest of the season.