For this slate of Daily Fantasy Baseball, it would be wise to pay up for Chris Sale, Buster Posey and Edwin Encarnacion. 
I
t's that wonderful time of the year where baseball is the only major sport going on. This means in the DFS world, we will be getting a lot more players in tournaments. The good thing about this is that the players who are joining are not doing this every day. This is important because they are not used to doing the research necessary and it will take them a couple of weeks to get caught up.
The next month will be the busiest and there will be more easy money than usual. Let's take advantage of this and win some money. Here are the plays and good luck to everyone.
Starting Pitchers:
Chris Sale is in play every night he plays and tonight is no different. The Kansas City Royals are almost in the bottom half of almost every hitting category against lefties this year. The Royals as a team don't strike out a lot but they haven't faced a lefty of Chris Sale's caliber. Sale already has nine games of 10 strikeouts or more and he has been the best pitcher in the AL. Sale is good, don't over think it. Start Sale tonight.
Gio Gonzalez has been excellent over his last five starts and has been good all year. Over his last five starts he has scored over 17 DK points and in his last two games, he has scored more than 22 DK points in both. The game is in Miami which is a good pitchers park and if he can limit the damage from Giancarlo Stanton and Marcell Ozuna he should have a good game. Since pitching isn't strong tonight and he can be chalky but tonight we should take the points wherever we can get them in pitching.
Zack Greinke is pitching in Coors Field which will scare a lot of players away. However, he has pitched in Coors already this year and scored 26 DK points. In his other start against the Colorado Rockies, he scored 20 DK points. He has done well against the Rockies this year and he was low owned because of the matchup. Selecting a pitcher in Coors is never fun but tonight he should be rostered. He has great upside in this matchup.
If you are looking to spend down on pitching or looking to match someone up with Chris Sale, these two would be my options. Brandon McCarthy is the safer pick of the two and can score anywhere from 12 to twenty plus points and most likely won't get blown up. Amir Garrett is the ultimate tournament pitcher. His highest-scoring night of the season is 31 DK points and his lowest scoring was negative fourteen. That is a big range of outcomes but that's what makes him a tournament play. If you are feeling frisky, go with Amir Garrett. If you are looking for a constant ten to fifteen points go with Brandon McCarthy.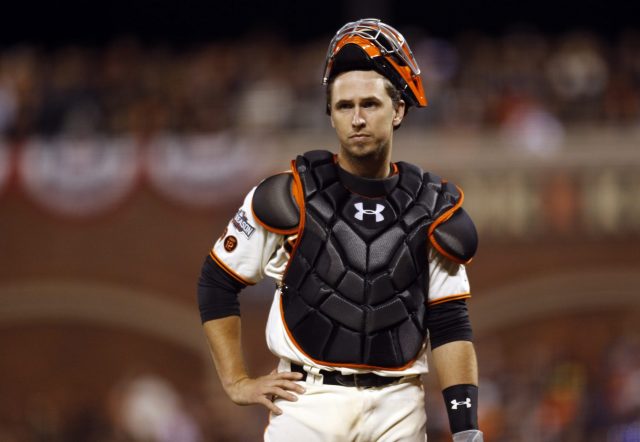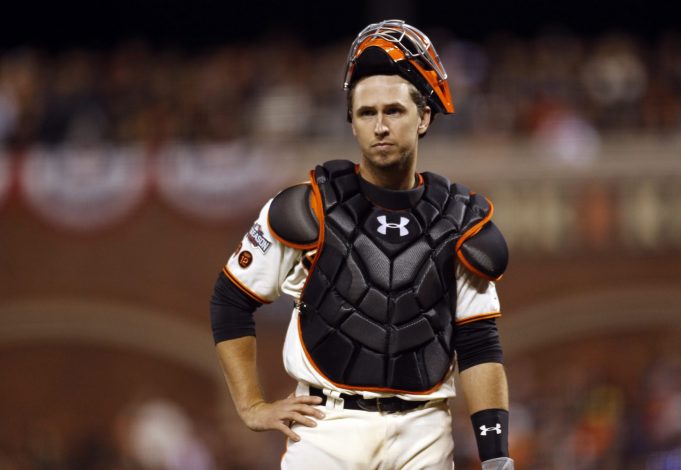 Catcher:
Buster Posey has owned Julio Teheran in his career. He is batting .538 with two extra-base hits and two home runs against Teheran. This game is in Atlanta which has been an extreme hitters park and Posey should have no problem getting a couple of hits tonight. Somehow Posey is the fifth highest priced catcher on the night. $4,100 is a good price tag for Buster Posey tonight.
Tyler Flowers has been great this year for the Atlanta Braves. He is batting .333 with five homers and 21 RBI's. He bats in the middle of the Braves lineup and should have no problem hitting Matt Moore. Matt Moore has been giving up a lot of hard contact this year and has an ERA of six. An Atlanta Braves stack would be sneaky tonight and it should include Tyler Flowers.
First Base:
Edwin Encarnacion is starting to look like his old self again. Even after his slow start to the year he already has sixteen home runs. Hopefully, everyone read my article about buying low on EE (because I did) and I have enjoyed his production of late. He now faces Chris Tillman who he is familiar with and has six extra-base hits off and three bombs. EE has great upside and I will continue to roster him for as long as this hot streak continues.
Brandon Belt is along the list of players who are overrated in fantasy but tonight he makes for a good play. Sun Trust Park has been great for left-handed hitters and like his teammate Buster Posey he has good success off Julio Teheran. He is batting .583 with three extra-base hits and two dingers off Teheran. This will be a good play because players like to pay up for first base and this is as good as it's going to get for Belt. He is a scary play but tonight he is worth the risk.
Second Base: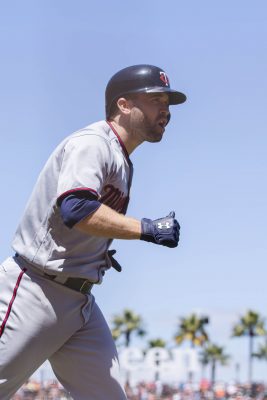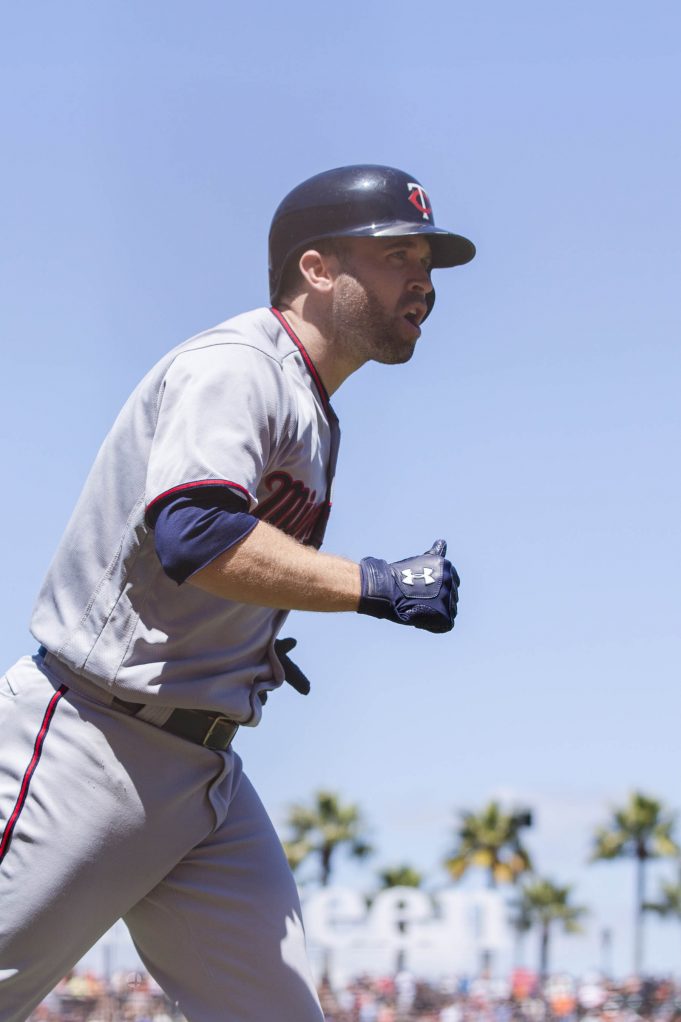 Whenever Brian Dozier goes against a lefty pitcher, I always play him. His price is lower than it has been over the last week for some reason and we should take advantage of this. He is batting .300 off Derek Holland with some power and they are hitting in Chicago which is a better ballpark than Minnesota. DK is giving us a gift in Dozier's reduced priced and we will take full advantage of it.
Tonight I will be paying up at second base. He has great numbers vs Edison Volquez (9-20) and he will go extremely low owned because of the ballpark and the hot streak that Volquez is on. Whenever we can find an elite hitter and get him low owned, that is a great way to win money.
Third Base:
Any of the top five priced third basemen are in play tonight. Both Jake Lamb ($5,600) and Nolan Arenado ($5,500) are in Coors field which is automatic plays. Jose Ramirez ($4,900) has been on fire over the last week. He has multiple hits in six games straight (not including Monday night because this is when I am writing this) Josh Donaldson ($4,800) and Kris Bryant ($4,700) are in good matchups. You can't go wrong with any of these options.
Shortstop:
Trevor Story will go low owned because he is going against Zack Greinke but he has good numbers off him. He has four extra-base hits and three home runs in only fifteen at bats. The game is in Coors and anytime you can get a player under $4,500 in that environment, he is worth the play.
Lefties are batting .330 off of Chad Kuhl this year and Eric Sogard has been leading off for the Brewers. He hasn't slowed down yet and is hitting .351 on the year. He is a cheap option with good upside tonight. If you are looking to save money at a position, this is a great play.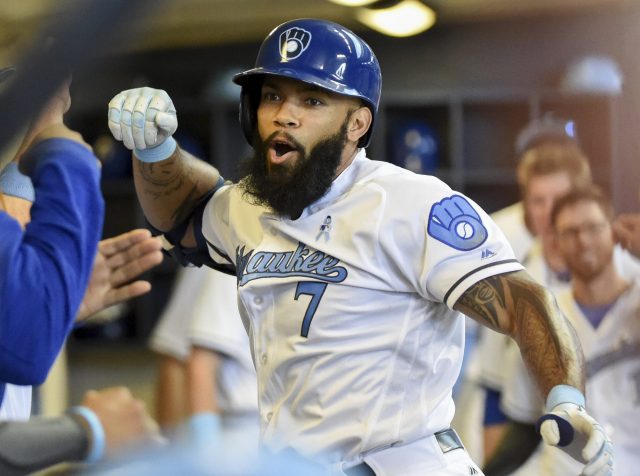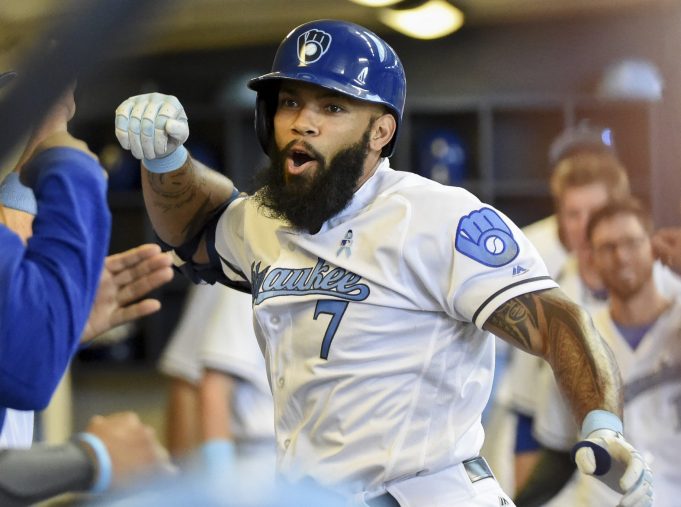 Outfield:
Eric Thames has a lot going for him tonight. He is facing Chad Kuhl who gets hit hard versus lefties. He is a streaky hitter who is in the middle of a hot streak. Also, he is in a good hitters park in Milwaukee. Eric Thames has shown his upside this year and he already has twenty bombs. I tend to stay away from hitters like Thames, but tonight he is worth the play.
Carlos Gomez just came off the DL and in his first three games, he has scored over 10 points and has two home runs. When Carlos Gomez is healthy, he is an elite fantasy option. While he is on this hot streak, he is worth the play. He is 10-21 with two home runs off Francisco Liriano. Everything is aces tonight for Carlos Gomez.
Lorenzo Cain has been on fire over the last two weeks and he is facing Chris Sale tonight. So why am I saying to play him off the best pitcher in the AL? Cain is batting .346 (18-52) with eight extra-base hits and three homers off Sale. Against Chris Sale, he will go extremely low owned and with the way he has been hitting and stealing bases, he will be a good low owned play with great upside. If you don't play Chris Sale, Lorenzo Cain is a good play tonight.