Now in June, finding fantasy baseball power, speed and pitching help is rough. Joey Gallo and Jordan Montgomery are two examples. 
T
his is the time of year where we can pick up a player and they can help us win a championship. If you have a struggling player and they still are not turning it around, it may be time to sit them on the bench and find a replacement. Don't think just because a player is on the free agent list that they are not worth the add.
The article will help you find those players that can help give your team a boost. I will give a player or two to add for each category. Nobody has a perfect team and needs help in a category or two. Let me try to help everyone win a title this year and let's look at the players.
Speed:
Mallex Smith-Outfield, Tampa Bay Rays (Owned in .5% of ESPN leagues)
With the injury to Kevin Kiermaier, he should be able to show off his speed and get all the playing time he can handle until he comes back. In only 23 plate appearances with the Rays (prior to Friday's game) he had three stolen bases. On Friday Night, he already has three stolen bases by the third inning. He has elite speed and has been compared to having Billy Hamilton type of speed. In 2015, in the minors, he stole 56 stolen bases in only 125 games. Also in the minors, he has batted over .300 and is a good contact hitter with little power. If you need speed, Mallex Smith will be a great pickup because he can win you steals in a week all by himself.
Delino DeShields– Outfield, Texas Rangers (Owned in 3.7% of ESPN leagues)
Delino DeShields can score a lot of runs and steal us a ton of bases if he can just be consistent at the plate. He is a career .253 hitter and has a low .329 career OBP but he is in a good hitter's park in Texas. He should bat near the top of the lineup and he is only 24 years old which means he can still turn into a good contact hitter. So far this year in only 46 games he scored 26 runs and has ten stolen bases. He's in a good lineup and in a good ballpark for hitters. He can be a good source for runs and stolen bases. If you are losing stolen bases every week or are far behind in a roto league, he is a good player to add when he's in the lineup.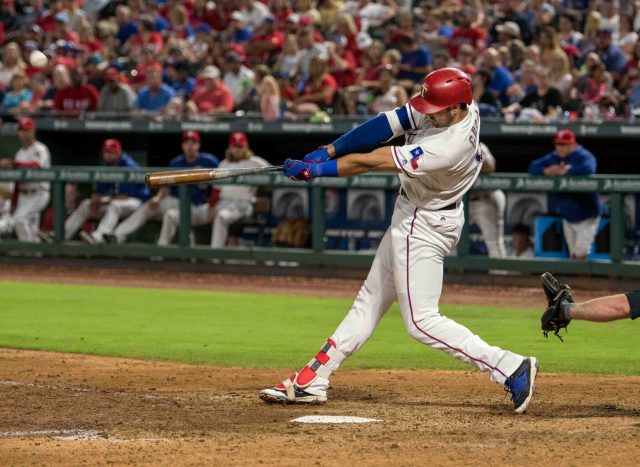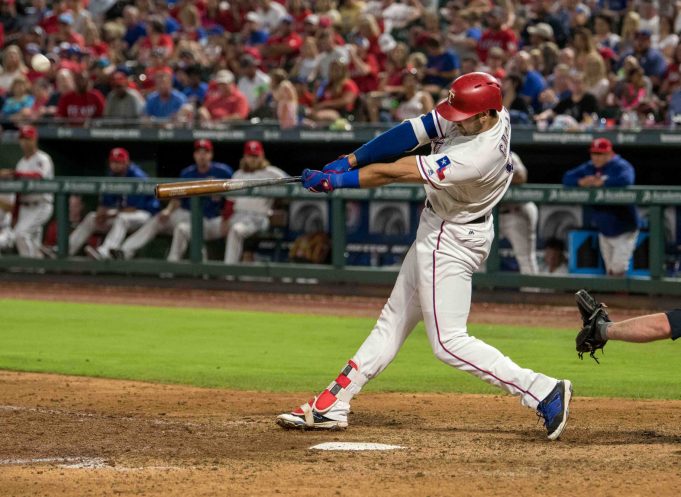 Power:
Joey Gallo-Third base/Outfield, Texas Rangers (Owned in 49.8% of ESPN leagues)
I have written about Joey Gallo before but apparently, not enough people are reading my articles. Joey Gallo is receiving every day playing time and his power numbers are real. He has seventeen home runs in only 190 at-bats this year. He should have no problem hitting 35+ homers this year but the problem is he may only bat .200. If you can take the hit in batting average, he is a great player to add if your team is lacking in the power category.
Matt Adams-First base/Outfield, Atlanta Braves (Owned in 13.1% of ESPN leagues)
Matt Adams has been exactly what the Atlanta Braves were looking for when Freddie Freeman went down with an injury. In 17 games with the Braves, he has six homers, seventeen RBIs and is batting .282. Those numbers average out well considering he has about eight more weeks of every day playing time. There is no reason he should be added in deeper leagues with his upside and the ballpark that he is playing in.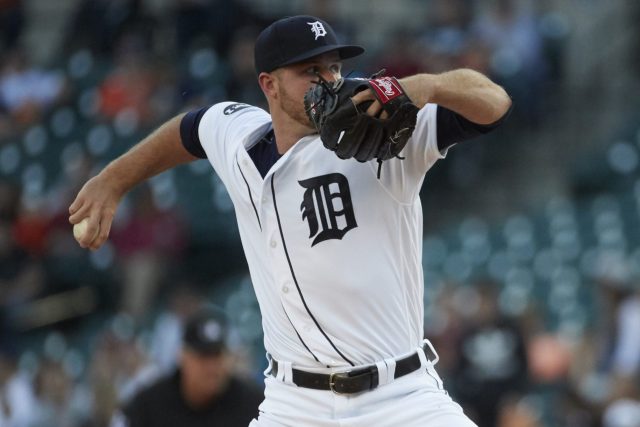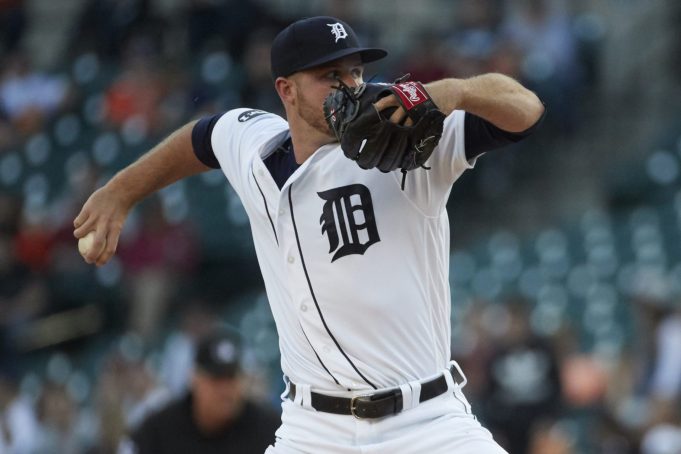 Pitching:
Buck Farmer– Starting Pitcher, Detroit Tigers (Owned in 14.3% of ESPN leagues)
Buck Farmer has been close to perfect in his two major league starts this year. He's now delivered 13 shutout innings over two starts with a 16:3 K:BB this year and he should stay in the Tigers starting five. In his five minor league seasons, he had a 3.65 ERA and had a very respectable 8.7 strikeouts per nine. He put up good numbers in the minors and can be a very solid starter in the big leagues. He won't be an ace but he can give us good strikeout numbers and should continue to give us a good ERA. If Farmer is available in your league, add him and if he has a bad matchup you can sit him. Just because you add a starter it doesn't mean you must start him every start.  Pick and choose his starts and he will give you good numbers for the rest of the year.
Alex Meyer, Starting Pitcher, Los Angeles Angles (Owned in 2.7% of ESPN leagues)
Alex Meyer has the stuff to be a fantasy stud for us. In the minors, he had a very respectful 3.86 ERA and he averaged over ten strikeouts per nine innings. His biggest problem has been walks. In the minors, he issued 3.8 walks per nine and in the majors, he has averaged over six walks per nine. No matter how good he is there is no way he can survive walking that many batters. Not only is he walking too many batters but that is adding to his pitch count and he won't be able to go deep into games. If you pick the matchups correctly he can give you elite numbers across the board but don't start him in bad matchups.
Jordan Montgomery, Starting Pitcher, New York Yankees (Owned in 20.1% of ESPN leagues)
Jordan Montgomery is the future of the New York Yankees pitching staff.  He has the making of an Ace at the big league level and he is pitching well in his first half of the season. He is no fluke. In the minors, he had a 3.05 ERA, 1.16 WHIP and had an 8.9 strikeouts per nine mark. He limits hard contact, has a low walk rate and doesn't give up the long ball. All of these are signs that are pointing to an elite pitcher. Twenty percent is way too low of ownership for this caliber of pitcher. Grab him if he is available in your league.