For this slate of daily fantasy baseball, stack your roster with New York Yankees and pay up for pitching.
S
ince DraftKings introduced "Arcade Mode," I have been playing it non-stop. I haven't had a tournament take down … yet, but I am starting to figure out how to break the code on Arcade mode.
Arcade mode is different in that you chose one pitcher (instead of two) and you chose five batters from any position. It can be difficult because how can you not roster Bryce Harper every night? I believe there is more homework and studying to do than ever before. You have every hitter at your fingertips and it doesn't matter what position they play. The biggest difference is you can only pick two hitters from one team.
I will provide my top picks for a handful of pitchers and what hitters I will be targeting on tonight's slate. Good luck everyone and let me know who I missed, the more opinions the better.
Pitchers:
Chris Sale– Boston Red Sox ($21500)
Chris Sale heads back to Chicago to take on his old team the White Sox. Things didn't end up well in Chicago with Sale which makes this a great revenge game for him. Sale has not scored less than 45 DK points in any start this year. I am predicting that he will score over 70 DK points in this one and unless he has the worst game of this season, I don't see him getting taken out. He's going to go the distance and be worth the price tag tonight.
Robbie Ray-Arizona Diamondbacks ($19,500)
Robbie Ray is extremely expensive tonight but in this matchup, he is worth it. In his last two starts he scored 62 and 75 DK points. He didn't give up a run in either and he had fifteen strikeouts combined. The Pittsburgh Pirates don't hit lefties well and Robbie Ray is in the zone. The game is in Pittsburgh which is a great pitchers park which makes Ray an even better play. If you pay up for pitching on this slate, Robbie Ray wouldn't be a bad choice.
Ivan Nova-Pittsburgh Pirates ($13,000)
If you don't go with Robbie Ray, it would be smart to go with Ivan Nova. Not only will he save you $6500, but he will go low owned. The Diamondbacks lineup is scary and shouldn't be picked against very often but this is the time to do it. Nova has been good this year and tonight he will show that he is no fluke this year. The strikeout numbers won't be huge but he will keep the ball in the park and should be able to get us between 25-30 DK points and that should be good enough to win some money tonight.
Eddie Butler goes unrecognized because he pitched for Colorado last year and his career numbers went through the roof. He is pitching in San Diego tonight, which is a great pitchers park and he has the chance to throw six shutout innings with six or more strike outs. At this low price cost we will be able to add a bunch of big bats and if all goes well we could be in for a big night.
Teams to stack: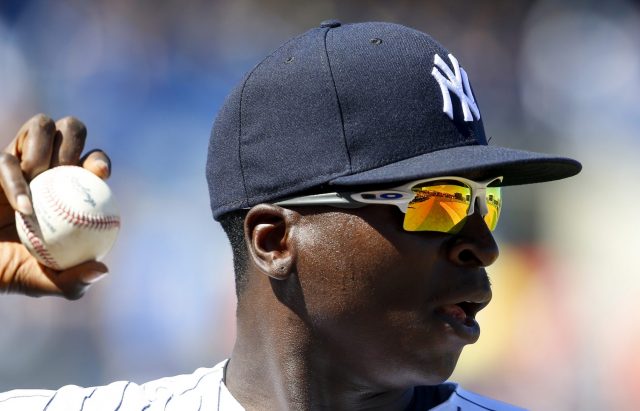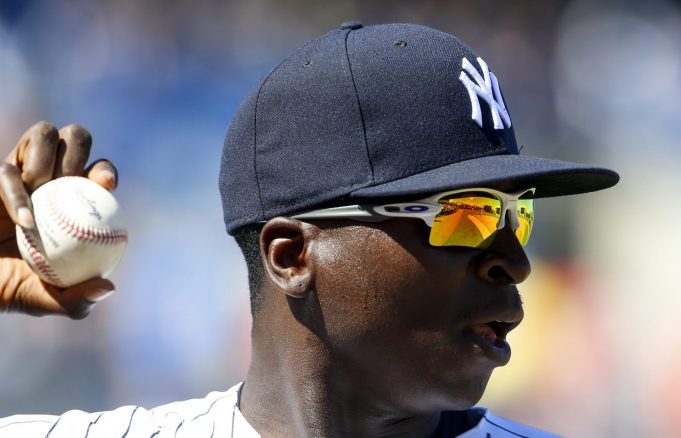 New York Yankees
Aaron Judge, Didi Gregorius, Gary Sanchez  vs Chris Tillman (Baltimore Orioles)
Detroit Tigers
Miguel Cabrera, J.D. Martinez vs Miguel Almonte (Kansas City Royals)
Hitters:
Didi Gregorius- New York Yankees ($6,500)
If you decide to pay up for Robbie Ray, Didi Gregorius is a good priced bat to pay for. In his career, he is 8-16 (.500) versus Chris Tillman with five extra base hits. Stacking the Yankees would be a smart play tonight and Didi will go low owned and can give us tremendous value.
Joey Votto– Cincinnati Red ($7,500)
Joey Votto is way too good of a hitter to be priced at $7,500. I am guessing DraftKings is seeing the lefty, lefty matchup but he has good numbers against J.A. Happ. Votto is batting .381 with a .458 OBP and has four extra base hits off him. He is seeing the ball well off Happ and he is driving the ball well also. Tonight he will hit a homerun off Happ and you heard it here first.
There is no way that Salvador Perez should be this cheap. He is in the bottom ten percent of hitters on this slate, price wise. Salvy is hitting .442 (23-52) off Justin Verlander and has ten extra base hits and two homeruns. At this price, he is an automatic play and he will be very chalky because of it. Lock and load Salvy in your lineups tonight.
Tommy Joseph-Philadelphia Phillies ($6,000)
Whenever the Philadelphia Phillies face a lefty, you play Tommy Joseph. He is becoming a more all-around hitter than just a power hitter and this makes me love him on this slate. Tommy Joseph is a great value play tonight and he should be in your lineups especially if you do multiple tournaments.
Danny Vallencia is in the same boat as Tommy Joseph, whenever he faces a lefty he needs to be in your lineup. Not only is he facing a lefty but he is in Coors Field. At $6,000 and his upside and good history versus lefties, he is another good value bat on the slate.