For this specific slate of Daily Fantasy Baseball, pay up for studs such as Zack Greinke, Yu Darvish and Charlie Blackmon.
W
e are just about a quarter of the way through the season and if you are like me, you have had your ups and downs. There are some nights where I think I am a genius and I wonder to myself how I don't make millions a year doing this. On most nights, I feel like a donkey and have no idea why I played half of my lineup.
The greatest thing about baseball is when you we have a bad night, there is always baseball being played tomorrow. Don't let a bad night or a recent cold streak to stop you from playing. It is impossible to make money every night and if you want to do well in DFS it takes practice and patience.
Let's hope we win some money this Memorial Day weekend and remember to thank a veteran for everything that they have done for us and our country. Good luck everyone.
Pitchers:
Zack Greinke ($11900) @ Milwaukee Brewers
Zack Greinke is finally looking like his old self. Greinke has been lights out this year and he seems to be getting stronger as the year goes on. Milwaukee just lost Ryan Braun to injury and that hurts their lineup. He is in a bad hitters park but that doesn't scare me away because he pitches in a hitters park in Arizona. His prize tag might scare players away and that will make him lower owned and with his upside he is worth the price. Paying up for pitching is always a smart way to spend your money.
Yu Darvish ($11,600) @ Toronto Blue Jays
Yu Darvish has been as consistent as they come this year. There are some factors in this game that scare people away (Josh Donaldson is back and the game is in Toronto) but that makes me like him even more. As a team, Toronto is only batting .138 (12-87) and have struck out 36 times against Darvish. The stat that surprised me and that is making him an automatic start today is with those 12 hits, zero have gone for an extra base hit. A low team batting average and no extra base hits makes Yu Darvish a must play.
Gerrit Cole ($9900) vs New York Mets
Gerrit Cole has thrown a quality start in every start this year except twice and both times were against the Atlanta Braves. His strikeout numbers have been up and down this year but he is pitching at home where he has been good. In every home game except the one against Atlanta he has scored 30, 27 and 20 DK points. He is in a weird price point at $9900 and many will either pay up or down for pitching and that will leave Cole being lower owned.
Kyle Freeland ($6000) vs St. Louis Cardinals
Start a pitcher in Coors Field? YUP! Kyle Freeland has been a serviceable pitcher in Coors this year. He has scored 20 DK points in two starts and 14 in his other home start vs the Chicago Cubs. For six thousand he doesn't need to do much to reach value and he will open  a lot of money for another stud pitcher or another big bat. He will go less than five percent owned and if he can get us 20 DK points, we have a great chance to win money.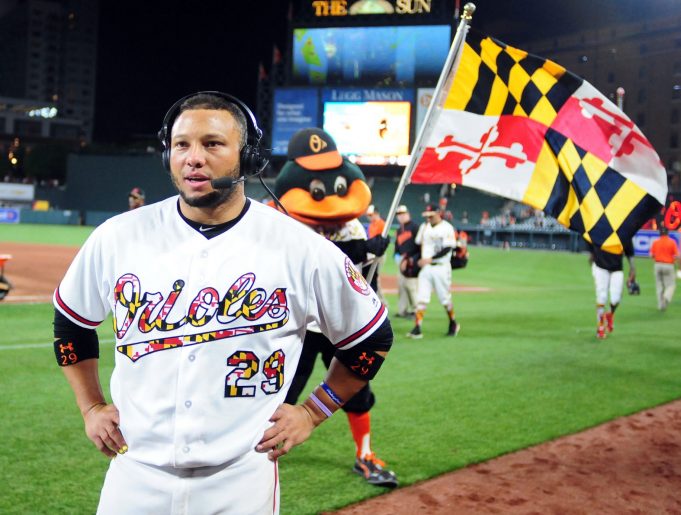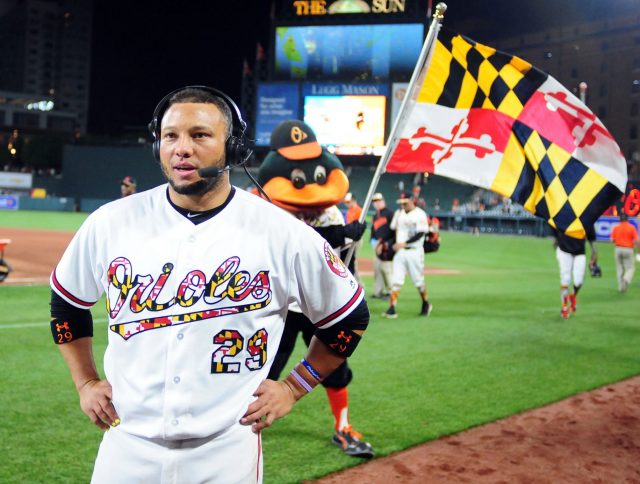 Catcher:
Welington Castillo has good numbers against Dallas Keuchel. He is batting .400 against him and few catcher have his upside. Keuchel is coming off the DL and he might be rusty in his first start back. If there is ever a time to attack Keuchel, it's today.
Yan Gomes has finally started to hit the ball and he is at a good price point. In his career, he is batting .385 with a homer against Jason Vargas. Make sure he is in the lineup because Sunday is a big rest day for catchers but if he is, he can have a big day against Vargas.
First Base:
Eric Hosmer is a very boring player to play. He doesn't have the upside of the other first basemen but he is consistent. He is batting .400 against Danny Salazar with eight extra base hits and has three bombs off him. Paying down for a first basemen is a good move because most will want to pay up for a power hitter. If you pay up for pitching, Hosmer is a good pick.
Danny Valencia kills lefties in his career and now he gets one in Boston. Valencia can use the green monster to his advantage and he can have a big game. He has been awful the last couple of weeks but that will only lower his ownership. This a high risk play but we need a couple of those in our lineups to help us win a tournament.
Second Base: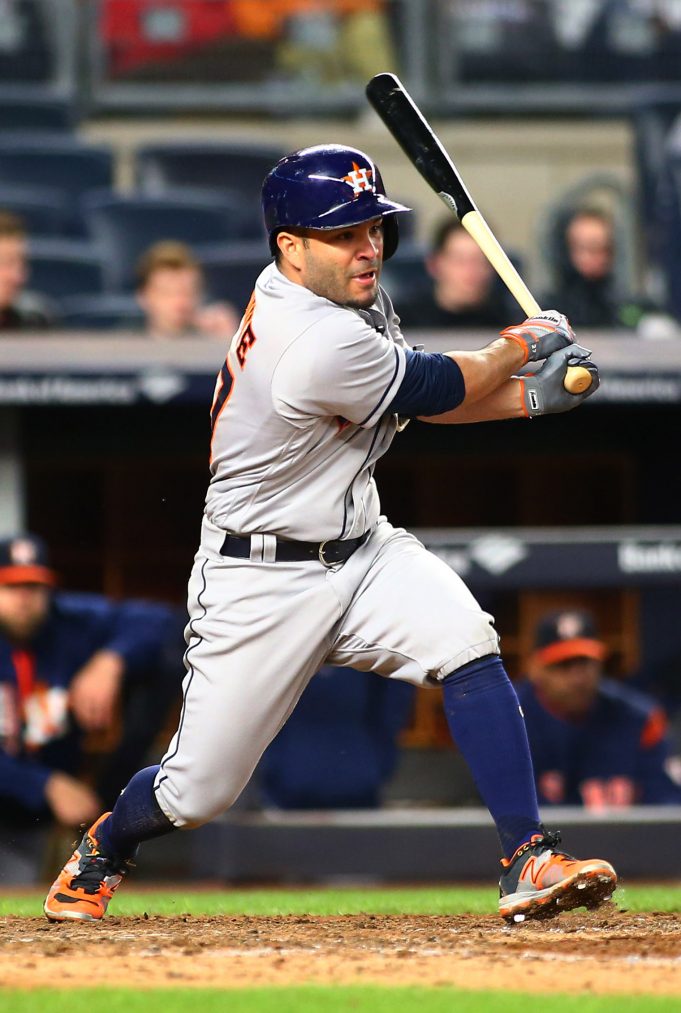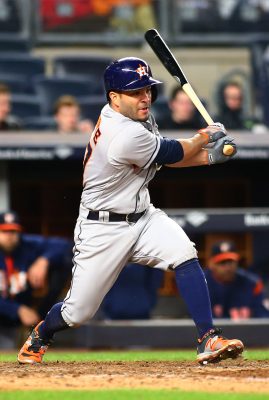 Jose Altuve has dominated Wade Miley in his career. He is batting 12-20 (.600) and he has five extra base hits with a homer against him. Altuve is always a good play and today he is a building block in our lineups. It will be smart to stack Altuve with whoever is batting two spots below or above him in the lineup to make sure you get good exposure to this lineup. The Astros are a good team to stack today.
Chad Pinder will face C.C. Sabathia who will be lucky if he is throwing over 90 MPH today. Pinder has great power and he is now facing a pitcher that won't blow anything by him. Pinder is way too cheap not to roster tonight based on his upside. Most players don't know about his power and we can use that to our advantage.
Third Base:
Marwin Gonzalez has quietly had a solid season so far. Now he gets to face Wade Miley who he has a .385 average with three extra base hits, a homer and four walks against him. The four walks show me has a good eye against Miley and is seeing the ball right when it is coming out of his hand. Marwin is a good player to have if you are going with a Houston Astros stack.
Maikel Franco has under-performed all year long. This is a gut call and the only reason I am recommending him is because he is facing Bronson Arroyo. Arroyo has given up eleven earn runs in his last two starts and this should be a good game for Franco. He is cheap and he has great upside when he is hitting the ball well. Like Danny Valencia, he is a risky play but he can pay off huge for us.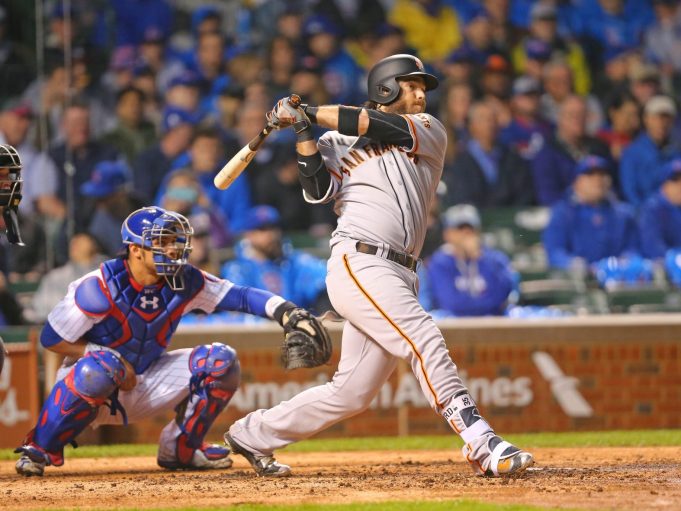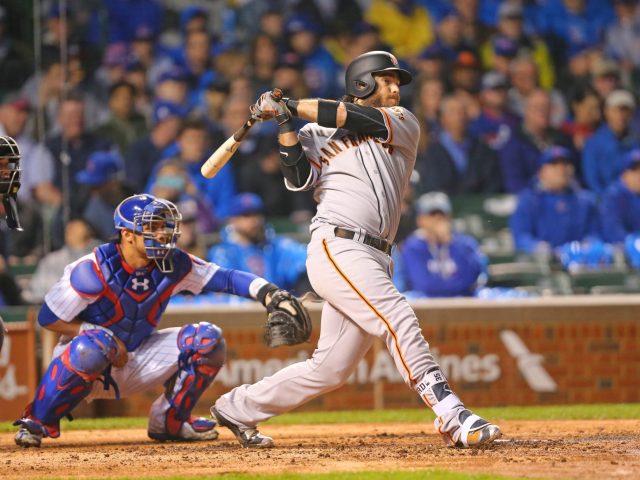 Shortstop:
Brandon Crawford has hit Mike Foltynewicz well. In 10 at bats he has four hits and two of them are home runs. Crawford is a professional hitter. In his last eleven games, in nine of them he has a hit. If he can give us a couple of hits with an RBI or a run scored he will return great value. He will go low owned because he doesn't have great upside. I will take his consistency today and hope for a big game from him.
My boy Tim Beckham led off last night and he is too talented and cheap to ignore at this point. He is facing Phil Hughes who shouldn't scare any batter at this point in his career. It doesn't matter where he bats in the lineup at this price he is almost an automatic start at short stop.
Outfield:
I have mentioned a lot of cheap hitters so far just so we can afford Charlie Blackmon in our lineups. He is the most under the radar player in fantasy and now he gets to face Adam Wainwright in Coors Field. In the last twelve games, he has nine games where he has two hits or more in them. He can hit the ball with power and he can steal us a base on any night. I don't like many hitters in this Coors Field game but Blackmon is the one player I am going to pay up for.
Nelson Cruz kills lefties. It's that simple. Whenever the Mariners face a weak lefty, Cruz needs to be in your lineups. There aren't any fancy stats besides the fact that Cruz is facing a lefty. Lock and load him today.
Justin Upton is in the same boat as Nelson Cruz. They both hit lefties well and he is in a good matchup against Derek Holland. At $3900, Upton has the upside to score 30 DK points and he goes low owned most nights. If I am taking a chance on an outfielder who is under $4000, Upton is that player.