The next kid on the New York Giants NFL Draft diaries comes from Alabama, Cam Robinson, a guy the offense desperately needs.
I
n the days leading up to the 2017 NFL Draft, ESNY is covering a multitude of different prospects that could end up being selected by the
New York Giants
with the 23rd pick.
So far, we've taken a look at Wisconsin left tackle Ryan Ramczyk and Miami tight end David Njoku.
Today, we take a look at Cam Robinson, a left tackle from the University of Alabama.
Like we mentioned when covering Ramczyk, offensive line, left tackle, in particular, is the most pressing need the Giants have. Robinson, who projects as a mid to late first-round pick, could very well be the answer to the Giants offensive line woes.
Let's take a look at his strengths and weaknesses, before deciding if he's worth a shot in the first round.
Strengths
Robinson certainly has career accolades on his side. Robinson is a two-time first-team All-SEC selection and was a consensus All-American during his third and final season at Alabama.
The 6-fo322-pound pound giant started every game of his college career as a left tackle and therefore has a distinct familiarity with the position. Speaking of his size and weight, Robinson's massive frame, along with his athleticism, give him a very high ceiling as a left tackle. His sheer size and strength will give him the edge in many one-on-one situations.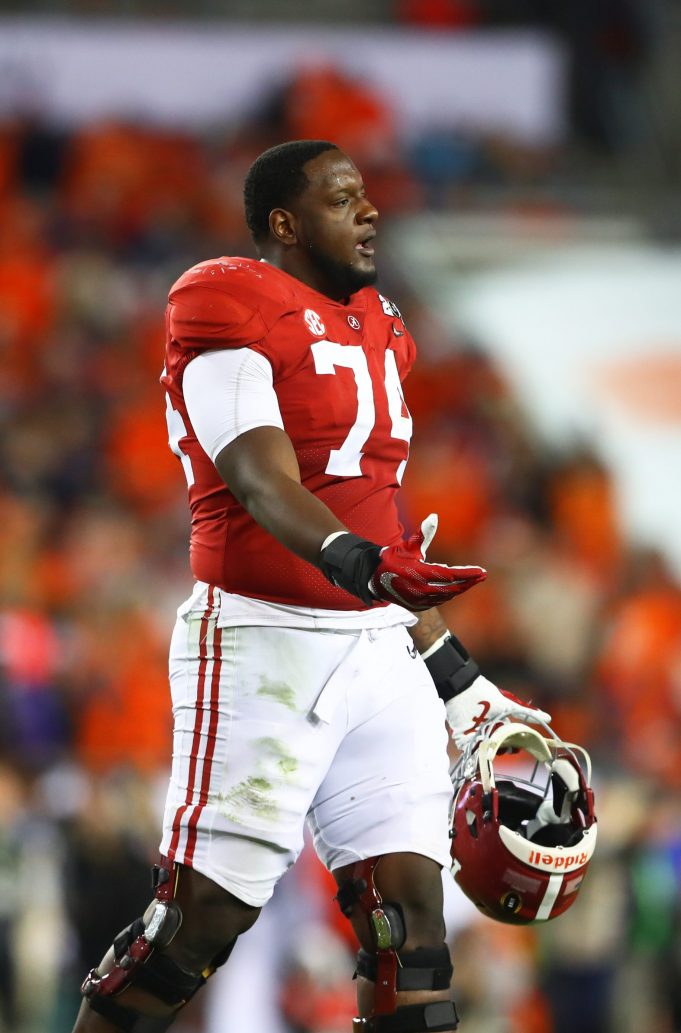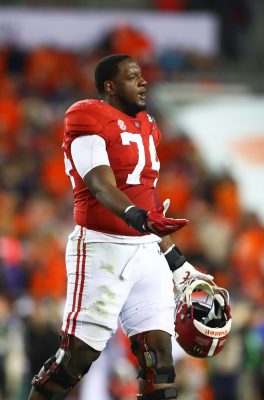 Robinson also went to school at the best program in the country, one that has churned out many reliable offensive linemen. Playing in an NFL style scheme against the best defenders in the country, both on the field and in practice, suggest that he's well seasoned and well tested moving forward.
Essentially, Robinson is a prospect teeming with athleticism and experience at the highest level. He's got length, strength, and power. Overall, Robinson has all the physical tools to be successful.
Weaknesses
Physically, Robinson is great. Technically, not so much. Robinson struggles to keep his balance, and he has trouble with high motor defenders as well, according to NFL.com. He often is unable to sustain blocks. His footwork is inconsistent. He ends up on the floor often. His instincts are below average.
Robinson is a project– he has all the talent in the world, but his tendencies are very worrying, and he could struggle mightily.
To put it simply: his NFL Comparison is Ereck Flowers. The Giants don't want to replace Ereck Flowers with another Ereck Flowers.
Should the Giants Draft Robinson?
Honestly, no. While Robinson has a lot of upside, so did Ereck Flowers. Drafting a high upside, athletic tackle with poor technique is a little too risky to do twice in three years. Ramzcyk is probably the only viable left tackle in the first round. Robinson's lack of technique is really offsetting.
Cam Robinson could wind up being a very productive left tackle in the NFL. But for a team that projects to contend for a division, and possibly a Super Bowl, drafting Cam Robinson is way too much of a risk at this point. When the Giants drafted Flowers, it was understandable– they were rebuilding, and were trying to acquire talent regardless. They could afford to take risks.
Not anymore. After an 11-5 season, the Giants need sure-things instead of what-ifs. No-go for Robinson in the first round.
Verdict: No, Too High of a Risk