With Eli Manning struggling and climbing in age, many folks believe Jerry Reese may select a first-round quarterback for his New York Giants.
Fans of the New York Giants are some of the luckiest in the world. They have had the same quarterback start every single game (211) since Nov. 21., 2004. For comparison, over that same time period, the Cleveland Browns have had 22 different starting quarterbacks.
At the same time, it is time for Giants fans to be realistic. Eli Manning is 36 and is entering his 14th season in the NFL. At some point, the little nicks that he's suffered throughout his career are going to add up. This is compounded by the fact his right tackle situation is horrid.
The quarterback has also begun to show signs of regression, just a year into his monster extension. His numbers fell across the board and it appeared as though his arm strength was just not what it was in years past. Eli has hinted that it may have been due to some dead arm because he was throwing a lot of passes.
As of right now, the Giants main insurance plan for Eli Manning is Geno Smith, who is only with the Giants on a one-year deal. He is also recovering from a torn ACL and is coming from some decent, at best, showings with the Jets.
With all of this in mind, it is understandable for the Giants to start to focus on the future.
In the draft this year, the G-Men hold the 23rd overall pick. Unless Jerry Reese decides to trade up (which is highly unlikely), the top quarterbacks in the draft should be gone. That means that barring any unforeseen slides, Mitchell Trubisky should be out of the picture.
With that being said, the realistic options for the Giants at 23 are Deshaun Watson, Deshone Kizer, Patrick Mahomes and Davis Webb.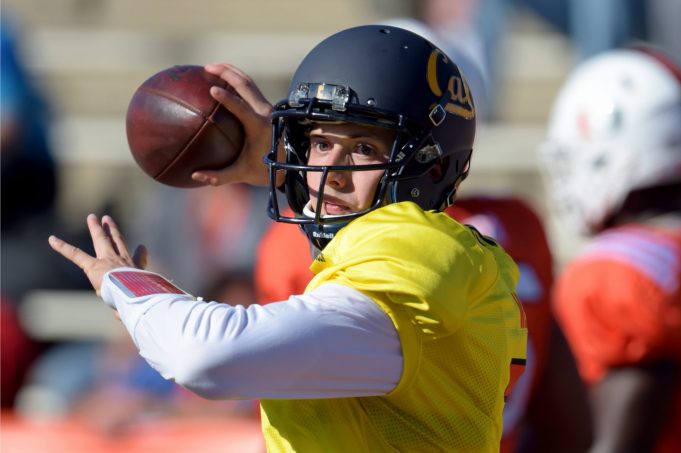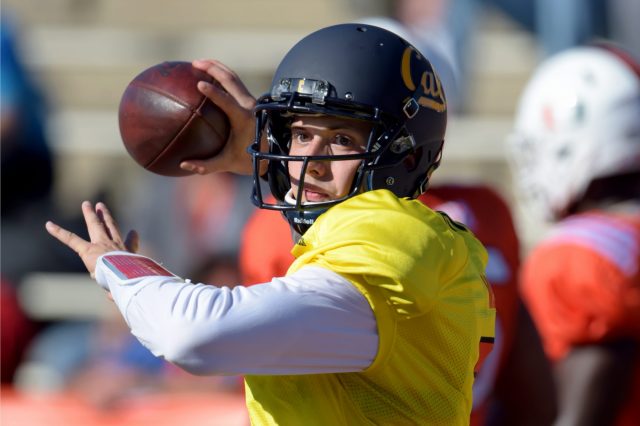 Davis Webb
Let's start off with Webb, the quarterback from Cal, who began his college career backing up Patrick Mahomes at Texas Tech before transferring last year. Webb is one of the best quarterbacks in the draft when he has a clean pocket. However, when the pocket starts to get muddy, a completely different quarterback shows up. In the NFL, unless one is playing under center for the Cowboys, the pocket will most likely not be clean. It's an alarming aspect, to say the least, considering the Giants current O-line.
There are some reports that Webb might come off of the boards in the 20s, but I think that this is most likely smoke. With that being said, Webb reminds me of a typical Giants pick. He is calm and collected, yet he is a leader, as evidenced by him being named a captain at Cal, even though he did not spend a lot of time there. In addition, he has a great football mind and is a smart kid.
He has the arm strength needed to be successful in the NFL. In fact, it is one of his strengths. Webb is also sneaky athletic. Just take one look at his combine numbers.
The quarterback has all of the on the field traits as well as the off the field. Although when he gets pressured, he turns into another quarterback. With all of the tools he possesses as well as his smarts and his captainship, he looks the part of a Jerry Reese selection. However, if drafted in the first round, it would be a reach. I think that Webb would be more likely to be in play with their second round pick if he slides down that far.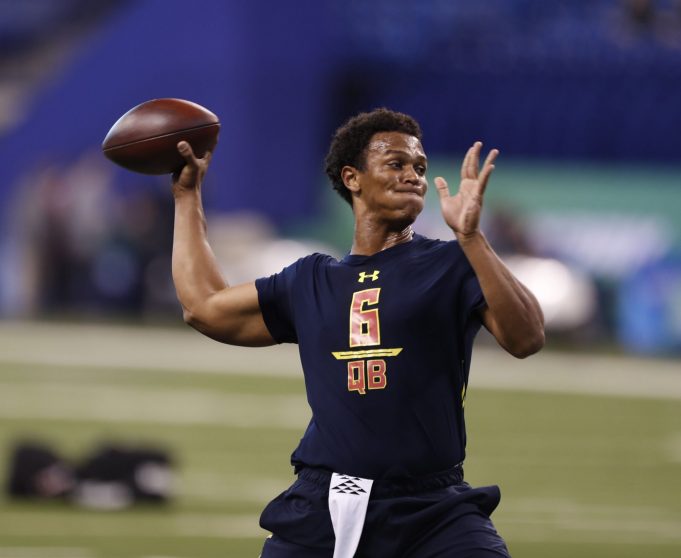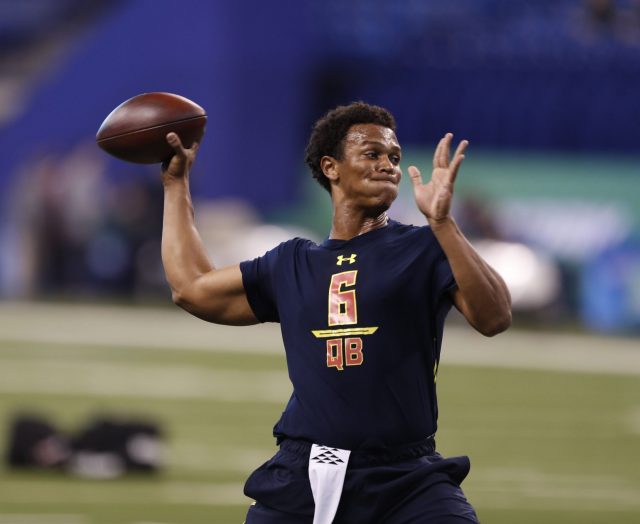 Deshone Kizer
The next QB on the list is Deshone Kizer, hailing from Notre Dame, one of the more interesting prospects in the draft. Kizer has all of the tools that one looks for in prospects however they come with question marks.
One of those question marks is his decision making, as he threw nine interceptions in 2016. The Notre Dame product was also only able to muster 58.7 completion percentage this past season. His decision making, as well as field vision, could use some work.
He appeared to regress in 2016 compared to his 2015 form. In addition, he struggled to separate himself from Malik Zaire ND, they often split games. Not only that, but in a few games, Kizer was even benched for his poor performance.
One of the biggest things that Kizer has going for him is the offense that he ran at Notre Dame. He ran an offense that was pretty similar to an NFL style offense. These days, that is a rarity in college. He should have an easier transition than the other quarterbacks in terms of learning an NFL playbook.
Similar to Deshaun Watson, he is a threat with both his arms and his legs. Although his arm strength is much better than Watson's. In fact, Kizer has one of the best arms in the draft. Furthermore, the 21-year-old has one of the most consistent deliveries in the draft.
Deshone Kizer is like a jigsaw puzzle. All of the pieces are there, he just needs a team that will help him figure out the puzzle. Ideally, he would sit behind Eli and be given the time he needs to figure it out.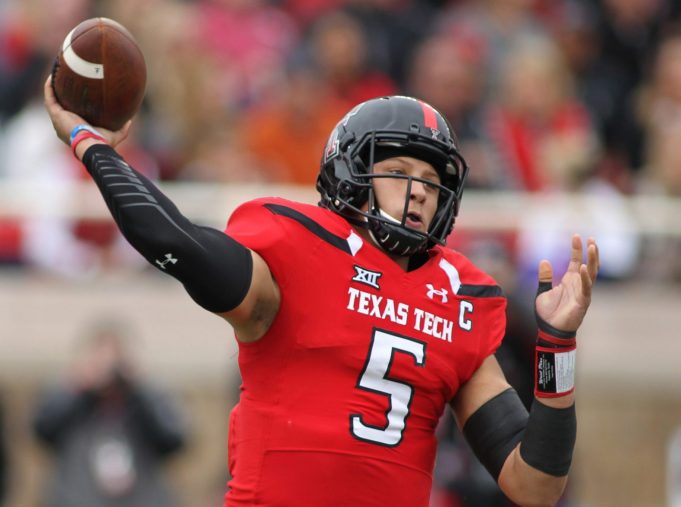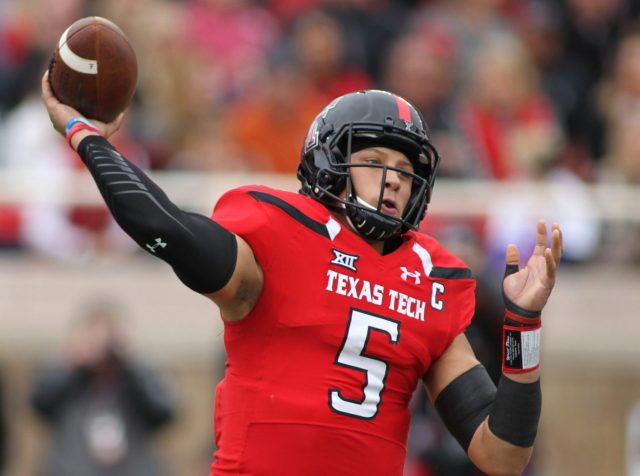 Patrick Mahomes
One of the most intriguing players in the draft is Patrick Mahomes, from Texas Tech. He plays the game with a gunslinger mentality similar to Brett Favre. While that may lead to some miracles, it will also lead to tons of interceptions.
With the strongest arm in the draft, the former Texas Tech quarterback was able to throw across his body and off his back foot often in college.
However, in the NFL those balls are interceptions waiting to happen. He is kind of similar to Johnny Manziel in his pocket presence in a way that he is at his best when the pocket breaks down, and he is forced to use his agility to find the open receiver. While this style may have worked in college, Manziel is a proof that on the field it does not work. NFL defenses are just too fast and smart compared to college.
As of right now, the Texas Tech product is reminiscent to Colin Kaepernick in the way that both of the quarterbacks have big arms, yet they are both more throwers than quarterbacks. There are some throws that Mahomes struggles to put any touch on. If he can improve, he should be great.
Although he possesses all of the traits that one desires in their quarterback, he is often erratic on the field. However, if he is willing to be coached, he could develop into a top tier quarterback. He also comes from a college that runs an offense that was similar to Jared Goff's while in college. Goff has had a tough transition to an NFL offense and expect Mahomes to have the same transition. Just because it may take time, that does not mean that Mahomes cannot develop into a good quarterback.
If drafted by the Giants, he would be able to sit behind Eli for at least a year or two. This way he could develop and have the potential to be better off rather than just being thrown into the fire.
Deshaun Watson
The last quarterback that could end up on the Giants is Deshaun Watson. Out of all of the options that the Giants have with the 23rd overall pick, I feel as though Watson is the least likely. I only say this because I doubt that Watson makes it to the Giants. If he does, then the G-Men's selection is a very easy one.
One may ask what makes Deshaun Watson a no doubter for Big Blue. Just look at how he played in his two games against Alabama. Nick Saban's team is always one of the toughest to play well against. The fact that Watson was able to put up two really good games against Bama goes to show his potential.
What the quarterback can do best is win. He has proven again and again that he can lead a winning team. He is able to do this both with his arm and his legs. The stud has shown that he is also a pretty athletic guy. Just take a look at his numbers at the combine.
Although I am pro-Watson, there are some downsides to the former Clemson Tiger. He has a small wiry frame that could lead him to be more susceptible to injuries in his NFL career. In addition, he has never run an NFL style offense. This means that there will most likely be a steep learning curve for him, similar to Jared Goff last year.
When looking at the quarterback, one has to mention his interceptions. In the past two seasons, he has thrown a whopping 30 interceptions. That is a big red flag for his NFL potential, to say the least. He also had 13 passes batted down this past season, that number is concerning for the quarterback prospect.
The good thing for both the G-Men and Watson is that if drafted by the Giants Watson would have time to develop. He would sit behind Eli Manning for at least one year and be able to pick the brain of a two-time Super Bowl MVP. Although this might not be the ideal scenario for Watson, it may be one his best in the long run.
If the Giants draft a quarterback, no matter who it is, it is almost certain that barring an Eli Manning injury, that they will not see much action in 2017. For most of these quarterbacks, it is probably for the best. This way they can develop and adjust to the pros under one a HOF bound quarterback.