Focus on recent play during this late stage of NBA DFS as these are the players who'll allow you to make a run in your tournament.
T
he NBA season is in its final two weeks and a great thing for us NBA DFS players is no teams have locked up the top seeds. This is a glorious eight-game slate with a lot of fast paced and high scoring games. No teams should be resting their star players which means fantasy goodness for all of us.
Make sure you check the injury reports and any last minute lineup changes. Good luck everyone and let's end the NBA season with a bang.
Point Guard:
Damian Lillard is doing his best to get Portland into the playoffs. He now has one of the best match-ups on paper and he will not disappoint. Over the last week, he is averaging 26 points, six assists, five rebounds and three steals. He is a building block on the night.
John Wall vs Los Angeles Lakers
This is a dream game for John Wall. He will get the horrible Los Angeles Lakers defense who have nobody on the team who can guard him. Wall also has a chance to triple double in this game with a chance to get five steals. The Lakers play at a fast and sloppy pace which Wall will benefit greatly from.
Jeremey Lin vs Philadelphia 76ers
Lin has been good this year when he has been healthy and given 25-plus minutes a night. This game will be a sloppy, fantasy gold game and should have little defense being played. The problem with both teams is that both coaches are having 10-man rotations and they are spreading out the minutes. Lin should get the highest amount of minutes on the Nets and if he does, hello fantasy points.
Shooting Guard:
Booker scored 70 points this past weekend, he won't do that tonight but he showed why he is a great tournament play every night. He is starting to rebound and get multiple steals every night and that will only help his value. Atlanta has been horrible in the last ten games and Booker will thrive going against a team who is struggling.
The Golden State Warriors and Houston Rockets game will be a great game to watch and for fantasy purposes, it will be gold. Klay will get James Harden defense and he typically does well in this matchup. I will be game stacking this game and I will be choosing Klay over Steph in every lineup.
If Ryan Anderson sits, we play Lou Williams. If Ryan Anderson plays, we play Eric Gordon. Both have the chance to go off but if Anderson sits, it should push us in the direction of which one to play. Whoever comes off the bench will be the better play tonight.
Small Forward: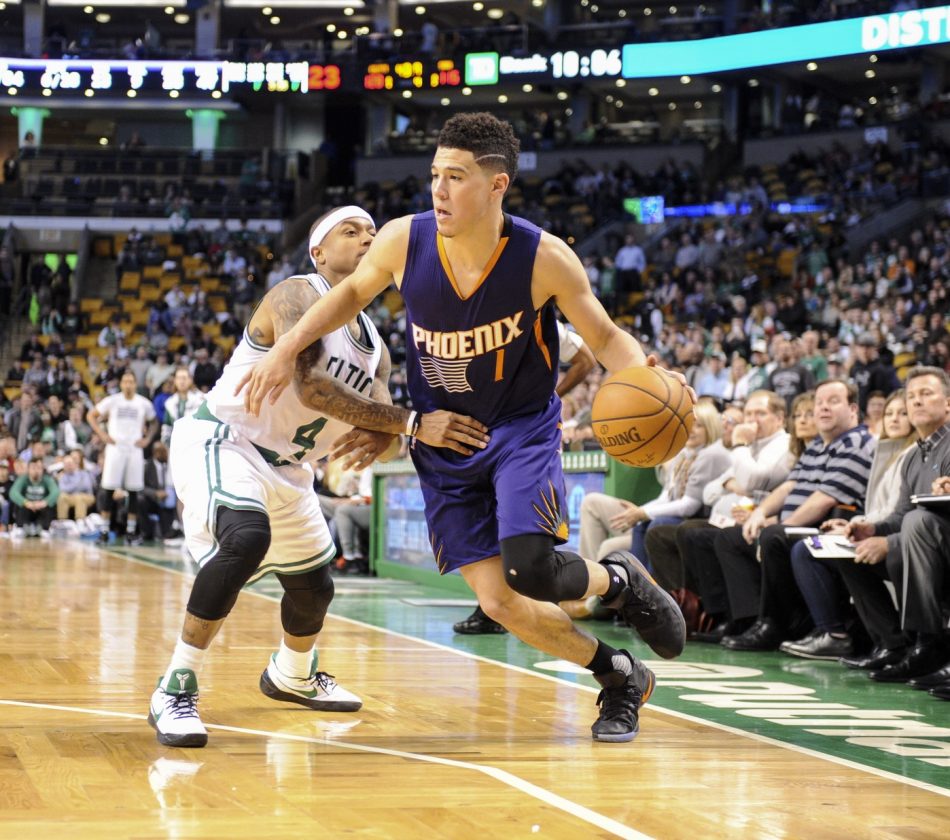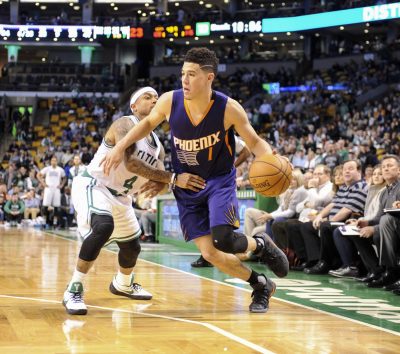 Trevor Ariza vs Golden State Warriors
Ariza plays better in fast pace games and this clearly fits the mold. He plays big minutes on most nights but the problem is he is very inconsistent. Tonight, I am willing to take the chance on Ariza because he doesn't have much upside and can crap the bed on any night.
The Hawks have been horrible at rebounding the ball over the last 2 weeks and Warren has a great chance to grab double-digit boards tonight. Warren like most guys on this list play a lot of minutes, this game will stay close and will be a sneaky good game to stack.
Sir Covington has some of the greatest upside of any player at small forward tonight. He will get a lot of shots up and this game will high scoring. The Nets are a mess defensively and most of the 76ers starters will be worth rostering on this slate.
Power Forward:
Saric has been average lately and this is the time to play him. Average means he will be low owned and he has 50 fantasy point upside. He is a very good all-around player and this is a great game for Saric to reach his potential. It's not often I recommended a white guy so you know he has to be in a great position.
Randle is very good at basketball and is one of few players that Luke Walton is willing to give big minutes too. The Lakers are a mess right now but if the game stays close, Randle will be one of the reasons why. He has tremendous upside and he is worth the risk tonight.
The Brooklyn Nets are finally starting to realize that they have something special in RHJ. He has been starting at Power Forward and over the last three games, he is grabbing over 12 rebounds. If anyone on the Nets coaching staff is reading this, please play RHJ 35-plus minutes and let him go bonkers.
Center:
This is as big as a revenge game as there is this year in the NBA. Portland just gave up on him and now he gets his first chance to show them that they were wrong. He has been great since the trade and this game he will do everything in his power to have a great game.
The 76ers bigs are good offensively but may be the worst on the defense side of the ball. Brook doesn't get the minutes he deserves, but he will be too good for his coaches to take him out. Let's hope the Nets stick with Lopez at center for as many minutes as he can handle.
You can play either center in this game and both will have a good game. Cody Zeller will start for the Hornets and has been receiving over 30 minutes a night. This game will be ugly and most players will be under-owned because of it. Attack the center position in this game and you will be in good shape and you will save some money.