This slate of NBA DFS for Mar. 23, 2017, features many individuals who can thrive tied to the New York Knicks and Brooklyn Nets contests.
N
ot all five-game slates are created equally.
What do we want in a small slate? Up tempo and little defensive being played? Check. Games that will stay close and competitive. Check. But most importantly, we want teams that won't sit their stars.
Almost check. (If the Clippers and Spurs play their starters, this will turn out to be a good slate.)  
Smaller slates are good because there isn't as big of a player pool. We know who these ten teams are going to play and there won't be a donkey who plays a team's backup point guard out of nowhere who goes off and wins a tournament because of it. We know these teams rotations, so let's get right into it.
Point Guard:
He has been a different player after the all-star break. Over the last 30 days, he is averaging 31 points, five assists and four rebounds. He now gets Derrick Rose defense and his 85-year-old knees. Dame is an elite play tonight and might drop 40 tonight against the Knickerbockers.
He all showed us his downside in his last game against the Miami Heat. But there is a silver lining. Miami is a good defensive team who made the Suns play at a slow pace. The Brooklyn Nets won't be able to do that. Ulis still is not a very good basketball player but he received 40 minutes last game. I am going back to him and banking on a bounce back.
I'm not sure if many people in Brooklyn know this, but Jeremy Lin plays for the Nets. He hasn't played much this year but the team is hopeful he will play tonight and if he receives 25 minutes, he will outperform his salary. Super Lintendo will be low owned and can have a big night. If he doesn't play, start whoever the Nets play at point guard tonight.
Shooting Guard: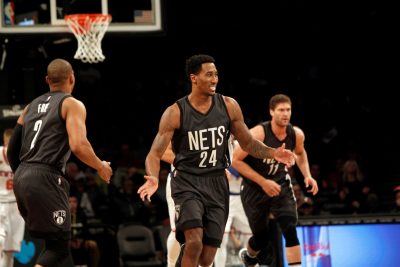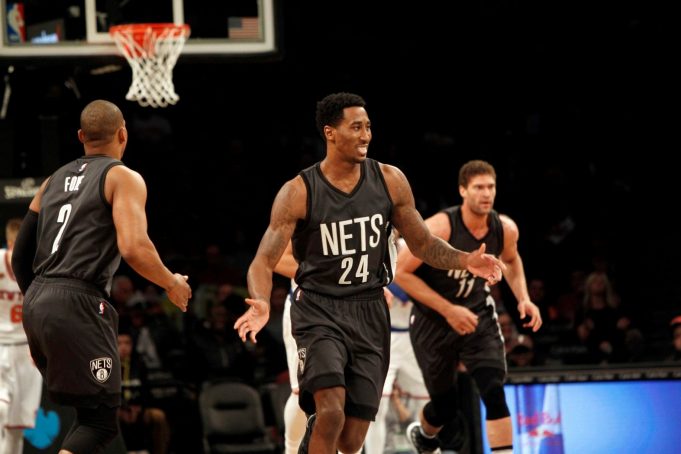 This guy has the greenest light in basketball since Marshall Henderson back in college. He does not care if he misses 15 shots in a row, he will keep firing and I love it. Both teams will combine for almost 225 points tonight and Booker will shoot it about 25 times. If his shot falls, you will win a lot of money. If his shot doesn't fall, we are all S.O.L.
Sites have him listed as a shooting guard and since the position is usually weak, ill mention him. He is super athletic and the Brooklyn Nets would be stupid not to play him close to 30 minutes in this type of game. He is very cheap on all sites and that is only because of his minutes, not his talent.
Small Forward:
Like Ulis, he had a bad game against Miami. He is way too talented of a player in a good match-up to have a bad game. His price is getting up there but is receiving too many minutes to not reach value in this game.
Tucker will not win you a tournament but he is a cheap player who will give you consistent numbers. He usually guards the other team's best offensive threat which means he will stay on the court. This game won't be high scoring but if he can score double digit points he will easily reach value, which is all we want out of him tonight.
Power Forward:
Blake hasn't been great lately but he is in a good situation in this game. He will either get the undersized Harrison Barnes on him or the awkward Dirk Nowitzki. Barnes can't stop him down low and Dirk is nowhere near athletic enough to stop him from doing anything. Dallas is the worst rebounding team in the league which means Blake and DeAndre Jordan will have a field day tonight.
Portland has no power forward on the roster who is tall enough to stop Porzingis from dominating tonight. I am not sure what the Knicks need to do to realize that Godzingis is their best player but I am hoping tonight they feed him the ball. He is too gifted to not take advantage of this lineup.
If you can't tell, I am stacking this game tonight. Chriss is a very talented offensive player and the Suns are giving him close to 30 minutes a night. His biggest problem is that he is very handsy (aren't we all) on defense and it gets him into foul trouble often. This fast pace game will fit into his skill set and he will have a big game because of it.
Center:
Williams was a classic late scratch after lineup lock last game which left a lot of us angry. He had a stomach issue (diarrhea) and didn't play. Whoever starts for Phoenix this game they are a must start. Both are at low price tags and if you wanted to start the backup tonight, I wouldn't have a problem with it.
Center:
This guy doesn't get a lot of playing time and I have no idea why. The games when he does receive close to thirty minutes is when the other teams have a big center, and Miami does. Whiteside gets a lot of blocks but he can get lazy and take plays off. Jonas has a low price tag with big upside tonight. Start him and let us all hope that he gets the playing time he deserves.
Marc Gasol vs San Antonio Spurs
We are going to have a Gasol vs Gasol match-up in this game at some point. At this point in their careers, there is no way Pau can stop Marc in the post. Marc is the center point of the Memphis offensive attack and he will have a big night. San Antonio tends to struggle against big gifted centers and Marc fits that mold.
He paid off for us great last game and he is in another great position tonight. You attack New York at two positions, point guard and center. Nurkic is very talented and should have the same type of game tonight as his last. You know I love to pair up a point guard and a center and tonight that is Lillard and Nurkic.