Last year, New York Giants' GM Jerry Reese was a big winner in free agency, signing many of the top free agents available. This year, his strokes may not be as bold but could end up being just as effective.
O
ne year ago at this time,
New York Giants
general manager Jerry Reese was under a house mandate to "fix the defense" from CEO John Mara. With a boatload of cap space at his disposal, the two-time Super Bowl-winning executive reeled in DT
Damon Harrison
. CB
Janoris Jenkins
and DE
Olivier Vernon
in the early hours of free agency. All three were considered the top free agents at their positions.
The criticism was overwhelming, but after several years of dubious moves and constant second-guessing, Reese finally got things right. The Giants finished 11-5, made the playoffs for the first time in four seasons and those three players lived up to their hefty price tags.
---
---
The Giants' defense became one of the league's best, but their offense tailed off. This offseason would be dedicated to reigniting that group by adding more playmakers and depth. And, ah, oh yeah, fixing their offensive line which continued to be inconsistent and sloppy.
Reese has not really addressed the line's real weakness – left and right tackle – but he's fortified the interior and will likely look to the draft to find his next starting tackle. Former first round pick Ereck Flowers has struggled at left tackle and had regressed after showing promise as a rookie. The right tackle was manned by former Florida State starter Bobby Hart and he hasn't been much better.
But Reese has filled holes and upgraded in other areas. Every NFL team has needs. Each year on the average, teams experience a minimum roster turnover rate of about 25%, keeping GMs busy year round. At this point in time, you can argue that outside of the Super Bowl champion New England Patriots, the Giants have had the second-best offseason of any NFL team. Argue away.
---
---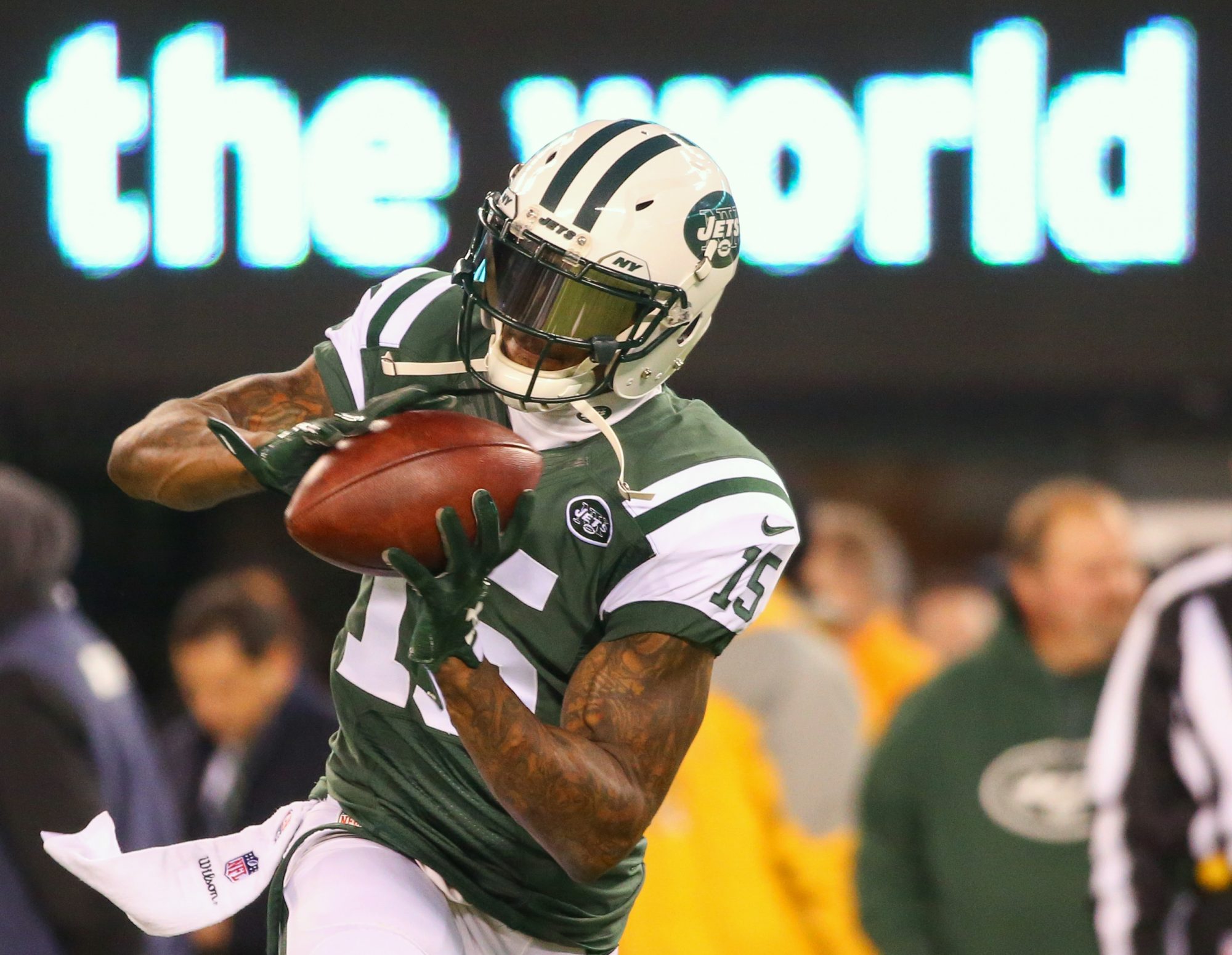 Free Agents Signed: 
WR Brandon Marshall (two years, $11 million, $5 million guaranteed)
The Giants were in need of a big body at WR and Marshall, at 6'4″, fits the bill. He is a master in the red zone, an area where the Giants have performed very poorly of late. He is also a quality blocker, a trait many of the Giants' current wideouts lack. Marshall also adds a veteran presence to a group of young players who have been guilty of some poor on and off field choices.
Grade: A
TE/FB Rhett Ellison (four years, $18 million, $8 million guaranteed)
Seems like a lot of money for a guy who doesn't really handle the football. But there's more to this game than making plays. Somebody's gotta do the dirty work. Ellison is a top-notch blocker and will help the running game get going and also assist the tackles in chipping DEs in the passing game. He is a very effective second-level blocker and can open up lanes for the Giants' short passing game to get those crucial yards after the catch. He may be just what this Giants' offense has been missing.
Grade: B+
OL D.J. Fluker (one-year, $3 million)
Fluker is considered by many to be a draft bust, but truth be told he has become a versatile, effective player. The Chargers decided to move on from him after he failed to live up to his billing as a franchise tackle. The Giants will use the former Alabama star at guard and swing tackle. This is one of those reclamation projects Reese prides himself in. Some linemen don't hit their stride until their late 20's. Fluker just turned 26.
Grade: B
---
---
QB Geno Smith (two-year deal estimated at $2 million)
A curious signing even for Reese. Many never thought Smith wouldn't amount to anything in this league, present company included, and so far Smith has done nothing to change those opinions. The Giants are hoping that Smith never gets to play in a game, so maybe this signing is more about going all-in on Eli Manning for the next few years than anything else. Smith can certainly be a backup in the NFL and as long as his expectations remain low, this addition is an innocuous one.
Grade: pending
CB Valentino Blake (terms undisclosed)
If you've never heard of Blake, don't worry. He's an average corner that will provide depth and special teams help with the Giants. Nothing more.
RB Shaun Draughn (terms undisclosed)
Draughn will serve as depth behind Paul Perkins and Shane Vereen. He is a versatile back but his signing should preclude the Giants from adding another RB in the draft.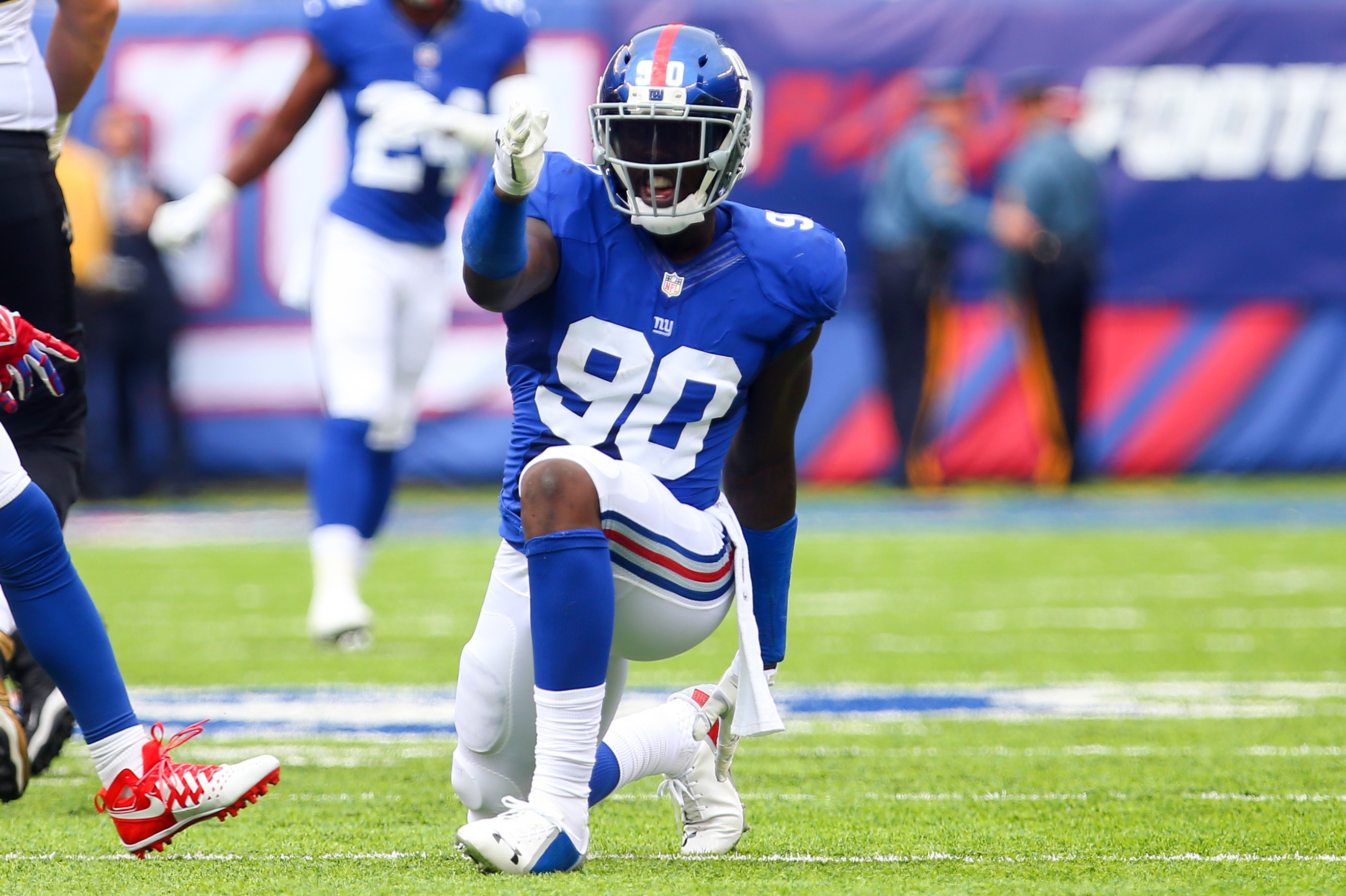 Free Agents Re-signed:
DE Jason Pierre-Paul (four years, $62 million, $40 million guaranteed)
The biggest fish in the sea this offseason and Reese reeled him back in. The Giants are much better off with JPP than they are without him. The money may seem excessive but in this day and age of the NFL, it's just another number. JPP had a nice bounceback season in 2016 and he's only going to get better as he continues to recover and re-acclimate after the devastating 2015 fireworks mishap that mangled his right hand. The Giants made the right move here. The new contract is much more digestible than having him play under the $17 million franchise tag, giving them around $10 million more in cap space to work with.
Grade: A
LS Zak DeOssie (two years, $2.3 million)
DeOssie actually signed before free agency began, but it was clear he was going nowhere. The two-time Super Bowl champ and special teams captain wants to finish his career in Blue and everyone is just fine with that.
Grade: A
OL John Jerry (three years, $10 million)
Jerry has been surprising dependable since being picked up by Reese three years ago in the aftermath of Bullygate. He will compete with Fluker for the RT position this summer. A nice move by the Giants to solidify the interior of their line.
Grade: B
Robinson was brought in to compete for the Giants' middle linebacker spot last year and he turned out to be a pleasant surprise. Robinson became the best pass defender of all the Giants' linebackers in 2016 and many had hoped they would bring him back this season. He will be in the mix somewhere this summer as the Giants will try to get B.J Goodson more playing time alongside Devon Kennard and defensive captain Jonathan Casillas.
Grade: B
Other Moves:
The Giants re-signed UFAs QB Josh Johnson, LB Mark Herzlich; RFAs RB Orleans Darkwa and DE Kerry Wynn and ERFAs TE Matt LaCosse, DT Robert Thomas and TE Will Tye. All solid retentions.
The "To-Do" List: 
Offensive tackle is still a huge want and need here. Free agency didn't have many answers, and still doesn't, so it looks like the Giants will be hoping that Flowers can get straightened out and/or they can find a stud or two in the draft. This is the only problem I have with Reese's offseason thus far. Tackle was the biggest need and they're still in the same boat they were in when the season ended. Grade: D. I'll take the Fluker signing as an attempt to bolster depth at the position.
Running back is another position the Giants will be seeking to fortify. They love Paul Perkins but more is needed here. There are some veterans available but they are all on the north side of 30. They will pick one up in the draft, maybe even in the first round.
DT Johnathan Hankins is still out there after whiffing badly in free agency. The Giants are said to have a standing offer on the table which may not be matched. They won't wait forever, though. They are also reportedly interested in Jared Odrick, who passed a physical and is apparently drawing interest again in the market.
The Giants are also in need of a placekicker. They let Robbie Gould walk. No loss there, but they only have one kicker on their roster right now, Aldrick Rosas, an unproven 22-year-old out of Southern Oregon. Expect more kickers to be invited to camp this summer.
Are the Giants better now than they were when the season ended? Maybe. They're not worse that's for sure. With the draft and the UDFA market still in front of them, they are set up fairly nicely. Giant fans should be pleased.