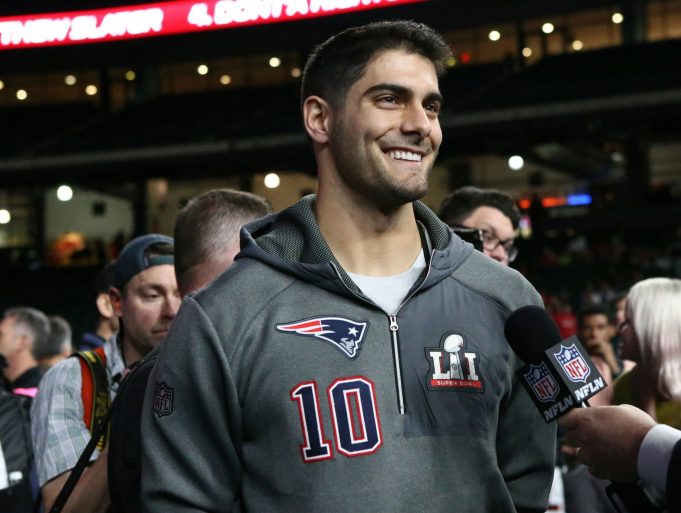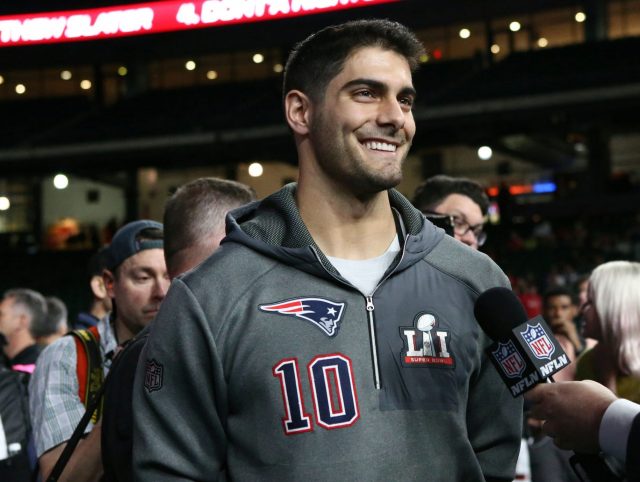 Tradeable QBs
Players:
Again, when evaluating Jimmy Garoppolo, the negative aspect in regards to trading for or signing a quarterback comes into play. The Brock Osweilers are pointed to and fans run for the hills in disgust.
Do not evaluate QBs in this fashion. Instead, look at the actual player.
Garoppolo may be a stud. What he's shown at the NFL level has been significant. Not only are his raw physical tools bright, but the way he reads defenses and commands the offense is stellar.
No, this guy isn't Matt Cassel and is, in fact, worth a first-round draft pick. The only problem is the Jets have no shot of the kid thanks to the Patriots unwillingness to deal within the division.
The only thing I'm concerned with in regards to Garoppolo is his health. He's been banged up far too often during such a small sample size.
Posers:
There's no doubting his skill. He's accomplished more in the NFL at the position than so many others.
There's just no chance anybody in the Jets position could take a chance on a 36-year-old QB who needs a stretcher every time he's touched by the opposition.
New York is in the position of building, not adding the finishing touches. The Denver Broncos, a squad that is deeper and readymade is a team who could use the services of Romo.
Tyrod Taylor is, perhaps, the toughest QB to decide on when going down the list. He's shown extremely promising signs in Buffalo and at 27-years-old is entering the prime of his career.
There are reports that Buffalo is ready to move on from the kid after just two seasons under center. His 37-to-12 TD-INT ratio is fantastic, but a lot of his positives come from a mobility standpoint. 
Taylor's skill set only flourishes if the offensive coordinator and franchise is behind him 100 percent, meaning a special type offense is needed.
With the state of the offensive line and the depth chart, the Jets are better off going younger and more traditional. He's a solid QB. He's just not a franchise QB.
His talents are special. Make no mistake about it. Also, now that Jeremy Bates is in tow as the QB coach, Jay Cutler's name will be bandied about.
He's simply too old and too expensive for New York's current rebuilding situation. Cutler makes no sense.
Speaking of mobile QBs, Colin Kaepernick is actually coming off a season that saw him put up 16 touchdowns to just four interceptions. These numbers aren't bad on the surface. He even rushed for 468 yards and two scores.
The problem is, Chip Kelly was his offensive coordinator. His system allows for complete QB freedom, while the Jets don't swing that way.
Though he has enticing positives, Kaepernick is more a product of the genius of Jim Harbaugh and a time in the NFL that saw mobile QBs take advantage of the read-option. Those are days are gone. The NFL has caught up to that gimmick and the traditional pocket-passer is, once again, ruling the roost.