The New York Jets have been a laughingstock of the NFL after going 10-6 last year. Everything that could go wrong, has gone wrong thus far.
I
t's the conversation that won't go away on 1 MetLife Stadium Drive.
What is the future of the quarterback situation?
And just so there's no confusion, we're not talking about the New York Giants. They've had one player under center for the last 12 years and has won two Super Bowl MVPs. This is about that other NY team, the New York Jets, who have been devoid a title since 1968 and have had a revolving door at QB for as long as one could remember.
The latest edition of, "Who's the QB this week?," features Todd Bowles proclaiming that Bryce Petty will start against the Pats. He suffered a bruised chest in the loss to Miami.
Petty has looked good in spurts. That opening drive that ended with a 40-yard bomb to Robby Anderson for a touchdown was delightful. He's shown guts standing behind that putrid offensive line that actually almost got him killed. And we've also seen his propensity for throwing deep. This is a threat the Jets have lacked probably since Brett Favre was the QB back in '08.
But now comes the biggest test of his young career.
Petty will square off against arguably the best to ever do it at that position. More importantly, he'll try to figure out a team with the league's best scoring defense (16.6). And it's been red hot as of late, having forced six total turnovers in three wins.
Regardless of how poorly the team is performing, Jets fans badly want wins over New England, the enemy. It'll be a tall order this week — Vegas currently has the line at 16.5. But it's interesting, or disheartening, depending on how you look at it, to think about what a difference a year makes.
At this time last year, Gang Green was on its way to defeating the Pats at home in a thriller. It came on the strength of an overtime game-winning touchdown, courtesy of the Ryan Fitzpatrick–Eric Decker tandem. It was on to Buffalo with a 10-5 record against a team with nothing to play for. A win would've clinched their first playoff berth in five years, and doing it against former buddy Rex Ryan was going to be must see TV. This team was reaping the harvest of money well spent in the offseason.
Since then, well, it's been a disaster.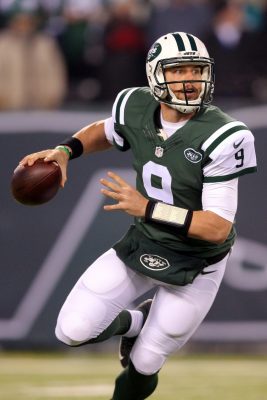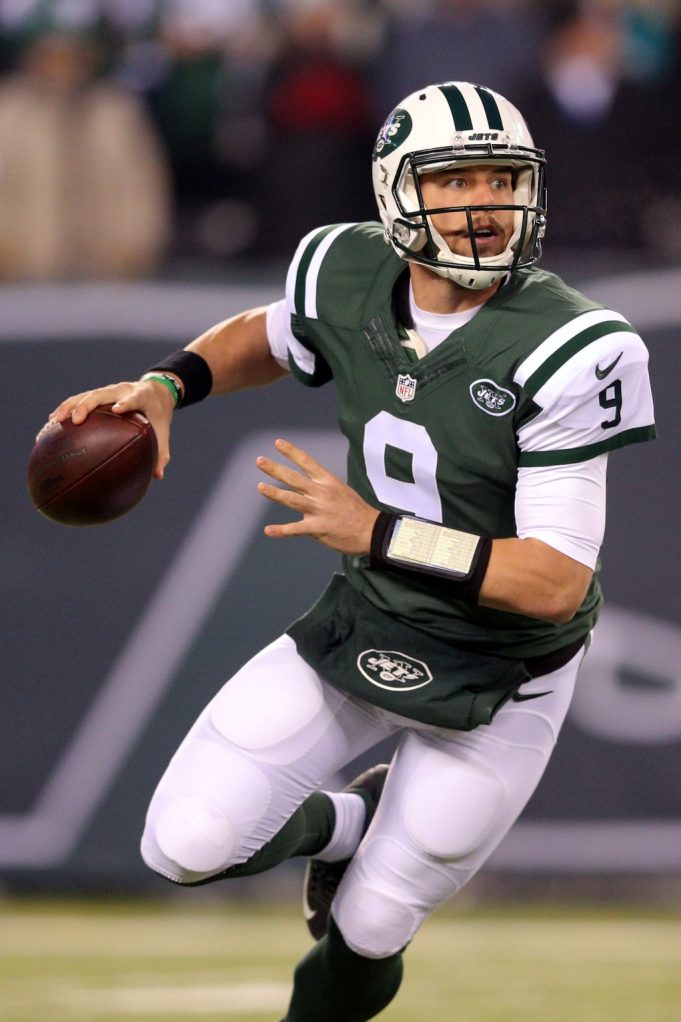 They melted in said game against the Bills, and it was Rex Ryan who got the last laugh as the ex-girlfriend after sweeping his former team and knocking them out of playoff contention. This year hasn't been much better. There's actually an APB out as we try to find the team that was within a whisker of going to the playoffs last year. Because the Jets, who finished, fourth in total defense a season ago have been an embarrassment on that side of the ball this year. They made Matt Moore, who hadn't started in years, look like the guy they're going to try to take down this week in Tom Brady.
The offense has been incredibly inept, no thanks to Fitz, who led the league in interceptions before he was demoted. What a waste of $12 million. And as if he hasn't done enough damage, it's starting to feel like Fitz has performed some type of Voodoo on the Jets. Every time they try to put him in the rear view mirror, he manages to fall right back into their lap.
Geno Smith was named the starting quarterback against the Ravens after Fitz stunk it up on Monday Night Football in Arizona. But this time it wasn't the punch heard around the Big Apple that knocked Geno Smith back to injured reserve. He ended up tearing his ACL and was done for the season. And that'll presumably end his career in NY. But it meant Fitz was back.
Then weeks later, Bryce Petty was the man for the job until the offensive line decided it was going to do everything in its power not to protect him against a talented defensive line. It looks like Petty will be fine, no thanks to Fitz if you're buying into his involvement, but this is one circus that has gone on far too long.
The Jets should absolutely not look to draft a quarterback in the upcoming draft. It just wouldn't make sense. Here's to hoping Petty develops and becomes the franchise QB.
If not, join me next time for the latest edition of, "Who's the QB this week?"