There was a lot more ugly than good for the New York Giants on Sunday evening.
The Giants kissed their division chances goodbye with a lackluster showing in Pittsburgh.
Big Blue collectively struggled at Heinz Field on Sunday evening. Fresh off a six-game winning streak, the offense sputtered and Jason Pierre-Paul suffered a huge groin injury.
It's not going to get much better. The team's upcoming schedule is tough, and the Tampa Bay Buccaneers are creeping up behind them in the standings.
Ben McAdoo's team must — cumulatively — get better.
The high-priced defensive end notched four tackles and a pair of sacks on Sunday evening. Per usual, he was stout against the run and drew multiple holding penalties (more could have been called).
He stepped up after Jason Pierre-Paul's groin wound, securing a 83.6 grade from Pro Football Focus.
With all the negative talk about the Giants' offensive line, it's surprising that the unit held its own. Besides Ereck Flowers, the line allowed just four pressures on 46-pass block snaps.
Much of this can be attributed to Newhouse's strong play. The vet was surprisingly inserted into the starting lineup at the outset of the game, but held his own (he was the highest-graded offensive player this week).
The Bad: Offensive Struggles
It's been a lack of continuity that has plagued this highly-talented offense. Flashes of greatness have been overshadowed by drive-killing penalties and poor play-calling.
Most alarmingly, costly turnovers are continuing to haunt Eli Manning. The veteran quarterback has a propensity to make questionable decisions. His second-quarter interception proved to be a momentum shifter.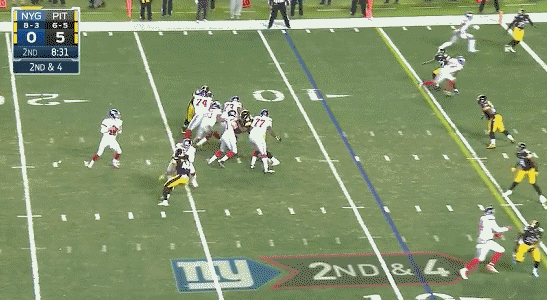 The Ugly: Jason Pierre-Paul's Groin Injury
Pierre-Paul has been a monster all season long, so his presence will obviously be missed. But it's the Giants' upcoming schedule against top running backs — the Cowboys' Ezekiel Elliott, particularly — that should give fans — pardon the Yiddish — the shpilkes.
The Ugly: Ereck Flowers
Unless Flowers turns things around, this pick is going to go down as Jerry Reese's worst. That's because the second-year tackle has been one of the league's most underwhelming pass-blockers.
Flowers surrendered seven total pressures on Sunday evening. By comparison, the rest of the line allowed a total of four.