With the New York Jets riding a mini two-game winning streak, there's absolutely no reason to push Ryan Fitzpatrick out as starting QB.
E
verywhere you turn, the same tune is sung in the Big Apple. Whether it comes from mega-station WFAN, its red-headed, distant rival ESPN Radio New York, or the back pages of the
New York Post
or
Daily News
, the sentiment of pushing
Ryan Fitzpatrick
out of those dreaded Florham Park doors is one that hasn't only gained steam, it's the overriding theme.
Even the immortal New York Jets' players have been quick to push the change button.
Who thinks we should see Bryce Petty start the 2nd half? I know I do. It hurts to say this, but we're not goin anywhere with Fitzpatrick.

— Joe Namath (@RealJoeNamath) October 30, 2016
Should somebody have arrived at Ellis Island via raft this past week, they'd be shocked to hear these Jets have won two straight games. Everything has been negative.
Yet here they are, winners of two games, including a nice showing in the second-half against a Cleveland Browns team who — if you've been paying attention — has played as hard as any NFL team in 2016.
Even the organization itself projects the suggestion that they'd like to move on from the Fitz era as quickly as it possibly can. 
There's just one little problem with that notion. New York has only lost five games. They're not only alive in the postseason race, they have a serious chance of making things interesting.
Admittedly, the state of the Jets brutal secondary and below average offensive line makes it very difficult for any fan to believe they have serious shot of January football. This is a real certainty.
But it just doesn't matter what you think. That's the harsh reality you need to realize.
Todd Bowles isn't looking to sacrifice his best opportunities to win football games in this, just his second season as NFL sideline boss. He's not going to go to an unproven Bryce Petty purely because 99 percent of the living, breathing football world believes the Jets have no shot at the tournament. He's not going to pull that trigger which sends an obvious "look to the future" message to the rest of the locker room.
Sports competitors, especially football people, aren't wired this way.
All they're looking to do is field the best possible team and prepare the most outstanding gameplan for the next opponent. In New York's case, for Week 9 of the season, Ryan Fitzpatrick is that guy and the game plan will be tailored to stop rookie stud Jay Ajayi and the Miami Dolphins sudden potent rushing attack.
Many argue the Jets have failed to reach the mountaintop because they always finish near the middle of the pack. These geniuses preach mediocrity leads to an organization finding itself in NFL purgatory.
This is untrue.
In a superstar-driven league such as the NBA, this sentiment holds real value. Putting yourself in the position to snag a franchise-changing superstar is something Association general managers need to consider.
In the NFL, terrific value-driven draft picks can come from any spot.
Has Bill Belichick suffered at the hands of terrible draft slots over the last 15 years? No. He and the New England Patriots organization find value at any slot in any round. Granted, it's easier to field a developing roster around a Hall of Fame QB (Tom Brady), but other examples of finding rookie value are easy to find.
The Jets had ample opportunity to draft in a high slot in past years. They chose stud USC defensive lineman Leonard Williams two drafts ago in the coveted No. 6 spot. While the pick cannot be argued, the Jets strategy post-Williams drafting has been horrid (in still employing all three interior d-line studs: Muhammad Wilkerson, Sheldon Richardson).
Possessing a higher draft slot wasn't the reason Mike Maccagnan is now stuck with a terrible Darrelle Revis contract. It's not the reason their offensive line is in shambles. Mikey Mac traded up in the fifth-round this past spring to snag Brandon Shell. How has that one worked out?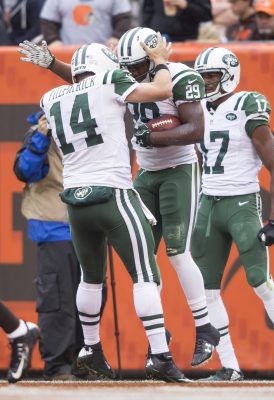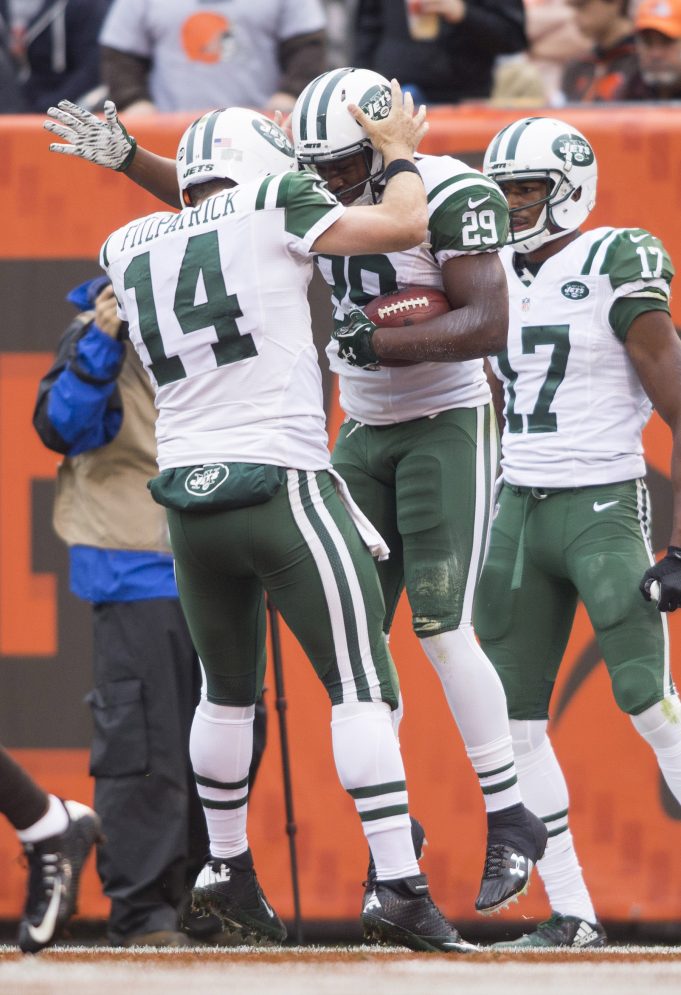 The draft slot isn't the issue. It rarely is in the National Football League. Sure, examples such as the Indianapolis Colts capitalizing on their campaign to "Suck for Luck" ring true, but the team must find itself fortunate to have a horrible season at the right time.
An Andrew Luck doesn't come around every spring. Who's that guy in this year's NFL draft that'll represent a franchise-changing signal caller for years to come? Few can argue Jared Goff is a can't miss.
In 2016, Ryan Fitzpatrick has thrown for 1,789 yards and seven touchdowns to go along with a whopping 11 intercepts (six of which came in a situation in Kansas City that had him hold no regard to his own media salvation). He was simply chucking the pigskin up in that game, understanding it was the only way his team could come back and win the game.
Eventually, the New York Jets will move on from Ryan Fitzpatrick. It'll be the day the natural progress of events take place.
That day isn't today. The Jets are still alive. Only when they hit that seventh loss should Petty make his most anticipated NFL debut.
These are football people looking to win games. Don't ask them to give up.
After all, "You play to win the game." The Harvard grad who blows so hot and cold may just surprise you the rest of the way.
The man Fitz is hugging in the above-featured image, Robert Griffin III, was deemed a "can't miss" QB. Only pain and suffering has come to the Washington Redskins for that choice.
The idea is to win games, not hope and pray the next hot college QB is your savior.