Eli Manning and the New York Giants offense doesn't attack downfield for one good and specific reason: Most times, they can't.
G
iants fans are beyond frustrated. The 4-3 record placed next to the name in the standings helps matters, but it doesn't fully allow the fan to exhale with one continuous motion.
The fan is bewildered that this offense can actually take steps backward in year three under Ben McAdoo. With a future hall of fame quarterback in tow, this simply should not happen.
Racking up 345.3 yards a game and ranking a robust 25th with 19 points scored a contest isn't what any fan had in mind. It's a far cry from their 372 yards and 26.2 points per game a year ago.
It leads to New York Giants fans kicking the dirt, stomping the ground, and howling at the moon. They say things like, "Why do they never attack downfield? Stop it already with this dunk and dunk West Coast crap."
What many don't realize is this short versus long passing game quandary isn't by choice.
This offensive line doesn't allow Eli Manning to attack downfield.
The big heavies up front don't allow Manning to showcase that deep ball he so frequently relied upon in year's past. As much as he'd like to, he can't take a comfortable seven-step drop and heave it past 30-yards in a one-on-one situation.
Those deep ball days we saw under Kevin Gilbride are long gone, and it's not McAdoo's fault. Sure, the West Coast system plays into it a bit, but it's the lack of pass protection that forces McAdoo to implement game plans that are designed to survive, not flourish.
Week 3 smacked us in the face as the perfect example of this.
Playing in Minnesota against the undefeated Vikings, it seemed as though Manning couldn't get rid of the ball quick enough. Everything was three-steps and release en route to a mediocre 10-point night offensively.
This wasn't Eli feeling the footsteps. This was Eli using his smarts — something many QBs don't do in this league.
Instead of taking sacks, Manning would toss the ball away before it could happen. Instead of taking a loss on the play via sack he'd throw an incompletion. Much of this was by design as well — thanks to McAdoo — but it was in anticipation of what was to come.
Don Zimmer's defensive front dominated the Giants offensive line. When that happens, QBs can't feel comfortable in the pocket and release 50-yard bombs.
And it's not just that. The Vikings defense is scary good. The only thing better than its personnel is its coaching. In this league, when a defense wants to take away something from the offense, they do so. On this night, Zimmer decided to take away anything over-the-top.
On the very first play of the game, it was evident what the Vikings were after. Zimmer deployed a safe, two safety over-the-top look against the Giants 3 WR look: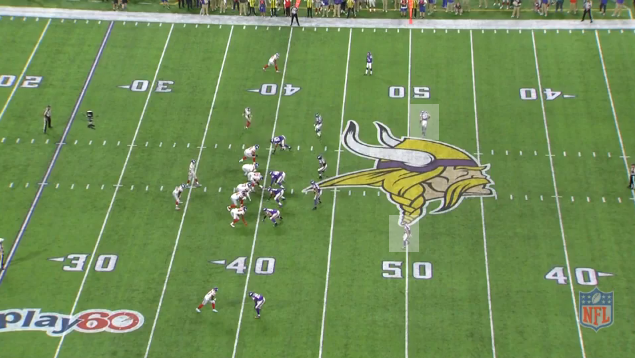 On the two-under man call, Eli had nowhere to go but to dump it down to his running back in tight coverage:
To make matters worse, the Giants O-Line couldn't even hold up against Minny's standard four-man front. Manning was pressured immediately.
This, my friends, is a carbon-copy of what you saw all night and why the Giants have issues throwing the ball downfield.
This past week in London, Eli and New York struggled again. They won the game in an ugly 17-10 affair, but style points offensively were tough to come by (242 yards of total offense).
On the second play of the game, Jeff Fisher has his defense in another safe, Cover 2 look presnap. Check out the safeties on the play. They're each in another zip code: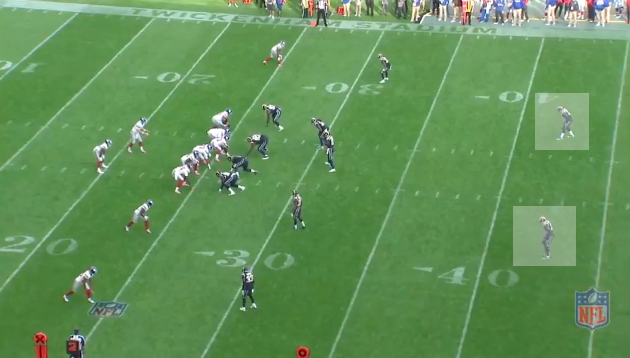 Rather than man, like we saw from the Vikings earlier, the Rams ran with an actual Cover 2. The corners stayed in the flat and the second level took underneath zones.
The result was disastrous as Larry Donnell fumbled:
Until the Giants prove they can run against a light box or effectively hold up against a standard four-man rush, this is the look they'll continue to see.
Defensive coordinators will continue to come out and force Eli and the weaponry to beat them underneath. Until they do that, Odell Beckham Jr., Victor Cruz, and Sterling Shepard won't have many one-on-one matchups deep.
Against Baltimore, one of OBJ's touchdowns was a deep opportunity. It came on a slightly broken play. The other one came via a busted coverage on a slant.
The reason Eli Manning doesn't go deep isn't by choice. It's by design, thanks to the defenses they're facing. In the NFL, you have to take what the defense gives you. Until the Giants O-Line proves its better, defenses won't crowd the box with eight.
Eli Manning currently ranks 13th in the NFL with a mark of 7.35 yards per pass attempt. This number will continue to take a dive until that O-Line can effectively run block against a light box and force defenses to adjust accordingly.