NEW YORK — It's the night of April 10, 2016. The New York Knicks just lost their final home game of the season — an 89-93 loss to the Toronto Raptors.
One more defeat would ensue before season's end.
A somber, teary-eyed Carmelo Anthony addresses reporters in front of his locker. Since the Knicks missed the playoffs for the third time in as many years, it's the last time this season he'll see the media at home.
New York had long been eliminated from postseason play. Losing the final home game was only the exclamation point on a turbulent 32-50 season.
But facing reporters, Anthony's last cry for help was expanding the team's search for a head coach. Knicks president Phil Jackson had fired Derek Fisher midway through the season, and to the dismay of many, interim coach Kurt Rambis was the heavy favorite to retain his job.
In the end, though, the 'Zen Master' obliged his star's request, and then some.
It's been two-and-a-half seasons since Jackson first took the reins as president, and the Knicks roster has been bulldozed, then reconstructed around Anthony and rising star Kristaps Porzingis. The cultural change Jackson wished to achieve has materialized into the team's most promising roster in recent memory.
New York shuttled out Robin Lopez, Jose Calderon and Jerian Grant to acquire ex-league MVP Derrick Rose (and guard Justin Holiday). Jackson then signed Joakim Noah and Courtney Lee for a power-packed starting five, and brought Brandon Jennings in for a punch off the bench.
A dynamic lineup, indeed, for new head coach, Jeff Hornacek.
As Knicks forward Kyle O'Quinn told Elite Sports NY: "This year, we're more or less — on paper, it looks like we should be doing some things. Last year, we had to shock some people and I think that we did a good job at that. But this year we've got to bring it, there are really no excuses this year."
Now, amid heightened expectations, New York must maneuver a much improved Eastern Conference despite 10 new roster pieces, a new head coach, chemistry tainted by Rose's civil rape trial and potential, unforeseeable injury woes.
ESNY's Kristian Winfield explores the possibilities, questions and concerns for the New York Knicks heading into the critical 2016-17 season.

Last season: 32-50, 18-23 at home
13th place in East; missed playoffs
Cap Breakdown
*via Hoopshype.com
(No longer on roster: L. Amundson, C. Randle)
Positional Breakdown
Point Guard: Derrick Rose and Brandon Jennings are going to split point guard duties near evenly, depending on the flow of the game. Hornacek may opt to run his two dynamic guards together, and evidence from preseason play shows he'll turn to Sasha Vujacic as back-up point guard before rookie Ron Baker. Baker's a tough defender and capable shooter, but veteran wisdom wins this battle early in the season.
Shooting Guard: Things get murky behind Courtney Lee, especially since Justin Holiday hasn't fully separated himself as the first two guard off the pine. Again, Vujacic is capable and knowledgeable of the Triangle. He also enjoys pushing the pace, at times faster than he can handle. But Holiday's defensive potential and three-point stroke should shine through as the season progresses. Baker could also make a cameo here.
Small Forward: Hornacek will give Lance Thomas every opportunity to retain his position as Carmelo Anthony's back-up. But a particularly inefficient preseason was cause for pause. In four games, Thomas shot just .300 (9-for-30) from the field and .286 (two-for-seven) from three. He's invaluable defensively, but if Thomas doesn't recover from his shooting slump, Hornacek could look to Holiday or rookie Mindaugas Kuzminskas at the three.
Power Forward: The options after 7-foot-3 Porzingis are endless. Hornacek said he'd like to experiment with Thomas at the four spot. He could also try Kuzminskas here or cause match-up nightmares with Anthony at power forward. More traditionally, Hornacek could put O'Quinn at the four or add versatility with Maurice Ndour. Both a gift and a curse, New York has the most options at the power forward.
Center: We'll see some Porzingis at center, but it's a foot race between Kyle O'Quinn and rookie Willy Hernangomez for first big man off the bench. Joakim Noah plays at 100 all game long — great effort, but he can get gassed at times. O'Quinn is seasoned and defensively vocal, but he can be erratic with his offensive decision-making. Hernangomez is polished for a rookie but has to develop the confidence that comes with experience. Marshall Plumlee is the odd man out here, at least for now.
Strength of Schedule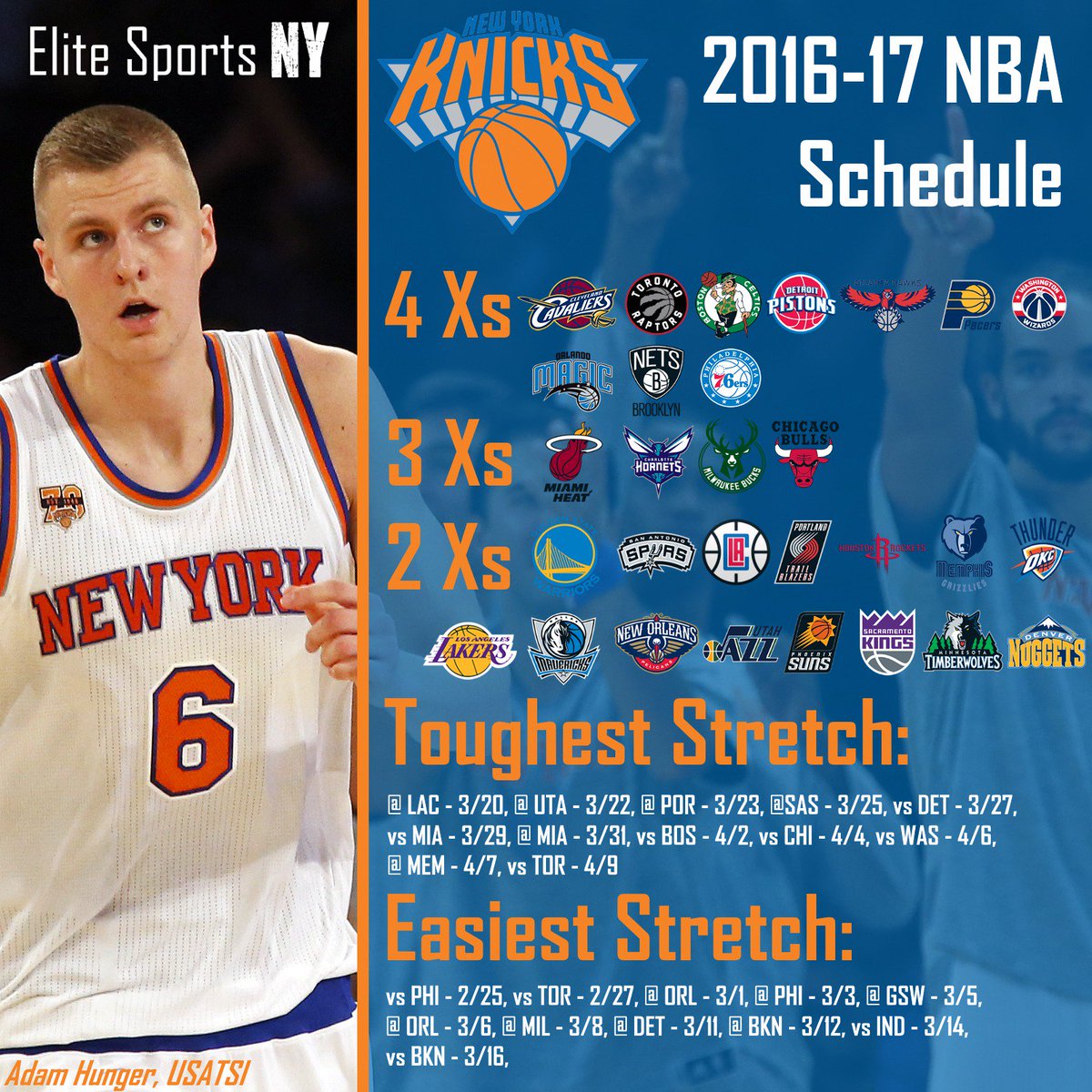 The Knicks are slated to have the 10th hardest schedule in the NBA. That doesn't bode well for a team still building chemistry, but New York has enough talent on roster to push through.
Anthony's Knicks will need to learn and jell on the fly, their playoff hopes could hinge on a few 50-50 games against non-Division foes like Washington, Orlando and Milwaukee.
Strength of schedule rankings for all 30 NBA teams: Overall, Pre/Post-ASG (with differential), and by month. pic.twitter.com/s0wZSBhvrw

— Yaya Dubin (@JADubin5) August 12, 2016
Dominating Arguments: Knicks Edition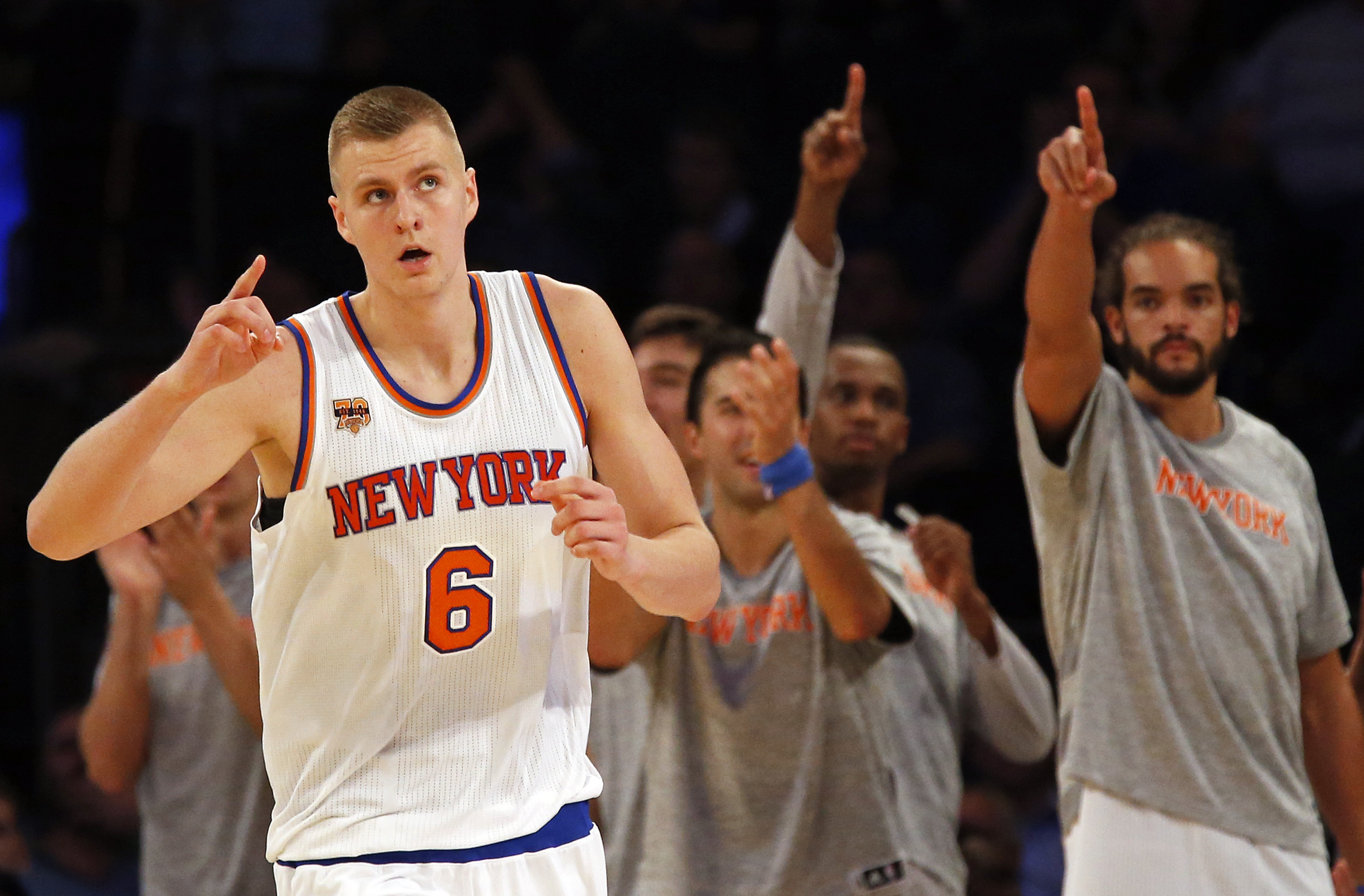 On paper, the Knicks have a top eight starting five in the NBA (behind at the very least Golden State, Cleveland, San Antonio, Toronto, Los Angeles Clippers and possibly Boston).
New York has three proven All-Stars surrounding a two-way glue guy in Courtney Lee and a rising star in Porzingis. The team has yet to commit to the Triangle and has implemented more early, high screen-and-rolls to initiate the offense.
To top it off, Jennings looks healthy. He's spry, moving well and is unselfishly looking to set up teammates with the occasional ill-advised triple.
It's common sense not to read too far into preseason basketball. Teams are more concerned with making roster decisions than game-planning for opponents.
But the Knicks impressed without Rose in uniform, and fans have much to look forward to come the Oct. 25 season opener vs. Cleveland.
Haters Gonna Hate:
Competition
The Eastern Conference is stronger now than ever before. 12 teams (Cleveland, Toronto, Boston, Atlanta, Detroit, Indiana, Charlotte, Chicago, New York, Washington, Milwaukee and well-coached Orlando) are realistically vying for eight playoff spots, each team a bit better than a year ago.
Brooklyn, Philadelphia and Chris Bosh-less Miami are the only locks not to make the playoffs.
A Closed Lid

History shows Rose to be a below average three-point shooter, something he's worked on but will have to prove incorrect this year.
In fact, Lance Thomas, New York's most efficient three-point shooter at .404 last season, has been cold (2-for-11) from down town in the preseason.
The Knicks ranked 20th in three-point shooting percentage (.346) last season. Golden State, San Antonio, Cleveland, Portland and Toronto each ranked in the top 10.
Superlatives
The Big Unknown: Derrick Rose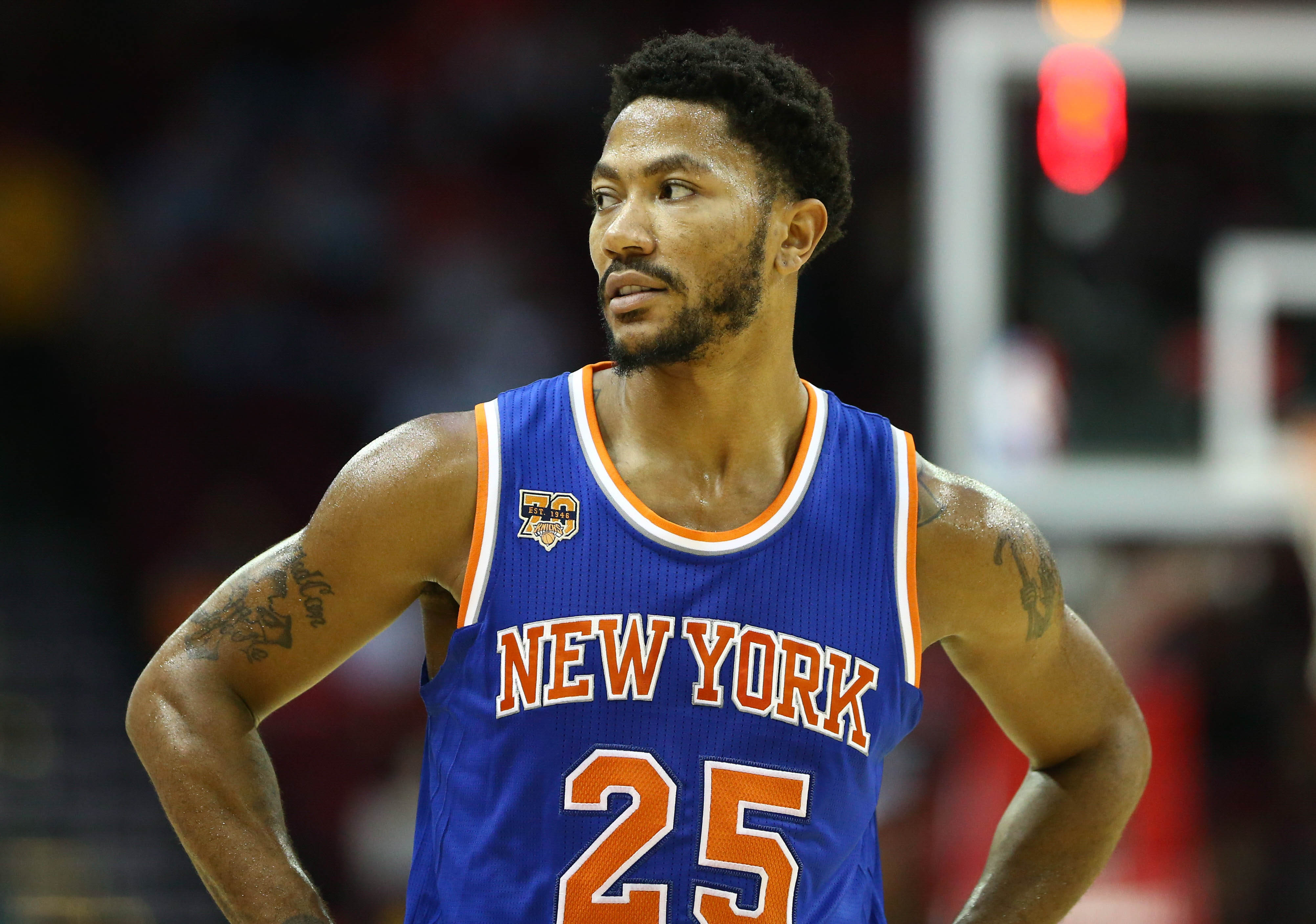 We know health has been a problem for Derrick Rose. We don't know what his game will look like while trying to stay injury-free.
Rose stressed the importance of working on his mid-range game, and a good amount of the buckets from his lone preseason outing vs. Houston came from that area. But we've only seen the former MVP once in the preseason.
Rose is still quick, and it seems he's knocking down threes now more than ever. But can it translate on the court, and can it translate into wins?
Sixteen points against defenseless Houston is one thing. How Rose plays against teams pressing on the perimeter remains to be seen.
Player to watch: Kristaps Porzingis
If you didn't fall in love with K.P. last season, improved ball-handling skills will have you swooning for seven-footers.
How is a defender supposed to stop this? Unless you deny that high post hard, it's IMPOSSIBLE to defend. #Knicks #Porzingis@Krisplashed pic.twitter.com/nP5Ho3J7XE

— Elite Sports NY (@EliteSportsNY) October 19, 2016
Look at KP go. Face up, off the dribble for a 7'3'' big. Not bad. #Knicks #Porzingis@Krisplashed @ChipperMurphy pic.twitter.com/QbmHSClosZ

— Elite Sports NY (@EliteSportsNY) October 5, 2016
K.P. finished behind Karl-Anthony Towns in Rookie of the Year voting last season. Now, Porzingis is looking to take the next step. Even with Rose and Noah's arrival, the second-year man knows he needs to step up offensively. 14.3 points per game isn't enough.
Neither is 7.3 rebounds. A legitimate 7-foot-3, Porzingis needs to dominate the glass to give New York it's best shot to win. Noah admits he's a step slow. K.P. has to pick up his slack, and everyone else's.
Fan Favorite: Brandon Jennings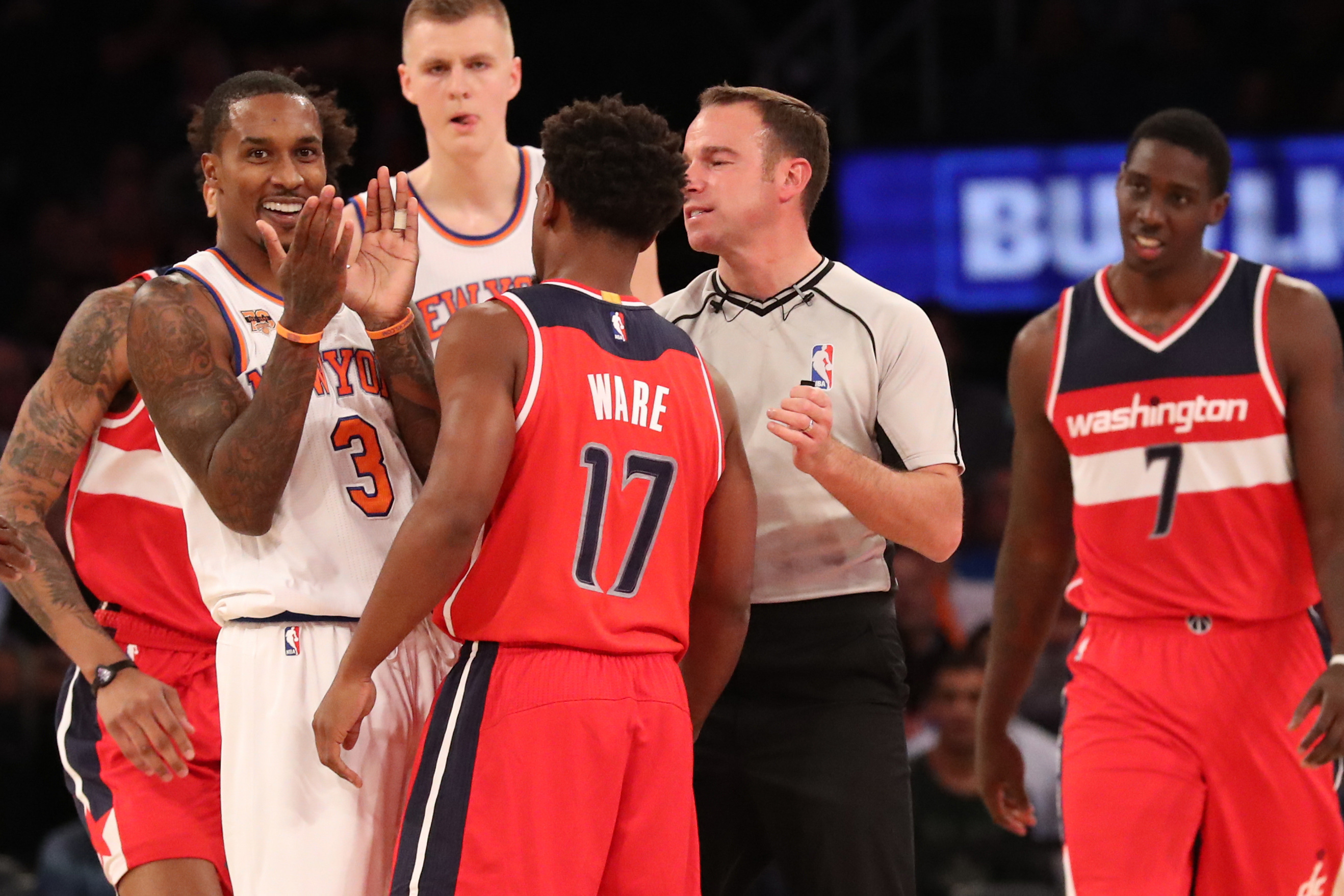 Jennings plays with a flare long missed by Garden goers. A title once held by hometown hero Kyle O'Quinn (Queens, N.Y.), Jennings is more relatable.
Small in stature (6-foot-1), the Compton kid plays with his heart on his sleeve. Jennings maintains he's long awaited the moment to play in front of the Garden crowd in a Knicks jersey.
Knicks fans will (and already have) embrace him as one of their own.
A Kuz block leads to B-Jennings style …#Knicks #BrandonJennings@Krisplashed pic.twitter.com/D0L1XGWjtR

— Elite Sports NY (@EliteSportsNY) October 21, 2016
Best Three-Point Shooter: Courtney Lee
Courtney Lee is New York's most consistent threat from downtown. He shot .600 (6-for-10) from three in the preseason, but he isn't a volume three-point shooter.
Only twice in his eight-year career has Lee averaged more than 2.9 three-point attempts per game. The Knicks may need him to shoot more, especially from the corner.
Lee is a .384 career three-point shooter. He should be ready to let it fly when his number is called.
Player With Most to Prove: Brandon Jennings
Jennings told Newday's Al Iannazzone New York was the only team to offer him a contract this summer.
"Actually I didn't get any offers from any other team but New York. A lot was because of my Achilles, nobody knew how healthy I was and things like that. I definitely put in the time this summer, lost a lot of weight. I made sure I was ready. When Phil (Jackson) called, I was like 'Yo, I'm coming.' It was a no-brainer . . . Shoot, I would have come here for a million. It didn't matter. I just wanted to be in an NBA uniform and be somewhere where I had a chance to win, and New York City — why not?"
The Knicks could be B.J.'s final NBA stop. So far, Jennings has appeared healthy. The 6-foot-1 guard is quick on his feet, aggressive offensively and actively looking to find his teammates.
One false move, though — or, in Jennings' case, one false tendon — and he could be swimming with the Shanghai Sharks in no time.
Asked if he felt if he had something to prove, Jennings said: "I definitely do. It was 29 teams that didn't want me so I definitely have a chip on my shoulder, and I definitely want to prove to everybody that I'm back and I'm healthy and I'm just a team player."
Questions That Need Answers
1. Can Derrick Rose stay healthy?
A healthy Rose locks New York as a playoff contender at least in the four-to-six seed range in the East.
Unfortunately, last season's 66 games was the most he's played since his 2011 MVP year. Rose's daunting injury history includes a surgically repaired medial meniscus in his right knee (torn twice) and a torn ACL in his left.
Without a third point guard on tap, the Knicks would have only Brandon Jennings, who is also rebounding from a ruptured Achilles.
Knicks players have spoken highly of Rose's explosiveness this summer, and the 27-year-old guard says he feels 100% for the first time in a few seasons.
2. Who will step up off the bench?
It's easy to point to Brandon Jennings here. The guy with most to prove. The guy with the most flare. The guy everyone loves.
But he's never been the most consistent player, and it's consistency that wins games. That's why the Knicks need Lance Thomas to step his game up offensively.
Missing shot after shot as he did in the preseason won't earn him minutes. But coming up big in crunch time will.
New York's got a lot of young guys looking to find time in Hornacek's rotation. Kuzminskas, a skilled forward, could also chip in.
3. Can Rose and Anthony co-exist?
The last time the Knicks paired two superstars, it went south sooner than later.
This time, though, Rose has maintained he will defer to Carmelo Anthony and explore ways to play through both he and Kristaps Porzingis.
Rose told media during the first day of Knicks training camp he's going to look to get Porzingis the ball and mentioned pick-and-rolls with Anthony as both the screener and the ball-handler.
Rose also says he only wants to make Anthony's life easier. That's a great mindset to have for a player as dynamic as him.
Top 5, Top 5, Top 5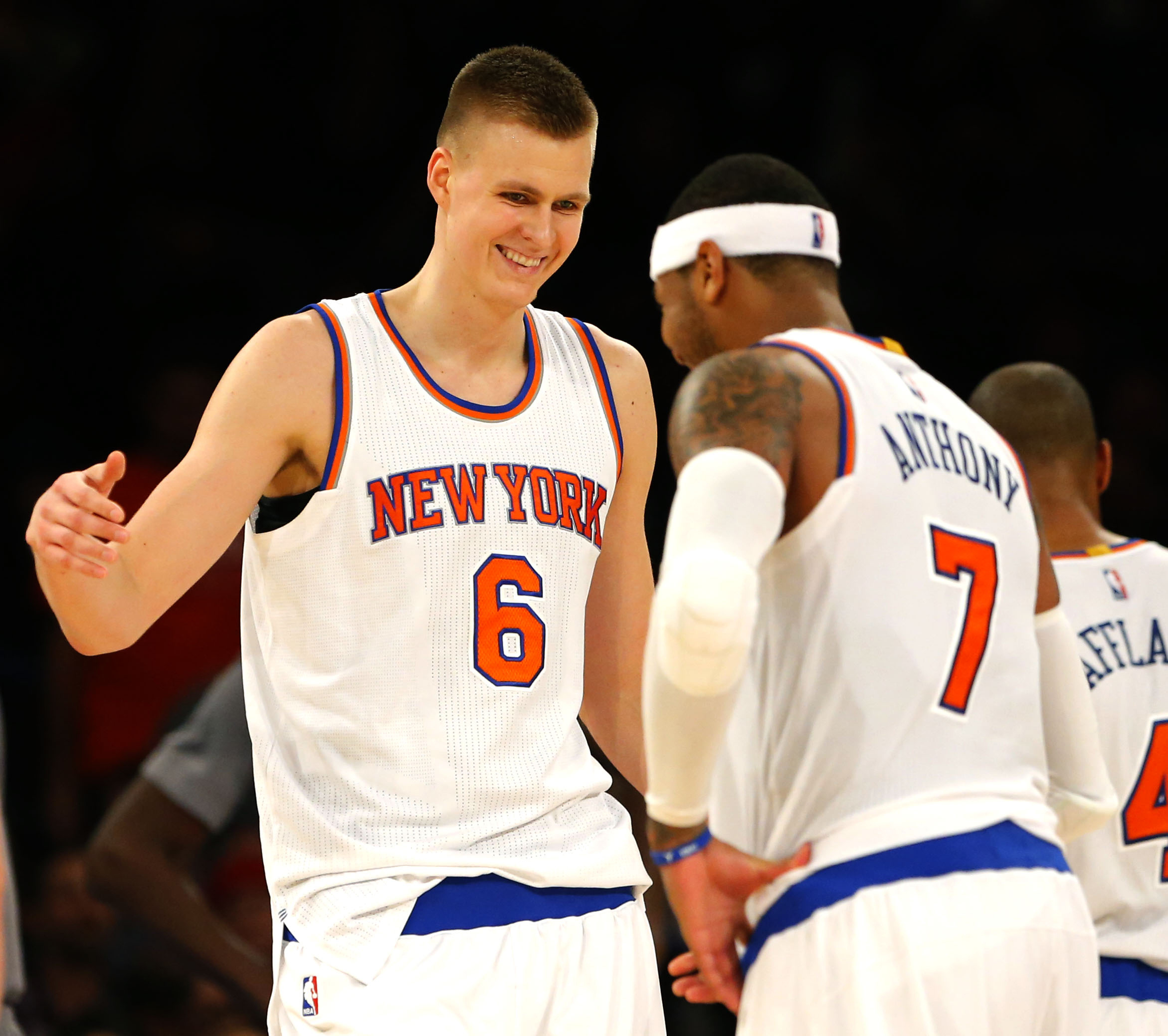 Top Scorer: Carmelo Anthony
No-brainer here.
Whenever a play breaks down, you can put money Carmelo Anthony is going to bully his way to a bucket. And with Noah setting devilish screens, 'Melo will have more open looks now than ever before.
Anthony averaged 21.8 points per game last season. With Rose, an improved Porzingis and Jennings off the bench, that number could dwindle some. But 'Melo will lead the Knicks in scoring.
Oh stop it. Just stop it RHJ. You know you can't guard Melo. #Knicks #CarmeloAnthony pic.twitter.com/43T8gkreWG

— Elite Sports NY (@EliteSportsNY) October 21, 2016
Top Shot-Blocker: Kristaps Porzingis
Porzingis averaged a team-high 1.86 blocks per game last season. In fact, K.P.'s per game shot swatting ranked eighth in NBA, ahead of renowned defenders Bismack Biyombo, Dwight Howard and Andre Drummond.
It's a BLOCK PARTY for Porzingis and Hernangomez.#Knicks@Krisplashed @ChipperMurphy pic.twitter.com/4cAfMa8DdZ

— Elite Sports NY (@EliteSportsNY) October 20, 2016
If Porzingis wants to record the lofty quadruple-double goal he set for himself (points, rebounds, assists and blocks), he'll need to lock down the paint on a nightly basis.
Joakim Noah is a former Defensive Player of the Year, but he's by no means the feared shot blocker, say, Hassan Whiteside is. Instead, he makes opponents adjust their shots when they attack the paint.
And that's when Porzingis can pin a shot to the backboard from the weak side.
Top New Acquisition: Derrick Rose
In his only preseason game, Rose scored 16 points (7-14 FG) and dished out five assists. The only court action he's seen since, however, was at the U.S. District Court in downtown Los Angeles, handling a civil rape lawsuit.
The allegations are now in the past, and the former league MVP is entering a contract year. Rose, 28, was draining threes as if they were uncontested layups during Knicks training camp, a welcome sight for a New York roster devoid of sharpshooters.
Can Rose return to his MVP form? Unlikely. But can he improve on his 2015-16 averages of 16.4 points and 4.7 assists per game?
That's a bet worth considering.
Top Under-the-Radar Player: Lance Thomas
Several Knicks players told Elite Sports NY just how important it was for Lance Thomas to re-sign in New York. Carmelo Anthony barely commented, saying "we all know what Lance brings."
That's because Thomas proved invaluable on both ends of the floor last season. The Brooklyn native averaged just 8.2 points per game off the bench but was easily the team's best perimeter defender. His .404 clip from downtown was a team-high and New York seemed better with him on the floor.
Thomas has struggled in the preseason. He'll find his shot eventually. And when he does, the Knicks' bench will be better for it.
Top Rookie: Willy Hernangomez
'Melo calls Hernangomez "the big baby." He also says the rookie is cut from the same cloth as Marc Gasol.
Hornacek agrees.
Willy Hernangomez is incredibly skilled for a 22-year-old basketball player, and he showed it in preseason with his poise around the basket and sound decision-making.
It was once thought Kyle O'Quinn was the sure fire first big man off the bench to back-up Joakim Noah. But the way Hernangomez has played, that role is anyone's to grab.
Who We Like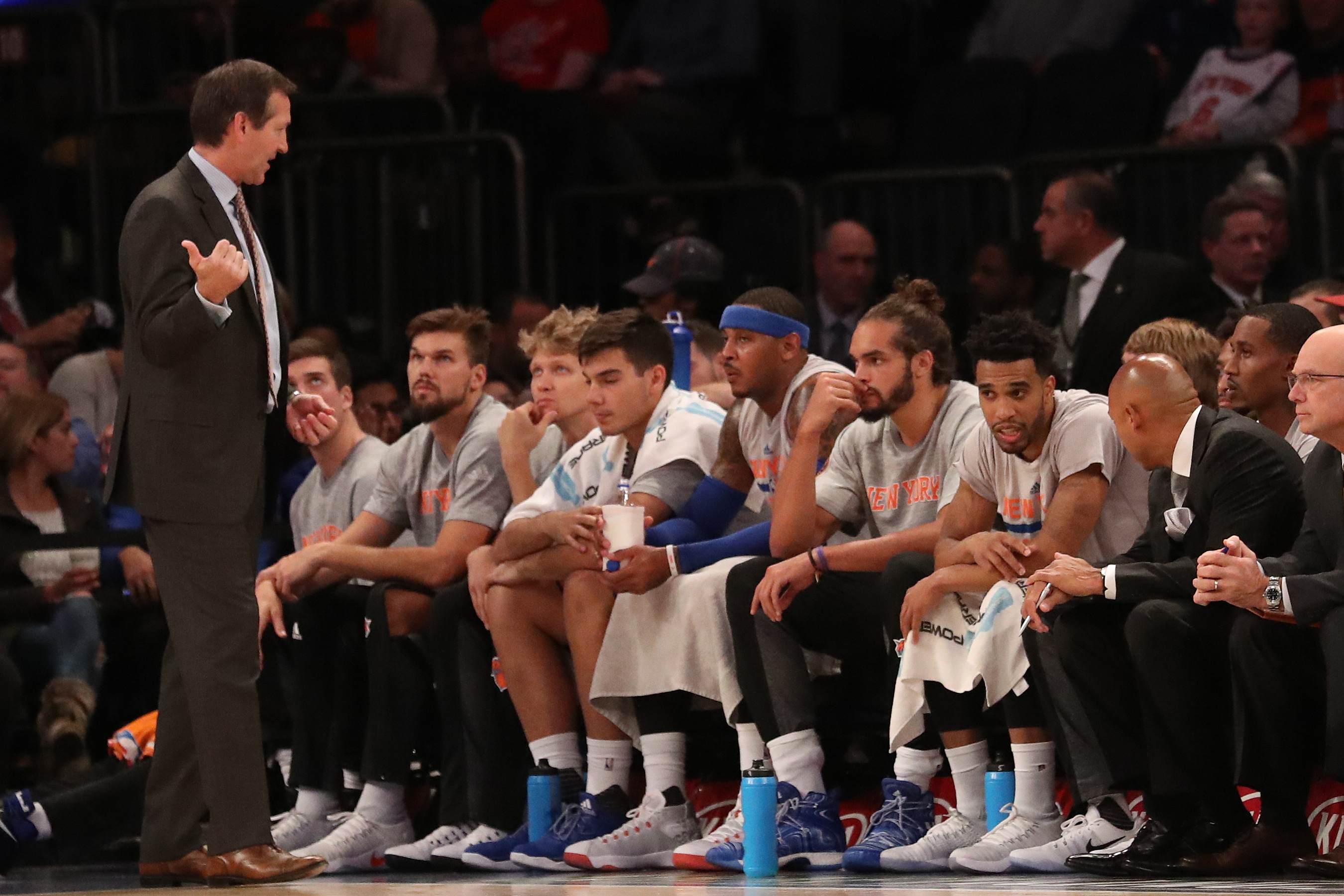 1. Jeff Hornacek
New York won 32 games last season. If the Knicks make the playoffs, Jeff Hornacek could be in line for some serious Coach of the Year consideration.
Hornacek knows the players don't like running the Triangle. As a result, he's forced the Knicks to push the tempo, initiate its early offense and run Jackson's sets mainly as out-of-bounds plays and when the high screen-and-roll doesn't materialize.
The players seem to be responding to Hornacek, which is more than can be said of Fisher and Rambis. But the jury is, and will remain, out until he strings together some wins.
— Kristian Winfield
2. Courtney Lee
Courtney Lee is a perfect fit in New York. His signature toughness on the perimeter will immediately endear him to the fans.
Lee can give the Knicks everything they hoped for out of his predecessor (Arron Afflalo) at a higher level. The 31-year-old is an elite pick-and-roll defender and is one of the NBA's more reliable three-point shooters.
He gives gives the Knicks some much needed help in both areas. Lee took less money because he believed in what the Knicks were doing. He's someone every fan will grow to like. The Knicks are his seventh team in nine seasons. Courtney Lee is looking for a home.
— Chip Murphy
3. Justin Holiday
Justin Holiday's not a guy who's going to get you 20 points a night. Not even close.
He is a guy, though, who's going to play defense, knock down open threes and push the ball in transition. He knows his game, telling Elite Sports NY he wants to work on his three-ball until he "doesn't miss anymore."
And there's always room for a knock-down shooter on the wing in New York.
— Kristian Winfield
4. Mindaugas Kuzminskas
Who or what is a Mindaugas Kuzminskas? It didn't take long to answer that question.
Kuz was the star of the preseason, averaging 14.8 minutes, 10.0 points, 2.6 rebounds, and 2.0 assists, on a slash line of .526/.313/.833. The rookie made it clear that he was going to be assertive about getting his own offense and attacking the basket.
He tied for fourth on the team in total FGA (38), 60 percent of his total points came in the paint and he finished second behind only Carmelo Anthony in usage percentage (percentage of a team's offensive plays that a player uses while on the court).
Mindaugas Kuzminskas is a player to like this season.
— Chip Murphy
Fair Expectations
The toughest part of a season preview is the prediction.
Ahead of the 2015-16 campaign, a 32-win projection made on AOL.com's The Give and Go podcast proved spot-on. This time around, the variables, mainly injury, make it near impossible to make a fair forecast.
One thing is certain: this Knicks team is much better than last year's. And last year's team was 21-21 before a mid-season meltdown of epic proportions.
In 2011, the eighth seed Pacers made the playoffs with 37 wins. Last year, Detroit snuck in with 44.
The East is getting increasingly competitive, and the upward trend in wins needed to make the postseason is nearing that of the power-packed Western Conference.
Are the Knicks a playoff team? Yes.
Are they a 50-plus-win team? Probably not, especially not with health uncertainty looming.
New York cracking 47-50 wins seems modest And that should land them in the five-to-seven range of the Eastern Conference.
— Kristian Winfield
Editor's Note:
We haven't seen a team quite like this in a long, long time. The 2016-17 New York Knicks are unpredictable — a thing that's rare in the NBA.
Should injuries strike, a disaster can unfold. Should Derrick Rose, Joakim Noah, and Carmelo Anthony stay healthy, a 50-win team who can run to the Eastern Conference Finals can show up.
I'll hedge my bets on the good Knickerbockers for one reason only: the bench, an area that was a major wildcard, has proven to hold down depth. Guys like Brandon Jennings, Lance Thomas, Ron Baker, and Willy Hernangomez are more than enough to grind through the 82-game schedule.
Final prediction: 48-34, losing a hard-fought series in the second round of the East playoffs.
— Rob Sabo
Kristian Winfield covers the New York Knicks for Elite Sports NY. You can start the conversation on Twitter @Krisplashed.