New York Giants future hall of fame quarterback Eli Manning won't be fully appreciated by fans until he's already retired and gone.
N
ew York, New York — the city far too many athletes fear. It's the city of tough, the city of rough, and the city that knows its sports inside and out.
When the professional athlete is riding a high in the five boroughs, there's no greater high. When he's rolling low, you might as well pack up your bags and get your agent on the phone immediately, for you won't make it in the city Sinatra once so glowingly sung about.
This sentiment applies for most who fly by Manhattan. New York Giants quarterback Eli Manning, however, doesn't qualify as "most."
Eli's in a league of his own.
Eli Manning is the only man who can bring not one, but two Super Bowls to the city of New York and have his jersey set on fire and uploaded to YouTube for all the world to see.
Oh, and again for good measure:
And again …
Aside from the obvious fact that these three individuals don't understand a damn thing about the game of football, the hardened Giants fan will wave away these three examples and call it idiocy. They'll say, "Don't judge us based on a few bad apples."
While it's true, all Giants fans don't pile on Eli when things are bad, it doesn't excuse the overriding sentiment that this guy eliminates the biggest problem so many NFL teams have year in and year out. The problem that is finding and living with a franchise quarterback.
Eli Manning, 35, has been the Giants quarterback since 2005. He's put up 46,171 yards, 302 touchdowns to 205 interceptions during that span (including nine games from his rookie season). His record sits at a solid 101-89 during the regular season and an other-worldly 8-3 during the postseason.
For 11 straight seasons — 2016 counting as the 12th — the younger Manning hasn't missed one game. When looking at his games played and started column on the back of the player card, it reads 16 all the way down. For over a decade, the Giants haven't had to worry about finding a franchise quarterback, something so critical in the league that plays for pay. So critical that jobs are lost and careers are turned while looking for one.
Do you truly understand how rare this is?
Just ask Mike Maccagnan, Todd Bowles and the New York Jets about finding a QB. This organization is still looking for their first since No. 12.
During the season of 2013, Eli was horrid. His 27 interceptions to only 18 touchdowns with an inept passer rating of 69.4 had many football enthusiasts pondering whether the end was near for the 32-year-old.
Those who understand football knew better. These people knew Victor Cruz missed a few games and Hakeem Nicks was on his last legs as a football player. The 7-9 record that season was more about Tom Coughlin pulling a rabbit out of his hat, rather than underachieving.
Ben McAdoo promptly came from Green Bay and helped Manning return strong in 2014 (30 TD, 14 INT). But more importantly, Jerry Reese found his QB one serious weapon in Odell Beckham Jr. Manning backed up that solid season with another 30 TD performance in 2015, thus putting an end to all the jersey burning in and around the Meadowlands.
Manning did this despite his offensive line never returning to form when guys like Shaun O'Hara and Chris Snee roamed the field. The Giants 6-10 record the last two seasons were a direct result of Coughlin and Manning pulling a poor personnel base up. It wasn't about those two dragging a strong Jerry Reese squad down.
In fact, the feeling fans have for Eli is eerily similar to another legend who once played in the city. Somebody who never received the proper amount of respect until he was long gone. We're talking about the guy who wore No. 33 for the New York Knicks.
Patrick Ewing, while never winning any championships, was as solid as they come. During his reign in New York, he led his Knickerbockers to 13 playoff appearances in 15 seasons, twice reaching the NBA Finals (1994, 1999). Though he was a clear future hall of famer, many Knicks fans hated the guy as much as they adored him. They simply couldn't get over the fact he never brought a Larry O'Brien trophy home to Manhattan.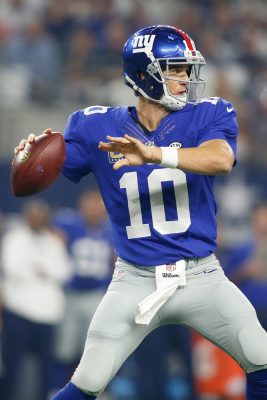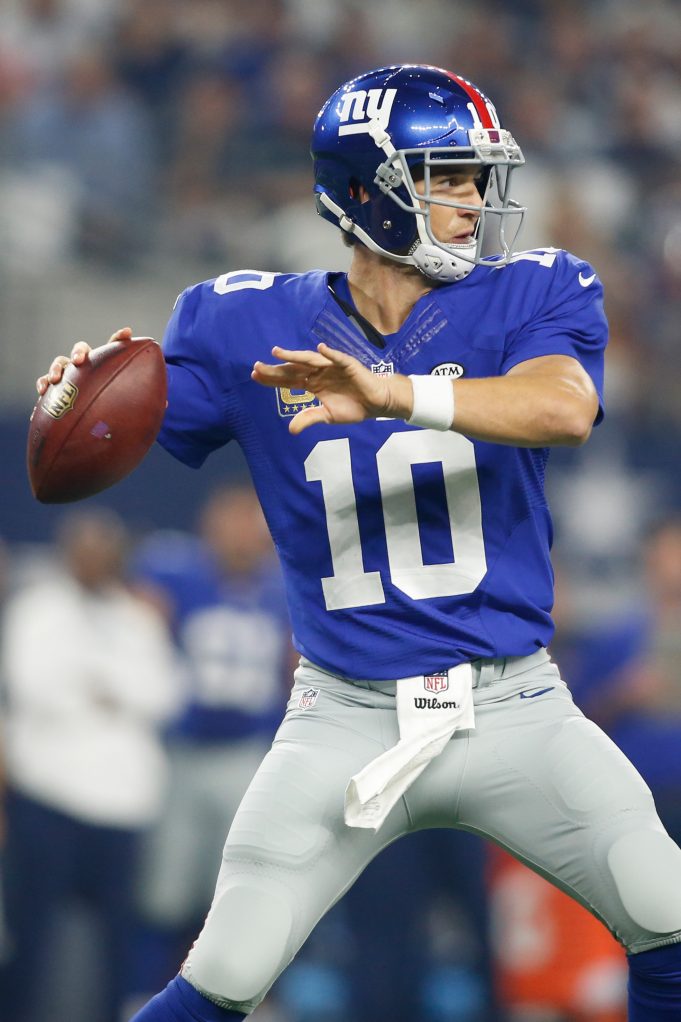 Now that he's been long gone, fans ache for the days of a Ewing-led Knicks team.
What's the Giants fan's excuse with Eli Manning? The guy delivered not once, but twice during his era. He's been the consummate professional his entire career and may be the most money quarterback we've seen since Joe Montana (and Tom Brady, who's still active).
Admittedly, Eli has some quirks. When the game is boring and slow, he sort of rides with that momentum and doesn't overly impress. But when the game is fast and chaotic, and the money's firmly on the line, the younger Manning is as good as it gets.
Sure, it does matter that the Giants offense is struggling right now. With a host of nice shiny weapons and a future hall of fame QB in Eli, they should be doing better than 25th in the league in scoring (19 points a game).
And sure you can question Eli's performance whenever you'd like. After all, nobody's above criticism.
Never, though, question whether or not Eli Manning should be the Giants quarterback. Never look to run him out of town. Never burn his jersey.
Eli Manning has proved, beyond a shadow of a doubt, that he's a living legend in this town. For those who don't appreicate him, you never will until he's long gone and your organization is struggling for decades while looking for that "next" guy.
You've been blessed to have had a general manager in Ernie Accorsi who so firmly believed in this guy and did whatever it took to snag him. Enjoy it whle you can. It won't last forever.
When it finally goes away, you'll say, "Damn, we had it so good with Eli Manning."