Although it wasn't his fault, Muhammad Wilkerson's absence on Sunday helped the New York Jets defense excel against the Baltimore Ravens.
O
n Sunday, the home locker room at MetLife Stadium was in a buzz. It was raucous, carefree, and jubilant thanks to a 24-16 victory in favor of the
New York Jets
against John Harbaugh's Baltimore Ravens.
Players celebrated and coaches smiled.
One player, in particular, Muhammad Wilkerson, wasn't a full participant in the celebration. Big Mo missed the game due to an ankle. The man who received a boatload of cash this past summer — 5-years and $86M — wasn't needed for New York to win its first game in five weeks.
Arguably the Jets best player was out, and Todd Bowles' defense put up its best effort of the season.
As nonsensical as it may seem on the surface, the defense's strong play had nothing to do with better talent. If talent is what they want, talent is what they get in Wilkerson.
Instead, turning Joe Flacco over two times and limiting Baltimore's offense to just 245 yards had everything to do with balance. Because Big Mo wasn't around, Sheldon Richardson was able to play his natural position along the interior of the defensive line.
We've chronicled it for awhile now. Sheldon's massive 300 lbs. frame isn't able to handle the duties of an edge spot or roaming presence. With Leonard Williams, Steve McLendon, and Big Mo, Bowles feels he has to stick all four of them on the same line together.
It hasn't worked. It doesn't work.
During the Super Bowl era, the two main defensive fronts defensive minds have run in the NFL have been the 4-3 and 3-4. The 4-3 showcases just two interior defensive linemen. The 3-4 sees three big heavies taking on the opposing offensive line. Each system comes equipped with a speedy edge presence to surround those in the middle.
For the second time this season, Bowles' defense was able to throw out a balanced defensive line. The other time it happened came in Week 1 against the Cincinnati Bengals when Richardson was suspended.
Against the Ravens, Lorenzo Mauldin andJordan Jenkins or Mike Catapano played outside linebacker in the 3-4 while surrounding Richardson, Big Cat, and Steve McLendon. It provided a dynamic front-five that brought both strength and speed to the table — something that's been lacking.
Here's the personnel grouping we suggested leading up to the Raven game:
With Wilkerson out, McLendon held down nose tackle with Williams moving to one of the interior ends. Against Flacco, Richardson picked up a sack, Mauldin hit Flacco on a play, and Williams was a stud all afternoon.
Here's what the setup looked like in base: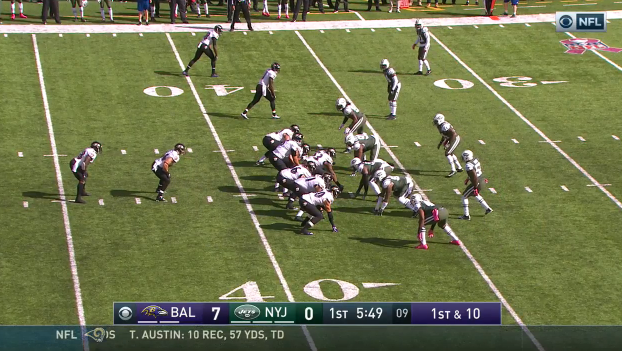 It was a pure 3-4 with real edge players on the edge.
Bowles must keep this look going moving forward and forget the idea of getting all four big guys on the field at once. If the four have to rotate in three spots, so be it. If Williams, Richardson, Wilkerson have to man up and play the nose tackle position in favor of McLendon, so be it.
Only, and only when the Jets are in a sub-package on passing downs, is when Big Mo or Sheldon should be lined up on one of the edges. When that's the case, the other edge must contain one of the faster rushers (Mauldin, Jo.Jenkins, Catapano).
It's not Wilkerson's fault the Jets played their best brand of defense without him on the field. It was simply a case of addition by subtraction.