Quiet as kept, breakout rookie Sterling Shepard has been the New York Giants most efficient playmaker.
Y
ear three was supposed to be the year
Odell Beckham Jr.
really took off. He electrified New York Giants fans in 2014 and 2015, singly making a 6-10 team nationally relevant. His line was mind-boggling through his first 27 games; 187 grabs, 2,755 yards, 25 TDs, and one spectacular catch after another. His first two seasons compared
favorably
to names like
Jerry Rice
and
Randy Moss
.
Entering 2016, pundits considered him, Antonio Brown and Julio Jones the interchangeable best WR in football. A quarter of the way through the season, he's been the interchangeable best WR on his team. Enter Sterling Shepard.
Shepard — not Beckham Jr., not Victor Cruz — has been Eli Manning's most dependable target. OBJ still outpaces him in targets (40 to 26), but Shepard's made the most of his opportunities. Save for last week's offensive dumpster fire in Minnesota, he's made at least one big play every Sunday.
He drew rave reviews all through training camp last summer, and his success has translated to Sunday. Once the Giants offense gets rolling (if it does get rolling) he'll be even better.
Through four games, Shepard leads the Giants in catch percentage (76.9) and receiving TDs (2). His 10.12 yards per target trumps Beckham Jr's 7.77, and he's dropped one pass to Odell's three (2nd in the NFL). Best of all, he's done it under the radar.
Shepard plays with just as much passion as Beckham Jr. does, but he does so with an unassuming confidence. His control in the moment after getting crushed by Redskins CB Josh Norman, on an in-route in Week 3, led to a 15-yard personal foul penalty for Big Blue.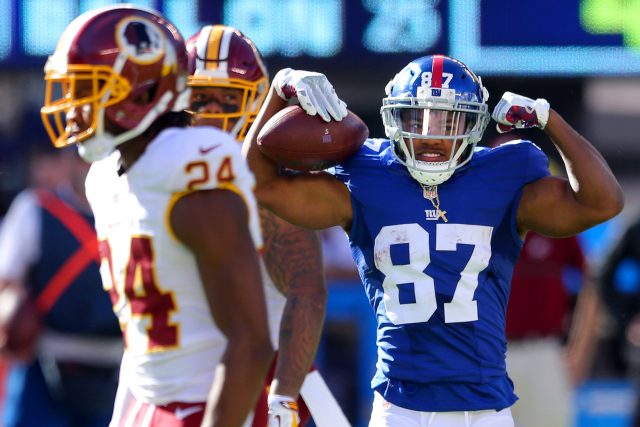 Polar Opposites:
In that way, he's been the antithesis to number 13. One has a blonde-tipped burst fade (as sported by every other kid in the world today), the other a simple lined-up low 'cut. One hangs out with Drake, the other hangs out with his family. OBJ attends the Met Gala, and goes viral for (allegedly) snubbing Lena Dunham, Shep attends Sooners games and flicks it up with Jim Ross. Beckham's style is as loud as his game, whereas Shepard's game speaks volumes.
In Houston with my man @sterl_shep3 if THE @Giants. @OU_Football pic.twitter.com/rOBB6B2Q1J

— Jim Ross (@JRsBBQ) September 3, 2016
The New York Giants have been plagued by uneven performances on the field, and controversy off of it, for much of the past two weeks. Beckham wants the ball, as any great receiver should, and there's nothing wrong with that. Sterling Shepard does too, but you won't hear him say so. He's going to let his play do the talking, and there's nothing wrong with that either.
The difference so far is, you know what you're getting with 87. It'll be the same thing, whether things break his way or not. He's going to contribute on the field, and avoid the drama off of it. That's the type of mindset the Giants will need to right the ship. Well, that and a few wins anyway.