The New York Giants offense has failed the eye test thus far, and a look behind the numbers is just as bad as you might expect.
E
li Manning wasn't the slightest bit worried about the
Minnesota Vikings
. He didn't think for a second he'd continue to struggle against them. That's the impression he gave when he
joked with reporters
about Minny having his number. On
Monday Night Football
, his 
New York Giants
had a chance to prove the hype was just that.
They failed miserably. Manning's line (25-of-45, 261, 0/1) wasn't great and even that doesn't fully explain how bad he was.
His longest completion to a wide receiver went 14 yards, half of which was gained after the catch, to Victor Cruz. Cruz was the only receiver to average at least 10 yards per reception (Sterling Shepard 4-30, Odell Beckham Jr. 3-23). Save for a screen pass to Paul Perkins that went 67 yards, the offense didn't produce one 20+ yard play. Minnesota on the other hand, missing their starting QB and RB, had four.
That the Giants offense could be even more conservative than it was under Tom Coughlin, with the talent it has, is puzzling. HC Ben McAdoo has the personnel, yet the Giants have stubbornly refused to let Eli rip. In the loss to the Vikings, Manning looked like a man lacking confidence. Even when he had time, he rarely looked downfield and grounded the football whenever a Viking got anywhere near him.
As was the case Monday, Manning's struggles have been more pronounced in the 2nd half of games. In third and fourth-quarters this season, he's completing less than 60 percent of his passes and has thrown just one TD and four picks. Trailing in a game with at greater than four minutes remaining, his passer rating is an abysmal 43.8.
With four minutes or less, it falls to 15.8. All four of Manning's TD passes this season have come out of the shotgun formation, where he has more room to see the defense in front of him.
The numbers point to a few different things. First and foremost, Manning isn't comfortable in the pocket. It's visible to the naked eye and backed by the splits. He's dumping the ball off at the slightest hint of pressure, not allowing routes to develop. In obvious passing situations he's been at his worst, a far cry from the cold-blooded reputation he's earned for leading the Giants on game-winning drives through the years.
Manning has stood in the pocket and delivered throughout his career. He's taken his licks and played through them, never missing a start. He isn't afraid of contact. His struggles this year suggest he's overthinking, trying too hard to make the right play within the system instead of reacting to the defense.
Shrinking Target
No one's been more affected by this approach than Beckham Jr. His targets haven't decreased much overall, but he's not getting the looks when they matter most. He's also not getting an opportunity to do much with the ball when it does come his way. Last season, he averaged 9.25 yards per target including 10.6 in fourth-quarters. In 2016, that number has decreased to 7.6 overall and 7.8 in crunch time.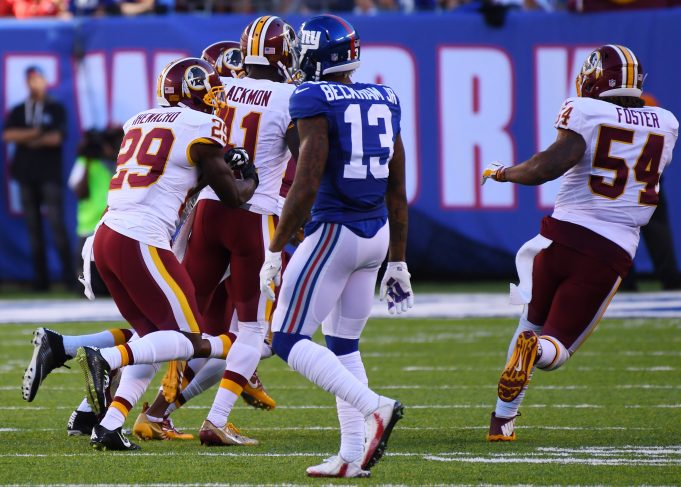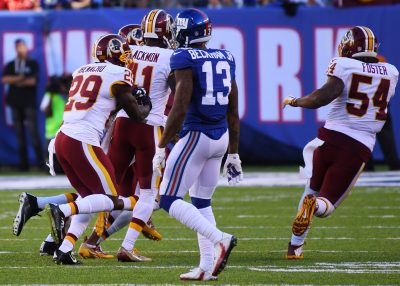 Last season, his 7.7 yards per target in the third was his lowest total for any quarter. In 2016, that number is all the way down to 3.9. He's only been targeted once in games where the score is tied with under four minutes remaining.
That's just as unacceptable as his temper tantrums. Eli's statistical resurgence since 2014 has been due, in large part, to Beckham Jr's presence. In the year before the New York Giants drafted OBJ, Manning threw for 18 TDs and 27 INTs. In the two years after: 65 TDs and 28 INTs.
Takeaways
Mike Sullivan is the offensive coordinator, but Ben McAdoo's system is the canvas on which this offense is predicated. In the third year of any system, players usually get it. Eli Manning has regressed. He's started this season off like a guy playing not to lose instead of trying to win. Manning's been, dare it be said, a glorified game-manager. The yards were there against New Orleans and Washington, the sustained drives were not.
All of this runs counter to who Eli has been for the Giants. His completion percentage is up, which was a point of emphasis for McAdoo when he arrived in New York, but it's made no impact on the final score. Manning simply isn't a high-accuracy, spread-offense, inch down the field type of quarterback. You have to allow him to be him– drive the football 10, 15, 20 yards through the air and live with the mistakes. It's what he does, and he'll succeed more than he'll fail. It's time for McAdoo and Sullivan to take the clamps off of the offense before it's too late.