For the New York Jets, their QB situation is simple: Fitzpatrick is their guy. If they thought anything of Geno Smith, Fitz wouldn't be here.
At this point, it's still not comical. Not by a long shot. The situation the
New York Jets
are in as it relates to the quarterback position is as common as Roger Goodell handing out four-game suspensions for "the weed" (que Stephen A. Smith).
When the NFL team is struggling, the backup QB suddenly becomes the most popular player on the roster. And not shockingly in the least, this has happened regarding the dynamic between Ryan Fitzpatrick and Geno Smith.
But please, use your noggin for just one moment. If Mike Maccagnan and the Jets organization thought anything of Geno, this 33-year old journeyman, Fitz, wouldn't have been re-signed. Mikey Mac would have simply said "no thanks" to Fitz's $12 million demand and went with the more youthful, skillful player.
The problem is, fans usually don't use their noggin. Instead, they rely on passion and emotion — something that should never change based on that crazed atmosphere we witness at MetLife Stadium on Sundays.
Stats are spit out in favor of the Jets going with the unproven guy who may have a spark behind him. Since 1990, under the current 12-team playoff format, only 14 percent of teams who've started 1-3 have made the playoffs, via Rich Cimini of ESPN.
Reality for the Jets: since 1990, only 14 pct of the teams that started 1-3 made the playoffs, per @ESPNStatsInfo. #Jets

— Rich Cimini (@RichCimini) October 3, 2016
This is only two percentage points higher than the most well-known stat of 12 percent of 0-2 teams scratching and clawing their way into the tournament.
Sprinkle on the cruelness of having trips to Pittsburgh and Arizona forthcoming and these Jets are, obviously, in dire straits.
So, naturally, the calls for Geno Smith or even Bryce Petty come fast and furious.
Guess what, though? Fans aren't in that locker room. Fans aren't at the Florham Park headquarters having an inside seat to the latest happenings on all things Jets. They simply don't understand what competing at the NFL level means if they simply throw away the starting QB from a season ago who led the team to their most prolific offensive season in franchise history.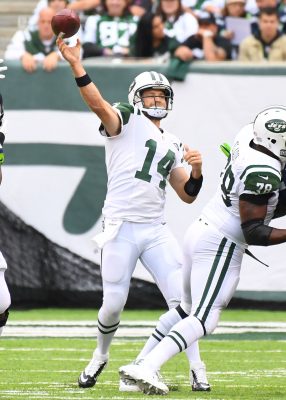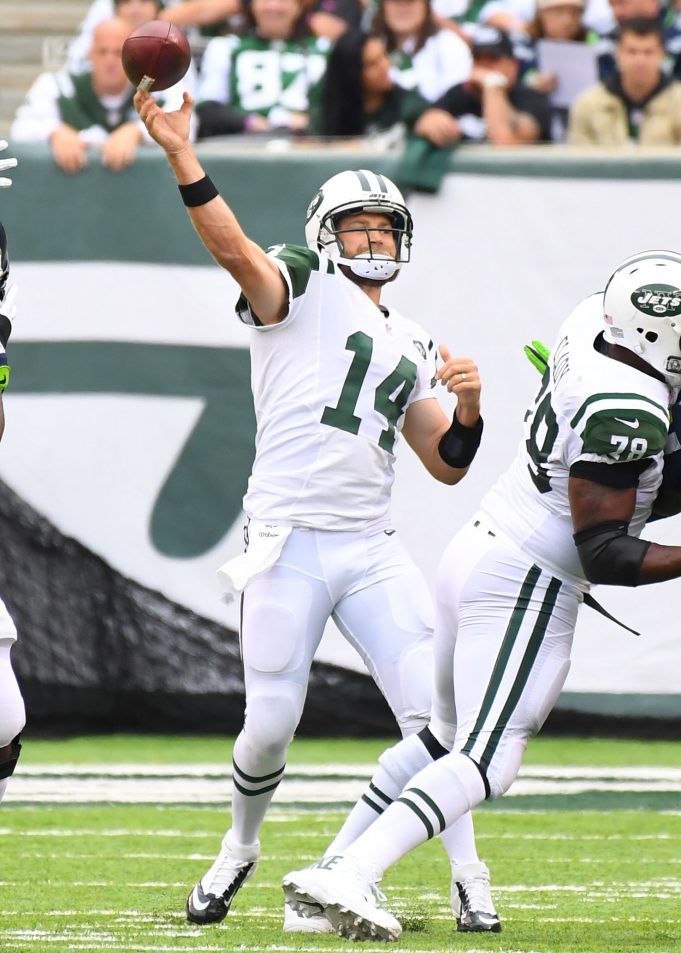 The only thing head coach Todd Bowles is looking to do is choose the guy who gives the team the best chance of winning on that next Sunday. He's not looking to do anything more, or less. His obligation to his men is to point his finger to the most qualified guy and roll with him.
This means Ryan Fitzpatrick stays in charge.
It would be completely different if the Jets were sitting on a guy that they liked — that they felt was the franchise guy moving forward.
For instance, in 2002, Vinny Testaverde was appropriately replaced by Chad Pennington after a 1-4 start to the season. Chad led the Jets to a thrilling 9-7 finish and a AFC Wild Card Round win against Peyton Manning and the Indianapolis Colts after winning the AFC East through tiebreakers.
At that moment in time, New York felt Pennington was their future franchise guy. This is why Herm Edwards and company made the move.
In 2016, at this moment in time, the Jets don't think much of Geno Smith. Like previously mentioned, if they did, Fitz would have been long gone this summer. Who's going to re-sign a 33-year old with a weak arm if they feel a possible franchise guy is in the building?
There is no Luck, Rodgers, or even Wentz waiting in the wings.
It's like this: Anybody calling for Smith right now is simply grasping at straws. They're simply throwing mud at the wall and hoping something sticks.
NFL head coaches and general managers don't think that way. They don't pay any attention to the percentages of making the tournament after a 1-3 start. If they did, teams would throw in the towel entirely too early and give up on the season. If they did, that 2002 Jets season wouldn't have happened.
Bowles's only concern right now is game planning for the Steelers. This means choosing the guy who gives the team the best chance to win that Sunday.
The man has NOT gotten it done in 2016.#NYJ #RyanFitzpatrick pic.twitter.com/QjACxpSwyb

— Elite Sports NY (@EliteSportsNY) October 2, 2016
Right now, that guy is still Ryan Fitzpatrick.
Call me in two weeks if the team slips to 1-5 or 1-6. At that point, and only that point, is it now time to see if Geno Smith or Bryce Petty can play their way into the role of "QB of the future."
The Jets held on to Geno (appropriately so) this August because they like him as a "just in case" guy. They like the wildcard nature he may be able to bring.
It doesn't mean they have any faith in him as the starter. Things can, in fact, get worse before they get better if that move was to be made.
Stay the course. The season isn't over.