The attitude displaying confidence is one NFL players need to possess. In Geno Smith's case with the New York Jets, it's a tad different.
P
rior to even throwing a ball in training camp this past summer, New York Jets backup quarterback
Geno Smith
was unmercifully booed.
Some folks couldn't grasp why this was the case. They thought aloud, "Why would the backup QB, a guy who has done so much right over the last year, be booed like that even before throwing a real pass?"
Those who do "get it," understand why.
After Ryan Fitzpatrick threw six interceptions against the Kansas City Chiefs at Arrowhead this past Sunday, the Jets backup took his immediate emotions to Instagram. In a very cavalier type fashion, Geno posted a halfway-snoozing type selfie providing his fans a chance to caption his current mood: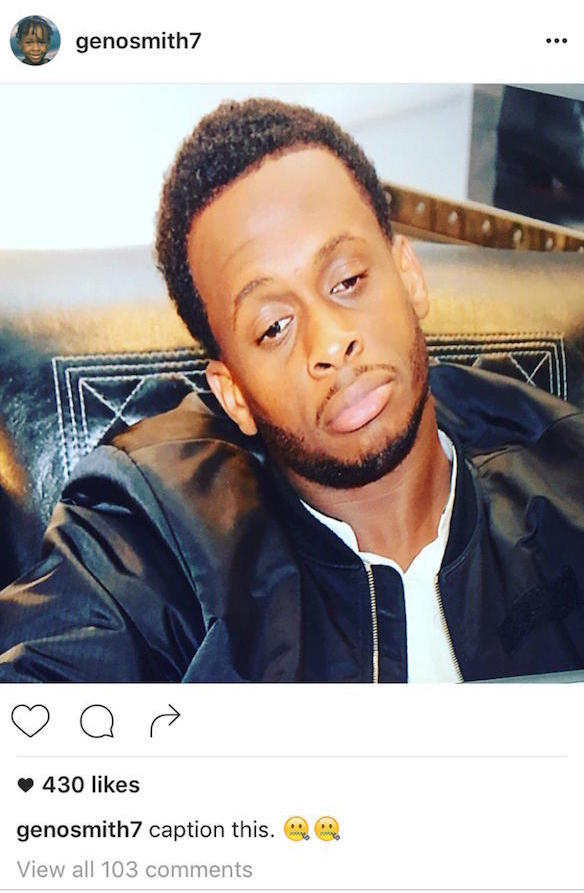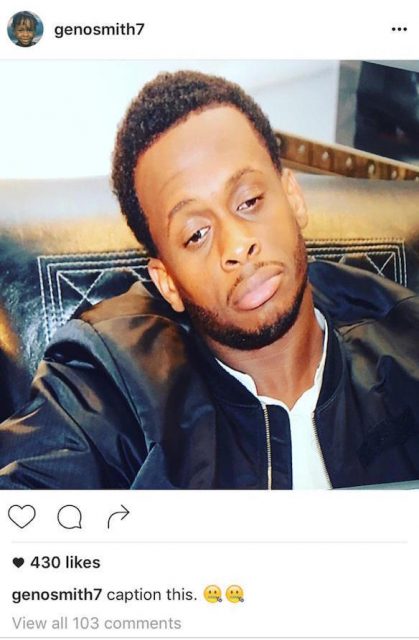 The only remnants left is the screenshot, for Geno quickly deleted the post.
This is the stuff that simply can't happen. This is the stuff that has all 32 NFL organizations raise an eyebrow about a certain individual and force them to "reevaluate" their thoughts and feelings about a guy who possesses great talent yet hasn't received a full and fair chance at the pro game.
This stuff leads everybody to believe Geno Smith isn't a great teammate.
With some quotes, you, the fan, gets the feeling like Geno "gets it," via Tyler Dunne of Bleacher Report:
"Never pitying yourself," Smith says. "I'm never that guy. I live a wonderful life. I'm in the NFL. Think about it. We're in the NFL. Not many people get this opportunity, so I'm not going to take it for granted.

"You can't look at things for what they are right now because life goes on. Five or 10 years from now, I could be a Super Bowl-winning quarterback and no one will remember this. Maybe they'll say this is what elevated me. But I have to use this time right here as a benefit."
Other times, you, the fan, is forced to take seven steps back from Smith:
"I'm not going to go there right now," he says, when asked about the starting position. "I believe in myself. I was the starting quarterback at one point. I don't see why I can't be."
He even, hilariously, provided Dunne the quote of the century — directly relating to his situation a year ago:
"Eventually everybody will see," Smith begins. "Eventually everybody will see.

"You've got to roll with the punches."
Smith also told Dunne that he's "still pissed off" about the Jets re-signing Fitzpatrick. This is all fine and dandy. In fact, it's the attitude you'd like your backup QB to take into every season. It's the confidence every NFL quarterback needs to possess.
But it needs to come by way of the silent variety when you are, indeed, the backup.
It was unfair for Maccagnan and the rest of the Jets to continue the charade that was allowing Smith to believe he was the starting quarterback this past summer while they were battling Fitz at the negotiating table. It was unfair for the fanbase to hype him up as well when we all knew Fitzpatrick was eventually going to make his way back.
It wasn't always like this. In fact, the roles were completely reversed during the Spring of 2015.
When Mike Maccagnan and Todd Bowles took over as the new regime in Florham Park a season ago, the two made it very obvious who they wanted to see play QB. Geno Smith was the starter — finally receiving a chance with bonafide talent surrounding him. Ryan Fitzpatrick was the clear backup.
There was no QB controversy and there was no QB battle. Geno, rightly so, was the starting quarterback. He was the incumbent, the young guy with raw physical tools who'd finally be able to enter a make-or-break season under fine details.
With Rex Ryan and John Idzik, he never had a chance to experience this.
One horrible decision later by both IK Enemkpali and Geno, himself, and FitzMagic was born to the tune of 31 touchdowns and the Jets most prolific offensive season in history.
Therefore, rightly so, Fitzpatrick was the incumbent starting quarterback heading into 2016. He took advantage of a poor Geno leadership moment and rode it to $12 million in 2016 and a stranglehold on the job.
Any public complaining, words, or social media posting of the kind that can be slightly misconstrued into the idea that Geno hasn't grown up, will come down squarely on his shoulders. That cryptic and not so subtle shot at Fitz's six interception day on Instagram will hurt Geno in the long run.
He needs to be above this nonsense. He needs to be above any and all suspicion as it relates to causing any issues within the structure of the roster.
The starting QB position in the NFL is about more than simply raw physical tools. It's about leadership. It's about media relations. It's about an aura surrounding that one individual.
Examples like that Instagram post leads many in the football world to believe Geno Smith simply hasn't fully figured it out yet. Perhaps he hasn't learned that action means entirely more than just words. Perhaps he would miss another team meeting and blame it on West Coast time. Perhaps he will get into another locker room altercation with the 50th player on the team. Perhaps, if he was drafted again, he would sulk and lose it because he wasn't taken in the first round.
What Geno Smith needs to do is to stop talking. He can carry that confidence around with him wherever he goes. He can believe he's the best damn QB in the NFL.
He just needs to believe this stuff quietly.
His job right now is to be the best damn teammate Fitzpatrick's ever had in his life. Fitz waited his turn quietly prior to Geno screwing it up in the locker room in August of 2015.
It's now time for Geno to do the same.