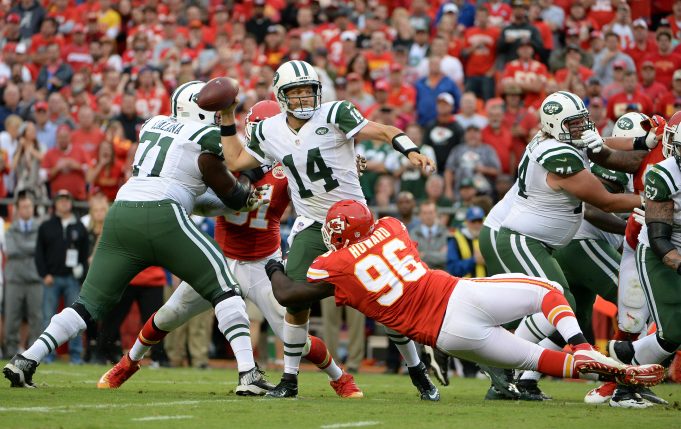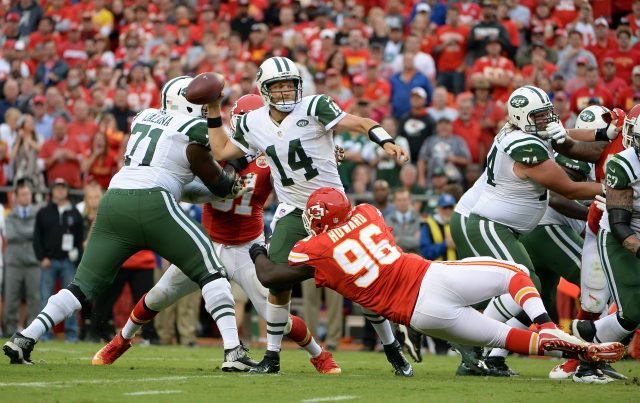 Sep 25, 2016; Kansas City, MO, USA; New York Jets quarterback Ryan Fitzpatrick (14) throws an interception under pressure from Kansas City Chiefs defensive end Jaye Howard (96) in the second half at Arrowhead Stadium. Kansas City won 24-3. Mandatory Credit: John Rieger-USA TODAY Sports
Fitzpatrick's Alarming Decision Making, Lack Of Route Progressions
The worst part about Sunday afternoon wasn't the six interceptions. It wasn't even the two critical tipped interceptions in the end-zone.
The worst part about Sunday was the lack of actual dissecting of the defense by Ryan Fitzaptrick.
As most are aware, Fitz and Gailey thrive off a pre-snap read and quick-react system. Fitzpatrick scans the defense pre-snap and pretty much already has his mind made up on where he's going to go with the ball once Nick Mangold snaps the pigskin.
This is fine … as long as it's not the majority of the play calls.
Bob Sutton and the Chiefs were all over it. Gailey needed to mix in more seven-step drops and Fitz needed to demand it for himself. This is the only thing that would have seen success based on the way K.C.'s defense game planned.
Take a look at this incompletion as an example. The Chiefs were in a classic 2-man under, press look. Instead of allowing the play to develop, Fitz predetermined where he was going to go with the ball:
Fitzpatrick looked to take advantage of Quincy Enunwa against a strong safety, No. 38 Ron Parker. Instead, he should've allowed the play to develop more. If he did, he would have seen that a wide-open Brandon Marshall beat his man on a slant.