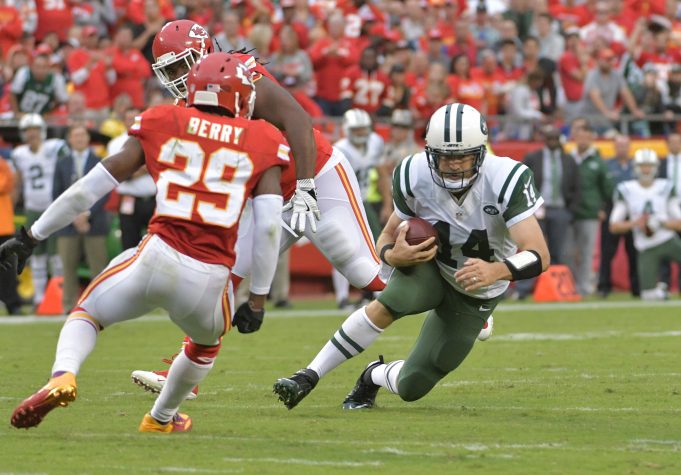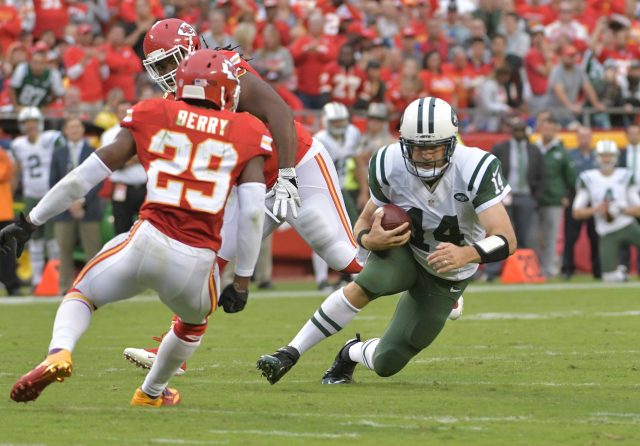 Sep 25, 2016; Kansas City, MO, USA; New York Jets quarterback Ryan Fitzpatrick (14) runs the ball as Kansas City Chiefs strong safety Eric Berry (29) attempts the tackle during the second half at Arrowhead Stadium. The Chiefs won 24-3. Mandatory Credit: Denny Medley-USA TODAY Sports
Facing the first great covering defense of 2016, New York Jets quarterback Ryan Fitzpatrick failed miserably on Sunday.
L
arry David couldn't have written a worse script if he tried. The man who's internationally known as the self-loathing comedic star couldn't have taken his
New York Jets
and their veteran quarterback and written them into a more enthusiastically curbed script.
Ryan Fitzpatrick's performance against the Kansas City Chiefs was horrifying. His 188 yards, zero scores, six interceptions, on 20-of-44 passing was, by all accounts, his worst game as a member of the green and white. 
Worse than that, in one fell swoop the man who so many fans dubbed FitzMagic provided so much credence to those who, instead, blurt out the word "FitzTragic."
He simply cannot take such an attitude with the media and his own organization (holding out all offseason) if he's going to play like that on Sundays.
Forget principle, though. The heart of the issue is what he faced.
In 2015, Fitzpatrick and the Jets finished 10-6. They did so against a cupcake schedule, half of which was littered with the miserable AFC South and NFC East. In 2016, the word cupcake has no meaning to the Jets schedule. In fact, the schedule is so rough that many believe the first six or seven games can ruin a very talented roster's season.
In Week 1, Fitz was alright against the Cincinnati Bengals. In Week 2, he flourished against a very stubborn Rex Ryan who continued to hand his secondary out to dry.
In Week 3, he faced a legit defense — one that is among the best in the NFL.
The Chiefs secondary led by Eric Berry and Marcus Peters didn't just defeat Fitzpatrick and Chan Gailey's offense, they embarrassed them. They ate him and his wide receivers for lunch. Bob Sutton also took Gailey to the woodshed and taught him a hard lesson.
Join us as we navigate and analyze exactly why this day was such an offensive disaster for the New York Jets: