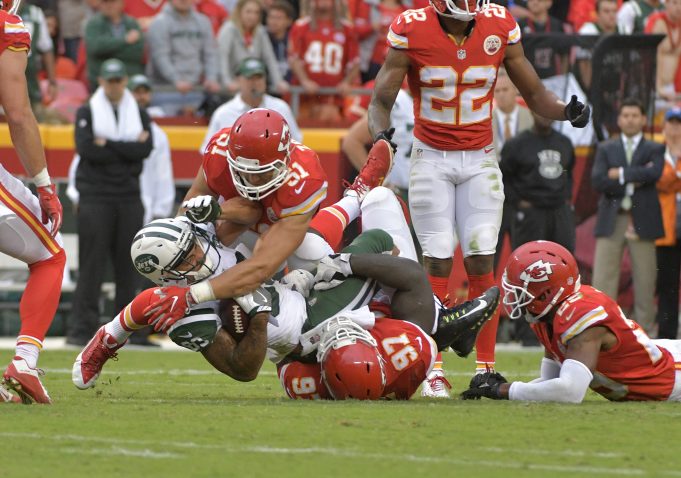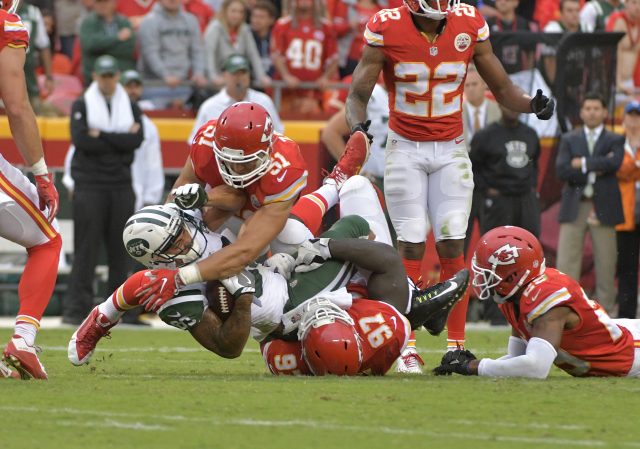 Sep 25, 2016; Kansas City, MO, USA; New York Jets wide receiver Jalin Marshall (89) is tackled by Kansas City Chiefs defensive end Allen Bailey (97) and outside linebacker Frank Zombo (51) during the second half at Arrowhead Stadium. The Chiefs won 24-3. Mandatory Credit: Denny Medley-USA TODAY Sports
The Weapons Created No Separation
Did you happen to notice how covered New York's receivers were all day long? It wasn't an accident. K.C.'s coverage defense dominated all game long.
First of all, Brandon Marshall was hobbled. This affects everything for the Jets offense. This side of Nick Mangold, B-Marsh is the most important figure on the offense. His presence alone changes strategy and game planning due to the incredible focus defenses need to place on him.
Secondly, every other weapon on the team failed in creating separation. Fitz's first interception was key in realizing this.
On a 12-yard comeback route, rookie Jalin Marshall created zero room for error against stud Marcus Peters:
Granted, the pass was high. In this situation, Fitz's target needs to be low but the point about creating space still holds true.
Instead, turning around and remaining stationary, the rook needed to come back to the ball. Peters is that good a corner that if the receiver doesn't come back to the ball, disaster will strike.