Sometimes the football gods provide no favors. In the case of the 2016 New York Jets, those gods have pointed and laughed.
1
62, 82 and 16 are the arbitrary numbers that correlate with the number of games a team plays in its respective sport.
Major League Baseball has its teams play 162. The National Basketball Association and the National Hockey League showcases a schedule comprising of 82 games each.
The National Football League – only 16.
Obviously, along with this small number comes both positives and negatives. The positives include increased parity and a featured small sample size that always leaves the fan desperately wanting more.
The top negative is simple. Oftentimes, a talented roster can wind up with a terrible season thanks in part to a rough schedule.
This is what the New York Jets are facing in 2016.
Forget rough, the Jets schedule is ridiculous. According to actual wins and losses from 2015, New York is tied for seventh in the schedule difficulty category (136-120, .531 winning percentage).
There's a much larger issue at hand, though. The first six games on the slate are lined up in such a way that it'll literally make or break Gang Green's entire season.
Just take a quick look for yourself:
Week 1: vs. Cincinnati Bengals, Sun., 1:00
Week 2: @ Buffalo Bills, Thurs., 8:25
Week 3: @ Kansas City Chiefs, Sun., 4:25
Week 4: vs. Seattle Seahawks, Sun., 1:00
Week 5: @ Pittsburgh Steelers, Sun., 1:00
Week 6: @ Arizona Cardinals, Mon., 8:30
In a direct contrast to 2015's cupcake filled schedule, these first six games are brutal. Actually, this slate is almost impossible to navigate through and feel pretty on the other end.
What the Jets are facing aren't just tough opponents. They're facing the toughest squads in the league.
Arizona, Pittsburgh, Seattle, and Kansas City are easily four of the top 10 teams heading into this fresh campaign. Add that onto the fact New York will be on the road four of the first six weeks and we have a formula for disaster.
As previously mentioned, 2015 didn't bring such a challenge:
Week 1: vs. Cleveland Browns, W, 31-10
Week 2: @ Indianapolis Colts, W, 20-7
Week 3: vs. Philadelphia Eagles, L, 24-17
Week 4: @ Miami Dolphins, W, 27-14 (London)
Week 5: BYE
Week 6: vs. Washington Redskins, W, 34-20
The first six weeks of 2015 afforded the Jets a nice place to land thereafter. And considering they then lost four of their next five and struggled mightily at points without Nick Mangold and Calvin Pryor in the lineup, that cushy 4-1 start against mediocre opponents was a beautiful thing.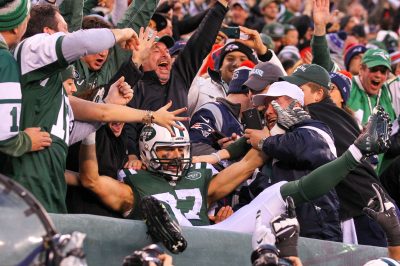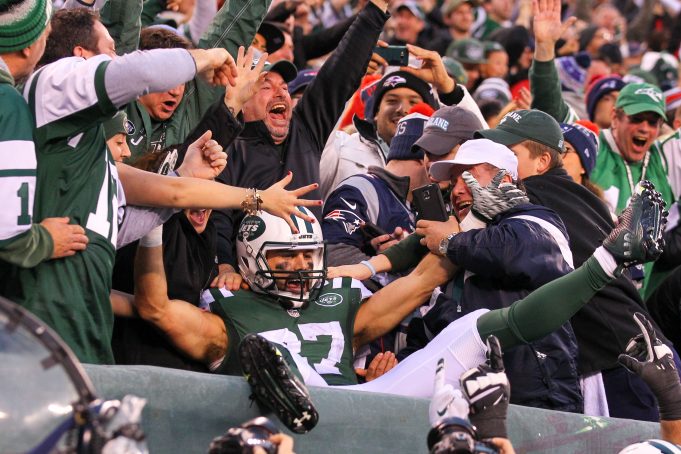 This is what the NFL schedule does. It allows teams to either play way above their heads or disappoint greatly. Unlike baseball or basketball, the rotating schedule (based on divisions) provides a wide variety of chance on a year by year basis.
Last season, New York (and the rest of the AFC East) were lucky enough to square off against the NFC East and the AFC South, two of the worst divisions in recent memory. Now, getting ready to face the NFC West and AFC North, these AFC East teams don't feel so lucky. Moreover, the two exclusive matchups (based on seeding from a season ago), have the Jets facing two more tough opponents in the Chiefs and Colts.
Ah, but there is a devil's advocate claim to this topic. The claim is, the toughness of the schedule can never be predicted.
A perfect case and point of this came in Week 2 of last season. The Jets went into Indianapolis on Monday Night Football expecting to battle one of the best teams in the league. Instead, they faced an Andrew Luck squad who couldn't block if its life depended on it. These preseason Super Bowl favorites turned out to be frauds.
The very same thing could happen in 2016 with many of the opponents on the slate. In fact, it will happen to at least one.
Still, a harsh reality that these first six murderous games needs to exist. Additionally, the reality that a record of 3-3 after the first six for the Jets would be a major win.
The game that all Jets fans need to circle on their calendar is the one that brings a familiar face with it: Week 2 at Buffalo.
The Bills – especially thanks to a disappointing end in Orchard Park a season ago – have owned Todd Bowles' Jets. It's a game, on the road, on a Thursday night. Facing a short week and traveling (which provides a distinct disadvantage on TNF), the Jets must find a way to earn a W in Week 2 in Buffalo.
Not only is the Buffalo game arguably their most winnable game of the first six (Week 1), but it'll ensure at least a 1-1 or 2-0 record heading into a spot that'll have them square off against four of the NFL's best (Kansas City, Seattle, Pittsburgh, and Arizona).
Then, the schedule softens up including a very welcoming four of its last six games at home:
Week 7: vs. Baltimore Ravens, Sun., 1:00
Week 8: @ Cleveland Browns, Sun., 1:00
Week 9: @ Miami Dolphins, Sun., 1:00
Week 10: vs. Los Angeles Rams, Sun., 1:00
Week 11: BYE
Week 12: vs. New England Patriots, Sun., 8:30
Week 13: vs. Indianapolis Colts, Mon., 8:30
Week 14: @ San Francisco 49ers, Sun., 4:05
Week 15: vs. Miami Dolphins, Sat., 8:25
Week 16: @ New England Patriots, Sat., 1:00
Week 17: vs. Buffalo Bills, Sun., 1:00
The NFL is not MLB or the NBA or NHL. Things do not even out at the end.
When a team gets off to a rough start or high flying beginning, momentum is carried a long way. Look no further than the 2015 Jets. Many believe their 10-6 record outreached their overall talent. That soft schedule, especially through the first five games may have contributed greatly.
This is why the New York Jets must get off to a 3-3 start in 2016.
If they're not careful, the entire season could vanish by mid-October.