Jeff Gorton's exciting offseason may go to waste if he fails to bring blue line help to the New York Rangers.
New York Rangers General Manager Jeff Gorton's first full summer in New York has been interesting, to say the least.
He inked guys like speedster Michael Grabner and veteran Nathan Gerbe to help improve a lackluster penalty kill.
Gorton made a huge splash by swapping fan favorite Derick Brassard for Mika Zibanejad. While Brassard was arguably the Rangers most consistent player last year, the Blueshirts get a guy in Zibanejad who appears on a path to stardom.
Finally, Gorton landed Hobey Baker award winner Jimmy Vesey. Even though Vesey is unproven, the Harvard product appears ready for the NHL and will likely line up next to young guns Kevin Hayes and Pavel Buchnevich on the third line this year.
Gorton has assembled a young group of forwards that, although lack a superstar talent like Sidney Crosby or Alexander Ovechkin (unless you consider Rick Nash a star), have the potential to find the back of the net on every shift, which is hard to do.
With all this being said, the Rangers have an eye-popping need that Gorton has failed to address.
That necessity is a quality defenseman who can handle the puck.
Despite the fact that in his first full offseason in charge, he has checked off multiple items on the Blueshirt's shopping list (including acquiring young talent and upgrading the penalty kill), Gorton has failed to improve a blue line that was downright disastrous a season ago.
It was evident that the defensive corps was going to falter right out of the gates last year. Even in the midst of their blistering 16-2-2 start, it was obvious that it wasn't a dominant defensive group that was leading the charge.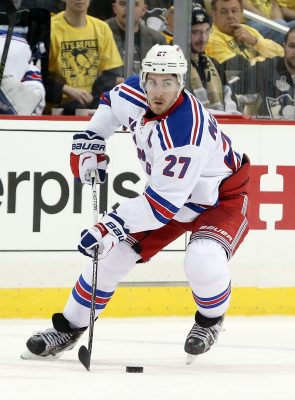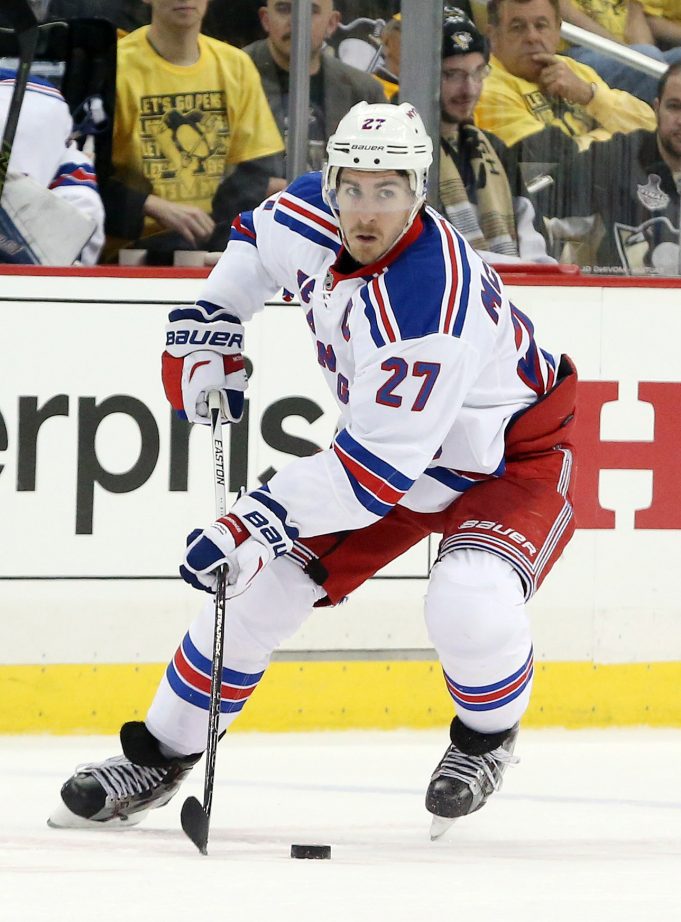 Rather, it was Henrik Lundqvist who continued to bail out the Blueshirt's lackluster defensemen. The only reason the Rangers were so hot to open up the year was an unusually high shooting percentage and dynamite goalkeeping from The King.
While Hank had one of the worst statistical years of his career, he was left out to dry time after time. He was hammered with 1,944 shots last year, the most of any goaltender.
Don't get me wrong, Lundqvist was poor at times last year. His playoff performance was ugly, to put it lightly. He allowed pucks to go by him that he normally wouldn't and he was yanked in three out of the five games with good reason. However, one would be foolish to blame Henrik for the Rangers early playoff demise.
Yes, the Blueshirts struggled to score goals against quality opponents last year and yes, Henrik Lundqvist was not himself at times. But the primary reason for last season's mediocre team was the two players in front of the King.
Plain and simple, the defense was a catastrophe. Despite sporting one of the NHL's top defenseman in Ryan McDonagh and solid veteran Kevin Klein as the top duo, the remainder of the defense reeks of mediocrity.
Brady Skjei was superb against Pittsburgh but is unproven. Former staples Dan Girardi and Marc Staal were swiss cheese in their defensive zone, constantly appearing like their feet were stuck in the mud. Alain Vigneault lacks trust in former first-round pick Dylan McIlrath, so expecting any sort of production from him would be far fetched. Nick Holden is nothing more than your prototypical third pair defenseman.
The Blueshirts have a multitude of questions regarding their blue line, which is actually a bit of surprise. When John Tortorella stepped behind the bench for the Rangers back in 2009, he created a defensive powerhouse in the Big Apple that was led by the aforementioned Girardi and Staal.
Now combined with the fact that Alain Vigneault is in charge and that the two veterans have lost a step (or three), there is a serious issue defensively on Broadway that Gorton has yet to address.
Gorton still has a chance to make a move, and all signs point to that happening. The Blueshirts have a logjam of forwards at the moment and it would be senseless to hold on to all of them. The Rangers have a surplus of young forwards that can now be moved for a young defenseman.
What about giving a call to Nashville? Maybe they would be willing to part with Ryan Ellis or Mattias Ekholm. Or how about Minnesota? They might possibly move Jonas Brodin or Jared Spurgeon. There are certainly options out there.
Jeff Gorton has had a brilliant start at the helm in New York. However, he still has a gaping hole to fill defensively. He has all the pieces to make a move, but will the Rangers obsession over depth get in the way of it?
Time for the waiting game…