As the New York Jets offensive core ages, the future picture is dampened and the pressure to win now is amplified.
The New York Jets were contenders last season.
Todd Bowles' defensive unit was competitive with the league's best offenses, and the offense – under the helm of first year offensive coordinator Chan Gailey – was refreshingly productive.
Fans savored a stability at the quarterback position which was absent for a laughable amount of time.
The quarterback was protected in the pocket (he was sacked less than 20 times all season), the running game was effective (Jets' tailbacks combined for the 10th most yards in the league), and offensive weapons included the NFL's number four receiver and number six scorer.
Sounds like a pretty rosy picture, "Right?"
But consider this: That offensive line which made its passer one of the most protected and cleared the way for its runners, is stacked with over-30-year-old fatties.
On the outside, the Jets tackles (Ryan Clady and Breno Giacomini) will both be over 30 before the season opener.
The unit's force comes from longtime center Nick Mangold, who is 32. Offensive linemen seldom play past their age-28 seasons.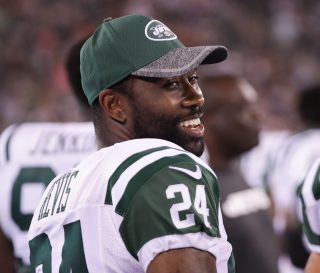 Despite youth at both guard positions (held by Brian Winters and James Carpenter), the Jets aging front should give pause – especially with D'Brickashaw Ferguson's sudden retirement at just 32 years old fresh on the mind.
Matt Forte, the Jets primary running back, is 30 years old. Alarmingly, there is overwhelming evidence which indicates that the age-30 season is the beginning of a running back's decline.
That top-flight receiver is Brandon Marshall, tops in football with 14 touchdowns last season and fourth in the league with over 1,500 receiving yards.
Marshall, though, is 32 years of age and playing the position which warrants earlier retirement than any other in the game. (According to the Wall Street Journal, wide receivers average just 2 years, 2.5 months in the NFL.)
Beside Marshall is Eric Decker, who ranked sixth in the league in receiving touchdowns last year with 12 scores. At 29-years old and two remaining years on his contract, he is a safe option for the Jets going forward, but he failed to impress as the team's number one receiver prior to Marshall's arrival.
Who's throwing the ball to these receivers, handing it off to the running backs, and dropping behind the line?
None other than Ryan Fitzpatrick – or last season's Mr. Stability.
But, everything dies with age and Fitzpatrick's age isn't pretty; he's 33 and set to hit free agency – again – at season's end.
So, the theme persists: It's hard to depend on a core of offensive players (Fitzpatrick, Clady, Mangold, Forte, Marshall) over 30 years of age in a game which subjects your brain to continuous blows and your body to unforgiving physicality.

Whatever that core can bring as its collective age rises remains to be seen, but last year's offensive did produce.
With that in mind, there is reason to believe the 2016 Jets will score some. For 2017 and beyond though, all bets are off. It's safe to assume multiple players of this season's core will be missing (whether it's retired or playing elsewhere) come future seasons.
On the other side of the ball, there's more hope.
For starters, the Jets have locked up Muhammad Wilkerson and control youngsters Sheldon Richardson and Leonard Williams. So the line is pretty well solidified.
GM Mike Maccagnan has been adept at building a young linebacker core, too. He's selected Lorenzo Mauldin, Darron Lee, and Jordan Jenkins in the draft's top three rounds in his first two rodeos.
Between those outside linebackers, the Jets will rely heavily on the sideline-to-sideline ability of David Harris who, unlike is counterparts, has been around for years.
2016 will mark the 10th season of the 32-year-old's career, as he has outlasted his position's average three-year shelf life considerably.
In the secondary, the Jets have a comfortable mix of veterans surrounded by young, rising talent like Marcus Williams and Calvin Pryor. Headlined by Darrelle Revis, 31, the unit has some promise under Bowles, who was a safety in his playing days.
The Jets have put together a defense with the youth and upside to improve on its fourth ranked unit, but there's cause for concern on the offensive front – if you have an eye toward the future.
Ages only go up, but performance can vary in direction – typically, the relationship is indirect, and history will tell you that every season added will only bring the Jets' offense closer to a fateful spiral.
With youthful reinforcements far and few between (besides Decker, Bilal Powell, and perhaps Devin Smith), the unit could be poised for decline in coming seasons.
Yes, the Jets contended last year, and yes, the team is positioned to follow the campaign in kind. But sometimes the immediacy is the least of a team's concerns, and what follows is tied to even more value.
What lies ahead, then, lies right in front of us, staring us down and demanding our attention.
I know the Jet's future has my attention, and presumably that of the team brass, but it should be read loud and clear to the Jet faithful: the window of contention is closing, and it has no care for time.