The first preseason game for the New York Jets was a mixed bag. The weapons shined while the defense was sloppy.
New York Jets 17 (1-0)
Jacksonville Jaguars 13 (0-1)
NFL, Preseason Week 1, Final, Box Score
MetLife Stadium, East Rutherford, NJ
It was truly a mixed bag for the New York Jets.
In their preseason opener, the starting defense looked terrible on the first two drives. Blake Bortles and the Jacksonville Jaguars did whatever they pleased. Even ex-Jet Chris Ivory enjoyed himself gashing the Jets for 26 yards and a touchdown on just six carries.
The Jags led 10-0 after one quarter of play.
Then, though, New York's offense started to flex its muscle.
Ryan Fitzpatrick led New York to their first TD of the season. It came via Bilal Powell on a 4-yarder after Fitz found Quincy Enunwa twice for big gains.
Fitz and Enunwa shred the zone leading to a Bilal Powell 4-yd TD. 10-7 #NYJ trail. #JAXvsNYJ pic.twitter.com/Oz5Lrik6ib

— Elite Sports NY (@EliteSportsNY) August 12, 2016
Ryan Fitzpatrick out here dropping dimes ? #JAXvsNYJ https://t.co/GgajnSbGbF

— NFL (@NFL) August 12, 2016
Fitzpatrick finished just 3-of-4 for 72 yards. Enunwa was the big gainer for the first team offense with two grabs for 69 yards.
By the time Geno Smith was done with his second possession of the game, Jets fans were all done with the John Idzik second-rounder. He was overthinking and looking quite uncomfortable in the pocket. Quickly, though, he redeemed himself.
Geno's "pretty solid" night started with this Jalin Marshall kick return:
Oh yeah…this guy is a bonafide weapon. RB vision with NFL explosiveness. Jalin Marshall everybody. #NYJ #JAXvsNYJ pic.twitter.com/IM43inh2R0

— Elite Sports NY (@EliteSportsNY) August 12, 2016
Granted, the blocking was phenomenal, but Marshall's vision and explosiveness will be a huge plus for this squad. Although the lack of top-flight speed was on full display (in not finishing it for a TD), Jalin's night was so impressive it even consisted of some first team reps. He finished with one grab for 10-yards.
With under a minute to go in the half, Geno found rookie Charone Peake to provide the Jets with their first lead of the night:
Great job Geno. Cover 3 (Robber), read one-on-one, PERFECT ball placement. Peake, TD. #NYJ lead 14-13. #JAXvsNYJ pic.twitter.com/WiLG16iDjw

— Elite Sports NY (@EliteSportsNY) August 12, 2016
Not only did he read the one-on-one perfectly, but the ball placement was spot on. Geno continued this solid play into the third quarter and finished with a line of 8-for-14 for 79 yards and that score.
Second-year QB Bryce Petty entered midway through the third quarter. His night was solid. At times he looked much improved, while other times his accuracy was still noticeably off the mark.
Offensive Grade: B+
Other than the first drive and Geno's early struggles, for the most part, the offense was executing. Ryan Clady was overpowered on a Fitzpatrick sack, but the offensive line endured no glaring errors. This was the case even with James Carpenter and Breno Giacomini on the sideline.
The depth at wide receiver was evident. Whether it was Enunwa, J.Marshall, Peake, or even Robby Anderson, who nearly came down with a sideline touchdown, Chan Gailey's receiving corps shined all night.
With no Matt Forte, Bilal Powell handled the first-team reps and provided his usual steadiness. Young Dominique Williams worked with the second team and piled up 17 yards and just three attempts. The bad news was that he was forced to leave after getting his bell rung in the third quarter.
All three quarterbacks who played (rookie Christian Hackenberg didn't see the field), held their own. This was most definitely an intriguing and promising sign for a franchise who's dealt with so much uncertainty at the position.
The offense didn't turn the ball over once.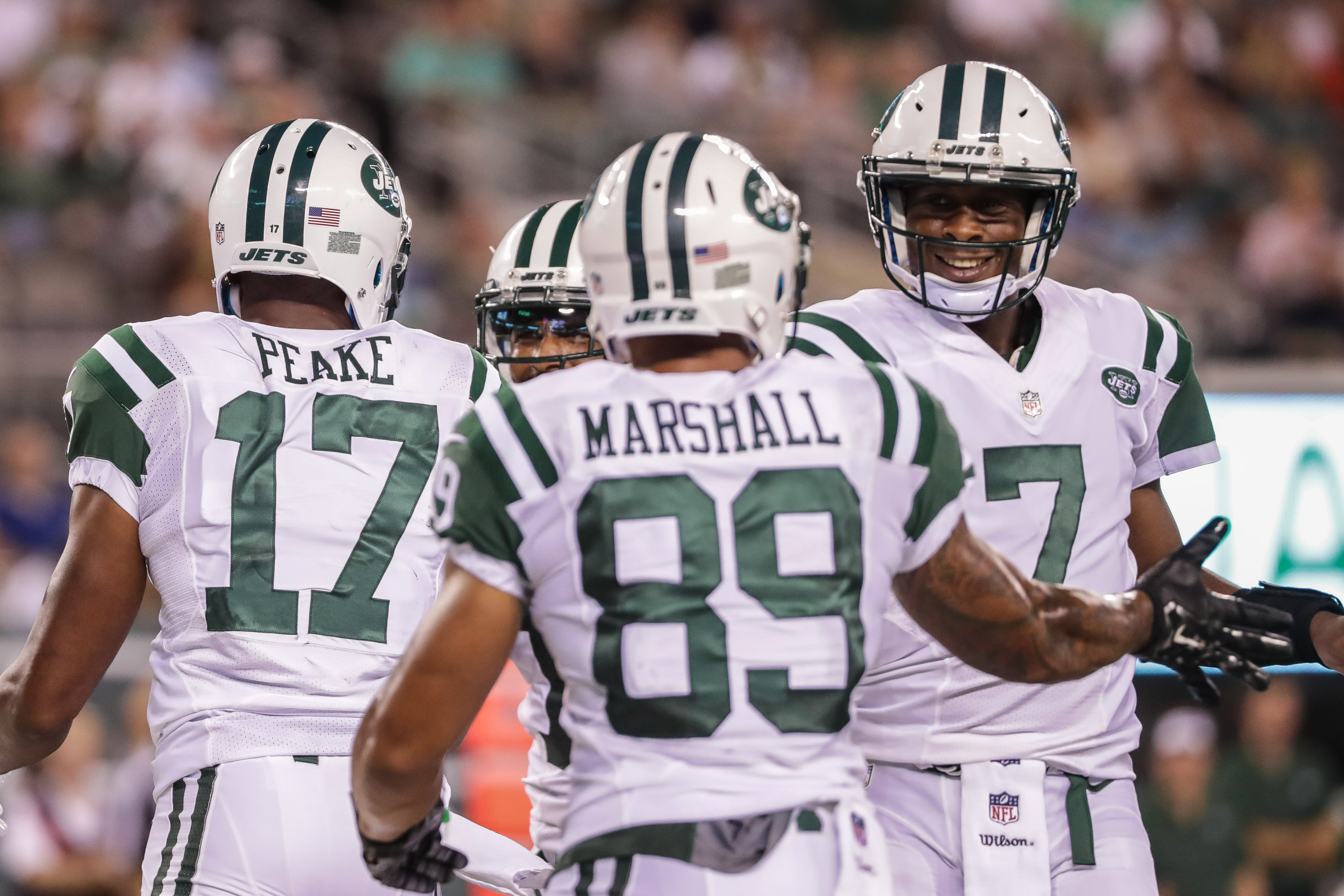 Defensive Grade: D
The first team defense was flat-out terrible. They were dominated in the run game and allowed Bortles to pick them apart on the first two drives.
There was no Muhammad Wilkerson or Darrelle Revis, but that wasn't the reason Todd Bowles's favorite unit will be petrified to look at the game tape. Their tackling as a whole was sloppy and unimpressive.
Dee Milliner picked up the most pub in the early going and it was all negative. Not only was he beat a couple times by Allen Robinson (three catches, 80 yards), but his technique was horrid.
The front seven was rather bland as the big boys didn't do much. Darron Lee, Julian Stanford and Leonard Williams picked up the defense's three sacks on the night.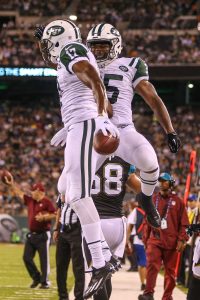 Speaking of the first-rounder Lee, his night consisted of invisibility with the second unit. There were no terrible areas to point to, but there was also just nothing spectacular that stood out as his sack was the product of a clean-up play. The rookie who did stand out was Jordan Jenkins along the edge (one solo tackle, two assists).
The only turnover forced of the night came by way of safety Doug Middleton when he found a deflected ball on the last drive of the game with the Jags scrubs looking for the winning score.
Special Teams B-
Rookie kicker Josh Martin was overly disappointing. He went just 1-of-3 missing a short one and a 50+ try. Nick Folk didn't factor into the action. Lachlan Edwards, the only punter on the roster, averaged 41 yards on five tries.
What saved the special teams grade was everything else.
The blocking on Jeremy Ross' nice 51-yard return and J.Marshall's explosive 84-yarder was superb. They also did a tremendous job on coverage all night. This is a welcomed sign considering the Jets special teams woes the last several seasons.
Overall Grade C+
The defense's sloppiness is why Bowles will not be able to sleep tonight. Sure, it's Week 1 of the preseason. We know this. But the fundamentals, especially when breaking down for a tackle, were tough to watch.
It's an issue teams of this new-age, non-contact training camp league have to suffer through. Still, New York needs much improvement in this area.
Offensively, while the weapons are incredible, having a QB who can feel the pocket like Fitzpatrick can is a key attribute when thinking about a guy who can run this offense. We won't truly know how well this offensive line can or will gel once Carpenter and Giacomini/Brandon Shell/Ben Ijalana round out the group.
Overall, this game is nothing to be concerned about, but at the same time, there is much work to be done.
It was exactly what you'd expect Week 1 of the preseason to be. It was sloppy with plenty of negatives and positives.