Now that it's obvious the Brooklyn Nets won't be contending upcoming 2016-17 NBA season, we ponder what's next.
It is hard being a Brooklyn Nets fan right about now.
Not only does the 2016-17 projected roster read like a D-League All-Star team, but Brooklyn can't purposely be bad as many NBA franchises hope to.
The Nets sold their draft rights to the Boston Celtics for what feels like forever. In 2017, Boston has the right to swap first-round picks with Brooklyn. In 2018, the Celtics own Brooklyn's pick outright.
There is no benefit in tanking and there is seemingly no end to this horror.  
[graphiq id="jayYftt3oAR" title="Brooklyn Nets" width="600″ height="859″ url="https://w.graphiq.com/w/jayYftt3oAR" link="http://nba-teams.pointafter.com/l/18/Brooklyn-Nets" link_text="Brooklyn Nets | PointAfter" ]
Although most are tempering their expectations of actual expected success, due to all their offseason pickups, the Knicks are at least keeping things interesting for fans.  So with little hope of competing for any length of time next season and no reward for playing poorly, what are the Nets to do?
This may sound silly in today's NBA culture, but perhaps Brooklyn will actually try to grow as a basketball team and see what pieces it has moving forward…?
The roster is admittedly shaky, but within those crumbling walls, there are a number of very intriguing young pieces who will play at the Barclays Center this season. First off, Brook Lopez is still plugging along; what a trooper. While pretty much every other veteran has been cast off and sold around him, Lopez remains. And he remains as one of the best interior post players in the NBA.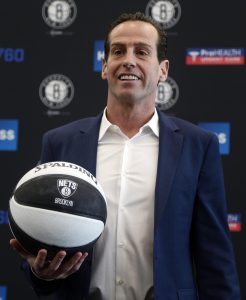 While Lopez has skills and incredible talent that could be worth building an offense around long term, his contract coincides perfectly with the lost drafts for the Nets. As soon as Lopez becomes a free agent (after the 2018 season), Brooklyn will finally be out of its current draft hell. Said another way, as soon as Lopez is gone, Brooklyn will have nothing to replace him with.
That leaves current excitement on the backs of the young players already on the team, and they are plentiful. Isaiah Whitehead is a 6-4 combo guard (with a 6-9 wingspan!) out of Seton Hall. He had a tremendous sophomore season in college in which he pretty much did everything for the Pirates. That led to high usage rates and inefficiency out of Whitehead, so it will be good to see how he performs with less opportunity. If he can harness the same ability to get to the basket and beat defenders, but do so with fewer wasted possessions, he can become a real asset.
2015 first-round pick Chris McCullough played so little last year that he enters as essentially a rookie. He has tremendous upside as a 21-year-old and may have the opportunity to earn the starting power forward spot now that Thad Young is elsewhere. Though the basketball play may be ugly, this is one of the benefits of rebuilding a young roster. Players like McCullough get a full run at playing time to prove whether or not they belong in the long-term future of the team.
The same goes for rookie Caris LeVert, former number-one overall pick Anthony Bennett, and others. LeVert and Bennett especially have a lot to overcome, the former in terms of managing to stay healthy after a disastrous career at Michigan and the latter to show if he belongs in the league. Bennett was a free agent who few other teams, if any, wanted. Brooklyn may serve as the best location for him to get a final chance at the NBA.
But even young guys can't learn without veteran help, which is what makes Lopez even more important. The same goes for Jeremy Lin, Trevor Booker, Randy Foye and Greivis Vazquez, who were all acquired this offseason. Not only will these players influence how the roster develops and, honestly, learns to lose. They also have their own important agendas. Each of these players is looking to prove he can be an important rotation player in the NBA. Overachieving with a team like the Nets is a nice step to take in accomplishing that.
None of this is likely enough to push Brooklyn too much past its preseason projections, but that hardly matters. This isn't a 2017 playoff team, nor should it strive to be. This is a team that is building for the future and will use this year as an 82-game tryout against the toughest competition.