Do you think the good people of Wisconsin are still feeling a little sensitive about quarterback Aaron Rodgers now playing for the Jets? It certainly seems like they are.
That's what happens when your long-time starting signal-caller — who you thought would retire as a member of the Green Bay Packers — decides to end his career elsewhere. Rodgers made his first preseason appearance in five years for the Jets over the weekend. It was also his first time playing for Gang Green in any kind of live game situation.
The next time he takes the field for New York, though, it'll count for real. That'll happen on Monday Night Football in a Week 1 tilt at home against the Buffalo Bills on September 11th. The Jets have the NFL's toughest early-season schedule this year. So it'll be even more important for them to get the year off to a good start. After all, they're not just hoping to break the NFL's longest playoff drought. This squad has championship aspirations.
There will be something else on the line for certain Jets games outside of wins and losses. If New York loses, Jack's American Pub in Milwaukee will pay the drink tabs for those in attendance. A Reddit user shared the following poster advertising the Pub's promo: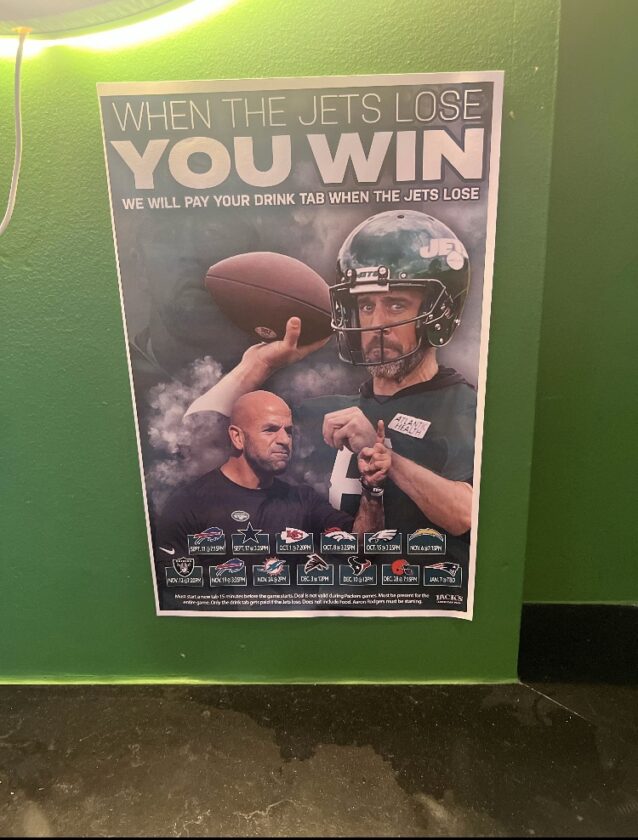 ---
👉 NY Sports Online Betting: Best Sportsbook Apps
---
It's hard to see the details at the bottom of the poster, which obviously posts specific games and other rules for this promo. Jack's American Pub is going all in by promoting 13 different Facebook events in hopes the Jets lose. Here's how they're explaining the details:
We are hosting a NEW season-long sports special at Jack's American Pub! When the Jets lose a game, YOU WIN! We will pay everyone's drink tab at Jack's American Pub every time the Jets LOSE.
All you have to do is start a tab 15 minutes before the Jets game and watch on our plethora of TVs for the entirety of the game. If the Jets lose, YOU WIN!
HERE'S HOW IT WORKS:
*Start a new drink tab 15 minutes before the Jets game
*Watch the game with us
*At the end of the game, if the Jets lose, we will pay your drink tab
RULES:
*Aaron Rodgers must be starting
*A New tab must be started before the game (15 minutes)
*Jets must lose to get your drink tab paid for
*Must be present for the entire game to get your drink tab paid for
*This deal does not include food
*Deal is not valid if the Jets play during Packers games
You can see how they covered their behinds in several ways by stipulating the latest a tab can be opened, how you have to stick around for the entire game, and that it doesn't apply when the Jets and Packers are playing at the same time.
But still, it seems like quite the gamble based on the games this promo is valid for. Then again, it's a creative way to get people into the bar for something other than Packers games. And, even if they have to foot the bill for drinks, they'll pocket money for the food and anything people do while they're there.
Here are the teams the Jets will be playing with drinks on the line at Jack's:
September 11th vs. Bills
September 17th vs. Cowboys
October 1st vs. Chiefs
October 8th vs. Broncos
October 15th vs. Eagles
November 6th vs. Chargers
November 12th vs. Raiders
November 19th vs. Bills
November 24th vs. Dolphins
December 3rd vs. Falcons
December 10th vs. Texans
December 28th vs. Browns
January 7th vs. Patriots
How many times will drinks be free at Jack's? We'll find out soon enough. For any Jets fans in the area (or those who'd like to take a trip to Wisconsin in the winter, for whatever reason), it's an opportunity to have some (potentially) free fun.
You can reach Matt Musico at [email protected]. You can follow him on Twitter: @mmusico8.