You know what they say, folks. Championships aren't won in the offseason — they're won on the field. Ahead of Opening Day in 2023, there were high expectations for both the Mets and Yankees. Heck, even Baseball Prospectus liked the idea of a Subway Series Fall Classic.
That's all come crashing down over the past few months. It happened quicker in Queens than it did in the Bronx. However, the Bombers are making up for lost time right now with their current eight-game losing streak.
At this point in the 2022 season, both Mets and Yankees fans were getting mentally prepared for October baseball. The complete opposite of that is happening right now. So, since I have nothing better to do, I decided to make myself even more depressed than I already was about this bummer of a season. That's right — I decided to look at how each team's postseason odds eventually evaporated to their current levels.
As of this writing (Monday, August 21st), FanGraphs is giving the Yankees a 0.4% chance of making the playoffs. Meanwhile, they've given the Mets 1.6% odds. Neither is at zero just yet, but they might as well be. So when did things really go downhill for each team? Let's look at how the odds have changed from month to month.
First up, let's check out the progression (er, regression?) for the Yankees:
Opening Day: 81.2%
May 1st: 63.4%
June 1st: 82.3%
July 1st: 69.5%
August 1st: 17.8%
August 21st: 0.4%
In the above sample, their chances of returning to the postseason were highest on June 1st. That was right before Aaron Judge ran into the outfield wall at Dodger Stadium. Going 21-27 between June and July is what really torpedoed their chances. Before what's happening right now, of course.
Here's what the Mets' odds looked like on those same days:
Opening Day: 77.1%
May 1st: 70.7%
June 1st: 67.3%
July 1st: 8.7%
August 1st: 5.5%
August 21st: 1.6%
Going 7-19 in the month of June killed any hopes of turning things around before their trade-deadline sell-off.
If you're more of a visual person, here's a graph displaying the downhill ride both New York teams took this season: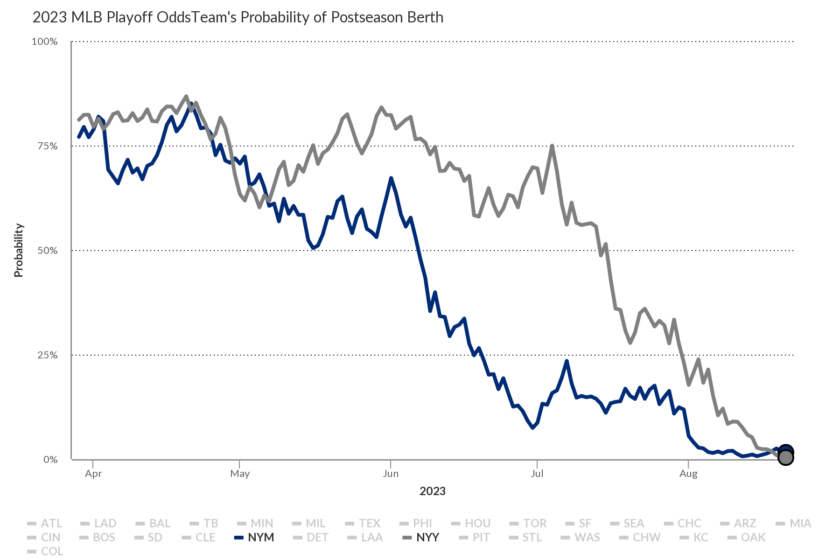 I wrote about the Mets' very, very slim chances of sneaking into the postseason earlier on Monday. But that's more wishful thinking than anything else (especially with New York in Atlanta for another series against the Braves this week).
The 2022 season was the first time both the Mets and Yankees made the playoffs since 2015. And now? We're on the verge of them both sitting on the couch in October for the first time since 2014. Not great, Bob, and not at all what we expected heading into this year.
You can reach Matt Musico at [email protected]. You can follow him on X: @mmusico8.