ChatGPT and AI tools are taking the internet world by storm. Unlike past iterations, these are a lot more accurate than they've ever been before. Except when we're talking about the NFL and how passionate the Jets' fan base is.
The 33rd Team asked ChatGPT to rank NFL fan bases from most to least passionate. Here are the results: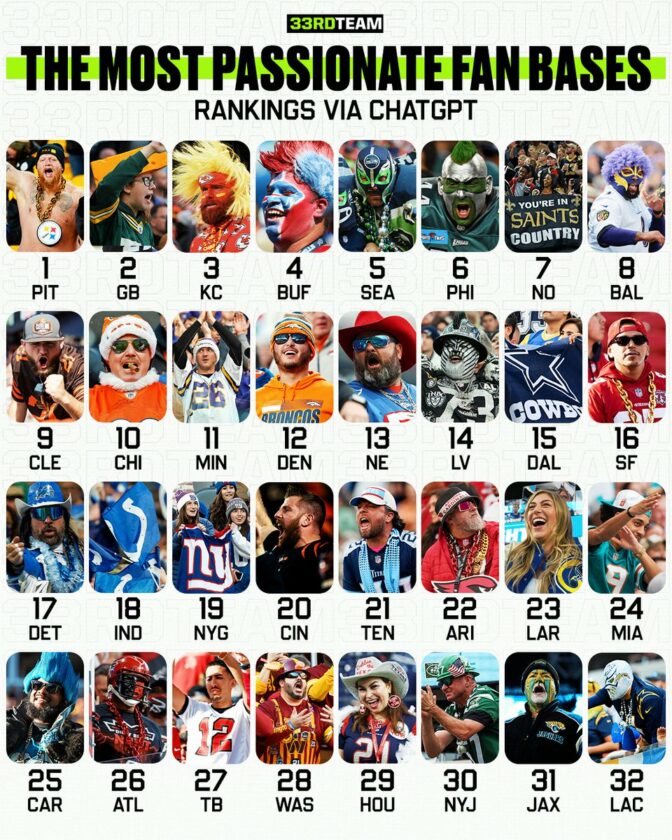 The Giants are listed at 19th overall, which is also debatable. However, that's not nearly as horrible as the Jets being ranked 30th out of a possible 32 teams. How could this possibly be accurate? Like, seriously — build me an argument where teams like the Houston Texans, Carolina Panthers, Tennessee Titans, and Arizona Cardinals (among others) have a more passionate fan base than the Jets.
We all know that AI isn't perfect. But if we ever needed proof that work still needs to be done to perfect this system, we've found it.
Now, the caveat with ChatGPT is that the information is only up-to-date as of 2021. It's not like Jets fans have just recently become passionate about their favorite team, though. New York bringing in Aaron Rodgers has the excitement up to a level we haven't seen in a bit, but come on folks.
I decided to head over to ChatGPT myself to ask the same question. The results were even worse than before, ranking the Jets 31st out of 32 teams. What I did find helpful was the reasoning. Here's what it said before sharing the ranking:
Ranking the passion of NFL fan bases is subjective and can vary depending on various factors such as team success, history, regional culture, and fan engagement. However, here is a list of fan bases that are often regarded as passionate:
And here's what was said after the rankings:
Remember that this list is subjective, and the passion of fan bases can change over time. Different fans may have different opinions about the passion of their respective team's fan base.
The Jets haven't been to the playoffs since 2010 and haven't even appeared in a Super Bowl since winning Super Bowl III. So, maybe that has something to do with it? I don't know. Either way, this is brutal. Calling New Yorkers not passionate about anything — especially their favorite sports team! — seems like an egregious violation.
You can reach Matt Musico at [email protected]. You can follow him on Twitter: @mmusico8.