The 2023 NFL Draft is in the books and week-by-week schedules have officially been released. We're that much closer to having Giants football back for another year.
There are still about two months between now and training camp getting underway. Big Blue has some things left to do before then (one of which includes resolving the contract situation with their running back). But it's never too early to start thinking about how New York will perform next year, right?
We know the Jets have the NFL's toughest schedule through the first six weeks this fall. But the Giants aren't far behind. Plus, they'll be on the road a lot during the first portion of the regular season. A Reddit user utilized the Pro Football Focus game simulator to see what Big Blue's record could be. The results painted a very flattering picture for Brian Daboll, Daniel Jones, and Co.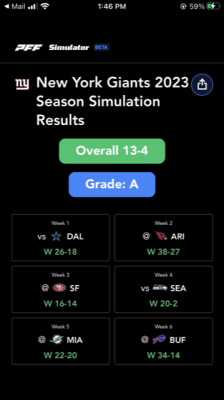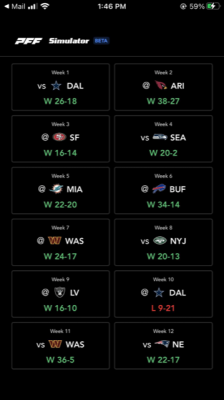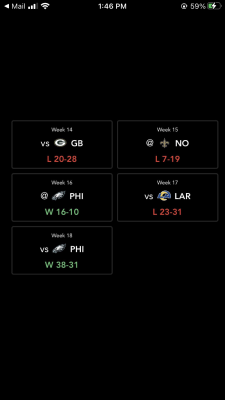 Through the toughest part of New York's schedule, PFF's simulator has Big Blue starting 9-0. This includes allowing just two points to the Seattle Seahawks, as well as a 20-point beatdown of the Buffalo Bills on the road. Oh, yes — and then beating the Philadelphia Eagles twice in a three-week span.
Would this be awesome? Well, yea — of course it would be. But as with most on-field NFL things during the month of May, we need to take it all with a grain of salt.
It still amazes me how things can get turned around so quickly. At this point last year, nobody expected Jones to remain as the starting quarterback, and there were no expectations to compete. Just about 12 months later, simulations have Big Blue going 13-4 and heading back to the playoffs for the second consecutive year.
We'll see what the boys can accomplish soon enough. And while expectations may not be this high, they'll definitely be higher than last season.
You can reach Matt Musico at [email protected]. You can follow him on Twitter: @mmusico8.