Boyz II Men is always spot-on with their songs. Apparently, someone at ESPN is a devout listener because they're having a hard time saying goodbye to yesterday. And when I say "yesterday", I'm talking about the deal that fell apart between the Mets and Carlos Correa.
It's been nearly a month since Correa's agreement with New York ended with him signing a six-year, $200 million deal to return to the Minnesota Twins. We here at ESNY were disappointed, but we've moved on. Eduardo Escobar is currently the favorite to be the Mets' Opening Day third baseman. Top prospect Brett Baty is also waiting in the wings.
So, why hasn't ESPN updated New York's depth chart yet? I mean, this is an unpleasant reminder of what could've been for anyone still upset that things didn't work out. See for yourself: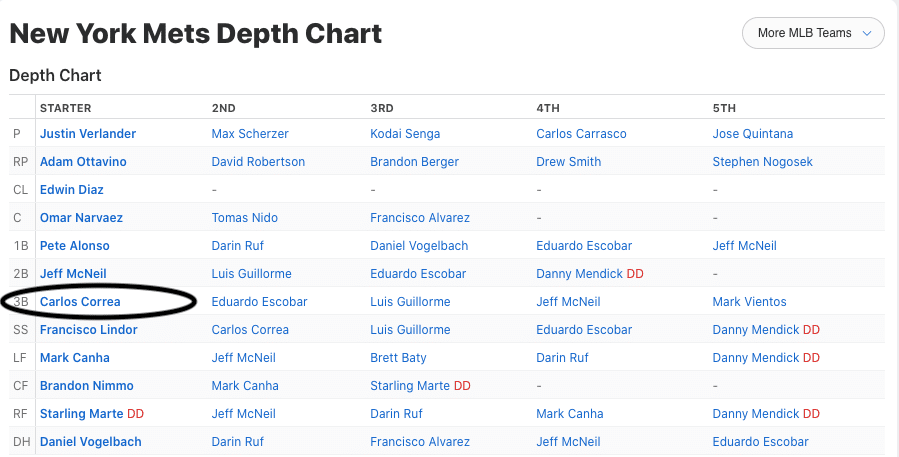 And in case you were wondering, at the time of this original writing (February 3rd), Correa's name isn't showing up on either of ESPN's depth charts for the San Francisco Giants or Minnesota Twins.
This means he needs to report to Port St. Lucie in a couple of weeks, right?
You can also see from the above screenshot that Tommy Pham's name isn't listed in any of the outfield spots. He agreed to terms on a one-year deal with the Mets back on January 18th. It took a few days to finalize his deal, but he's officially a Met. ESPN threw Correa's name on New York's depth chart before any ink even dried on paper.
Similar to what we noticed regarding the jersey numbers for Escobar and Omar Narvaez on the Mets' official website, this is just a simple oversight. I can certainly understand smaller free-agent agreements not getting updated regularly, like Pham's deal with New York. But Correa? You'd think there is some type of protocol that'd ensure major free agents are on the correct team depth charts for the website. But heck, what do I know?
Either way, it's been three weeks since news dropped of Correa agreeing to re-sign with the Twins. That contract actually got finalized, too, so maybe it's time to put him on Minnesota's ESPN depth chart. Just maybe.
Matt Musico can be reached at [email protected] and you can follow him on Twitter: @mmusico8.