Isles' blueline still one of the best in the NHL.
The New York Islanders have had one of the best defenses in the entire league for some time now.
They didn't have one of the higher-scoring offenses last season, but were still able to make it all the way to the Eastern Conference Final because of a dangerous defensive group that was impossible to score against.
Devon Toews, a key member of that blueline and one of the team's best players, was traded this past offseason and many feared that his departure would negatively affect the team's defense.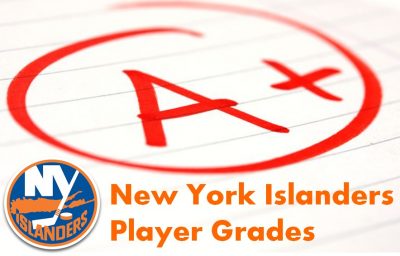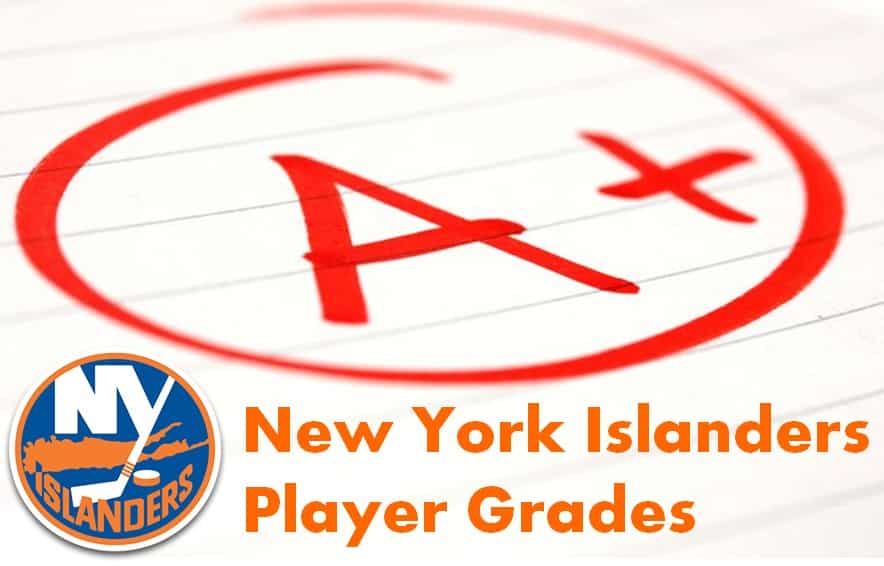 That hasn't been the case, at all. All of the members of that group have stepped up.
Let's take a more in-depth look at this group of defensemen and assessing how they've fared so far this season.
Note: Players are ranked according to average ice-time, from most to least.
RAPM charts are courtesy of Evolving-Hockey.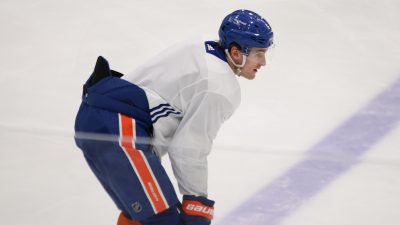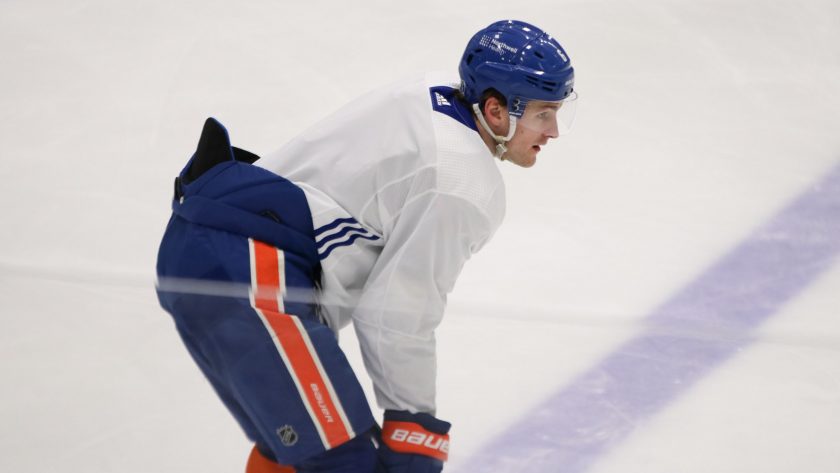 Ryan Pulock, RHD
His numbers so far: 23 GP, 22:29 TOI, 5 A1, 3 A2, 8 PTS, 4 PIM, 1.8 Off, -0.5 xOff, 0.3 Def, 1 xDef, 1 SPAR, 0.4 xSPAR, 1.6 EVO, 0.1 xEVO, 1 EVD, 1.8 xEVD, 0.2 PPO, -0.6 xPPO, 2.7 GAR, 1.2 xGAR, 0.5 WAR, 0.2 xWAR
Ryan Pulock has been snake-bitten as a goal-scorer this season, but he's been the Islanders' best defenseman and is playing the best hockey of his career. He's excellent as both an offensive and defensive defenseman.
Much of the Islanders' success this season can be attributed to Pulock, who is one half of one of the best defensive pairings in the NHL. Pulock is the leader of this defense, which is in good hands for years to come thanks to the 26-year-old.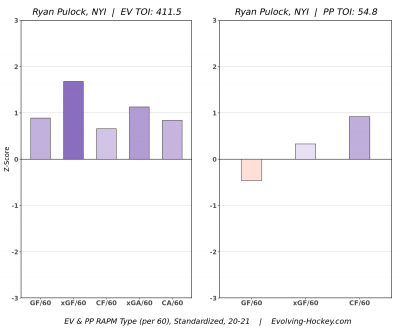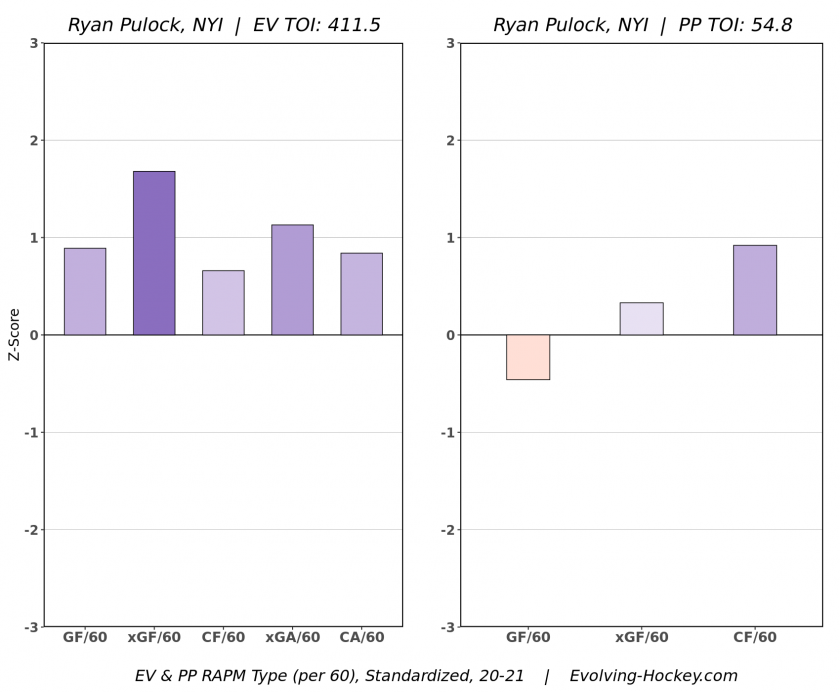 Grade: A
Nick Leddy, LHD
His numbers so far: 23 GP, 21:07 TOI, 1 G, 7 A1, 7 A2, 15 PTS, 0 PIM, 2.9 Sh%, -0.8 Off, 0.3 xOff, 2.1 Def, 2.6 xDef, 0.7 SPAR, 1.3 xSPAR, -1.9 EVO, -0.8 xEVO, 2 EVD, 2.5 xEVD, 1.1 PPO, 1.1 xPPO, 2.1 GAR, 3.7 xGAR, 0.4 WAR, 0.7 xWAR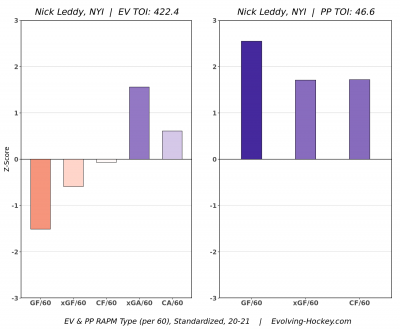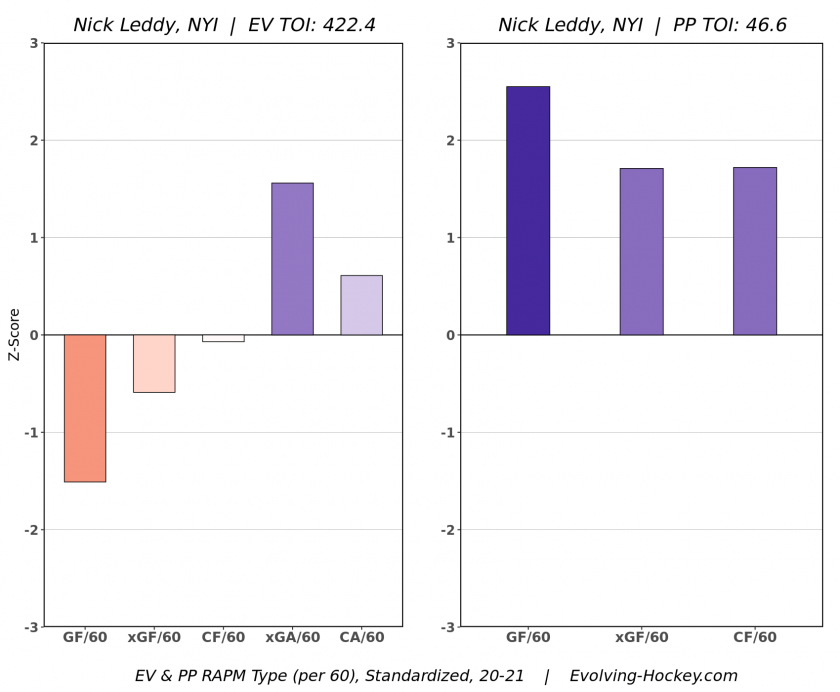 Nick Leddy's all-around game hasn't looked this great in years. His offensive numbers at even-strength could be better, but Leddy has been solid defensively and tremendous on the power play, where he has a goal and seven assists.
The Islanders don't concede many goals, and they have Leddy to thank for much of that. He's been infinitely more valuable to this team than anyone would've expected. He's also caught fire offensively lately, recording five points in his last five games.
Grade: B+
Adam Pelech, LHD
His numbers so far: 23 GP, 20:57 TOI, 1 G, 3 A1, 1 A2, 6 PTS, 16 PIM, 2.6 Sh%, 2.6 Off, 3.6 xOff, 0.5 Def, 0.3 xDef, 1.1 SPAR, 1.4 xSPAR, 1.5 EVD, 1.6 xEVD, 3.1 GAR, 3.9 xGAR, 0.6 WAR, 0.7 xWAR
Have a season, Adam Pelech. If I had told you just a few months ago that Pelech would have some of the best underlying offensive numbers of anyone on the Islanders, you would've thought I was out of my mind.
The other half of that dangerous top defensive pairing, Pelech is putting together his best season to date. His stats are literally off the charts. Pelech isn't a power play guy, at least not like his linemate Pulock, but his play at even-strength has been excellent.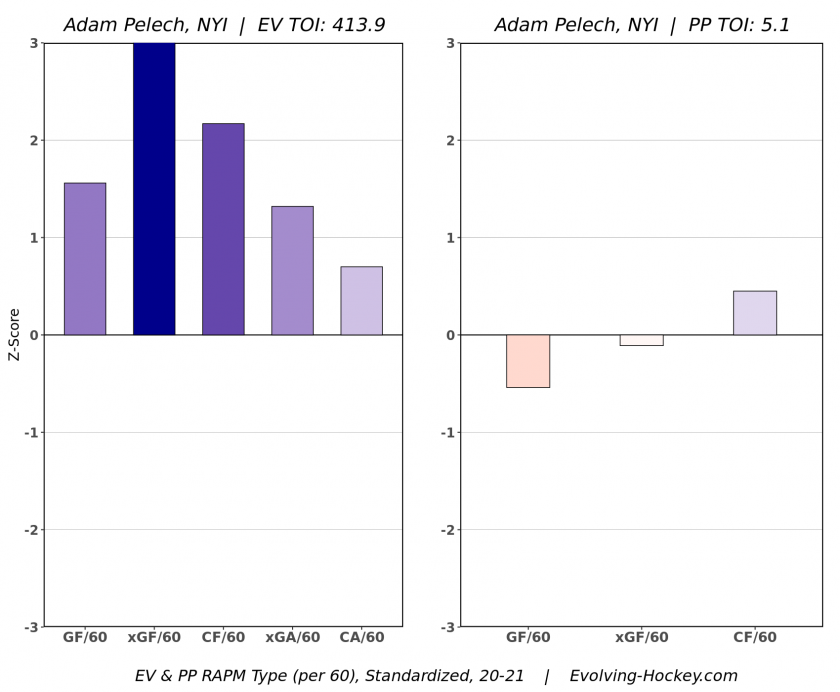 He generates offense, but is also a defensive stalwart. Pelech continues to be one of the most underrated blueliners in the NHL.
Grade: A-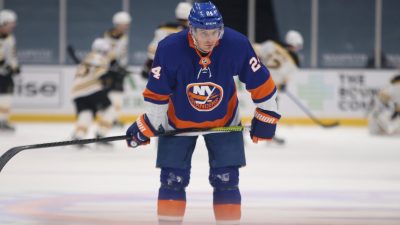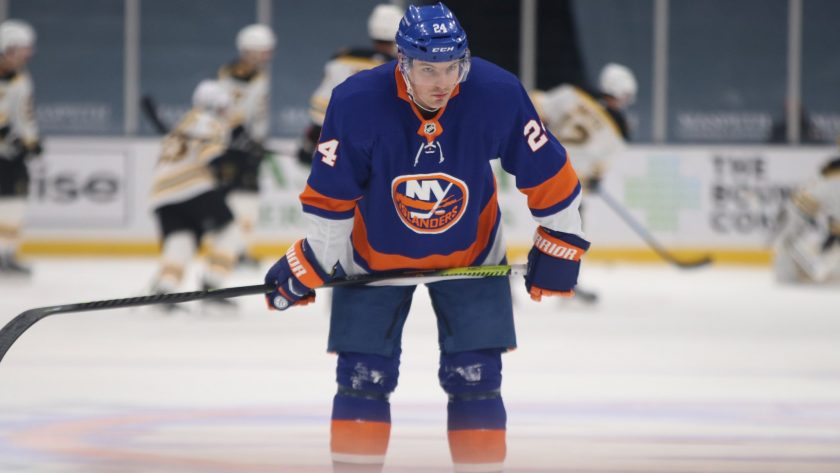 Scott Mayfield, RHD
His numbers so far: 23 GP, 20:57 TOI, 1 G, 3 A1, 1 A2, 6 PTS, 16 PIM, 2.6 Sh%, 2.6 Off, 3.6 xOff, 0.5 Def, 0.3 xDef, 1.1 SPAR, 1.4 xSPAR, 1.5 EVD, 1.6 xEVD, 3.1 GAR, 3.9 xGAR, 0.6 WAR, 0.7 xWAR
Scott Mayfield is one of the weaker members of the Islanders' blueline. His offensive numbers are appalling, and his defensive numbers aren't eye-catching. However, he does do some good, defensively, and has made some big plays for his team.
There were concerns and red flags surrounding the Mayfield-Leddy pairing, but Mayfield is honestly lucky to be playing alongside a guy that's having such a great year like Leddy is.
The offense has never been there for Mayfield, so the Islanders will hope that he can keep improving defensively.
Grade: B-
Andy Greene, LHD
His numbers so far: 23 GP, 17:41 TOI, 2 A1, 2 PTS, 0 PIM, 1.3 Off, -1.3 xOff, 0.5 Def, 1 xDef, 0.8 SPAR, 0.1 xSPAR, -0.4 EVD, 0.2 xEVD, 2.3 GAR, 0.2 xGAR, 0.4 WAR, 0 xWAR
Andy Greene hasn't been particularly good in some time, and his numbers this season aren't pretty, but attacking a guy whose veteran experience is invaluable is pointless.
Greene, who is 38 years old, has been a great influence on the young Islanders' defensemen. He'll make some good plays every now and then, but the organization has valued him more for his experience and his great locker room presence.
Grade: B-
Noah Dobson, RHD
His numbers so far: 23 GP, 17:00 TOI, 2 G, 3 A1, 4 A2, 9 PTS, 4 PIM, 5.4 Sh%, -0.1 Off, 0.4 xOff, -0.9 Def, -0.6 xDef, -0.1 SPAR, 0.2 xSPAR,-0.3 EVO, 1.1 xEVO, 0.3 PPO, -0.8 xPPO,-0.2 GAR, 0.5 xGAR, 0 WAR, 0.1 xWAR
So far this season, most of Noah Dobson's numbers are worse than they were last season, at both even-strength and on the power play. His underlying offensive numbers are bad, but his defensive numbers could be worse.
The fact that he plays alongside an older Greene, who isn't what he once was, definitely impacts his play, but he is better than most teams' third-pair defensemen.
Dobson is also still very young and has much room to grow. We can't forget that this is just his second NHL season.
Grade: B-