The New York Jets possess an abundance of selections in the upcoming 2021 NFL Draft. Who may they acquire?
Soon enough, we'll be able to hear the treasured phrase, "The pick is in." The 2021 NFL Draft begins on Thursday, April 29, and thanks to a number of trades with different teams, the New York Jets will have their name pop up ten times.
That's right. Coming off a 10th straight season without a playoff appearance, the Jets possess ten selections in the annual event and will be looking to land the right talent in order to develop towards a postseason berth, one that hopefully arrives sooner than later.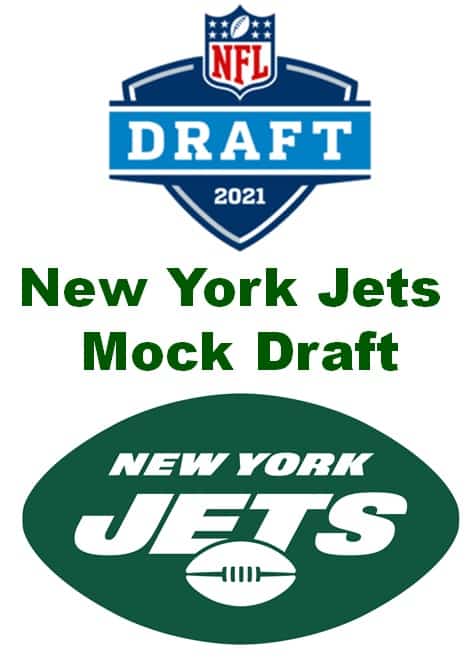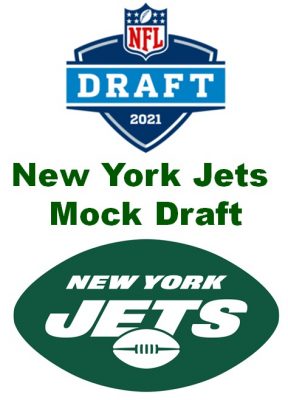 There are numerous positions and roles the Jets must target while utilizing said draft choices, meaning general manager Joe Douglas and his staff will need to meticulously make the right decisions in the evaluation process.
Who could the Jets ultimately acquire ahead of the 2021 campaign?
Let's take a look at our first Jets mock draft of the new offseason.
1st round (No. 2 overall) — Zach Wilson, QB, BYU
The Jets don't 100% need to go with a quarterback at No. 2 and could roll the dice with Sam Darnold while building around the soon-to-be fourth-year player. Nonetheless, drafting Zach Wilson and starting fresh with the star BYU quarterback will likely be the move if the Jets keep this valuable selection.
Last season, Wilson proved to be careful with the ball, recording a 73.5% completion rate with just three interceptions. He combined for 3,692 passing yards and 33 touchdowns in 12 games.
He's additionally athletic and can use his feet, having rushed for 254 yards on a 3.6 yards-per-carry rate with 10 touchdowns this past year.
Wilson will need to develop, but that's fine. Any rookie quarterback does, even the eventual stars. But given his talent and versatility, the Jets will likely choose to go with him instead of risking another down year from Darnold.
1st round (No. 21 overall via Colts) — Terrace Marshall Jr., WR, LSU
The Jets need offensive weapons after ranking last in both total offense and scoring and 31st in passing. Zach Wilson will also need a talented passing-game target to work with, and that's where Terrace Marshall Jr. comes in at No. 21, a pick provided to the Jets after sending Darnold and a 2021 third-round pick (No. 66 overall) to Indianapolis.
The LSU Tiger would bring height to the receiving corps at 6-foot-3. On the field, Marshall carries a knack for the end zone, having combined for 23 touchdown receptions over the last two years. This would be a benefit to a Jets team that threw just 16 touchdown passes all of last season.
Marshall caught 48 balls for 731 yards and 10 touchdowns last year, a season that included opponents such as Missouri, Auburn, and Texas A&M.
1st round (No. 23 overall) — Jaycee Horn, CB, South Carolina
Given the number of contracts that are expiring in and around the Jets defensive backfield, New York may need a new starting cornerback for 2021 and beyond.
Enter: Jaycee Horn at No. 23.
Horn can be physical, having combined for 85 tackles from 2018-19 (23 games). He additionally notched 23 pass breakups in 30 total collegiate matchups.
The 21-year-old could develop into a long-term starter especially if Brian Poole doesn't remain in Florham Park. And if he doesn't start right away, that's fine. It's still useful to employ depth in the defensive backfield.
2nd round (No. 34 overall) — Quincy Roche, EDGE, Miami (FL)
The Jets will require a young edge rusher to fill a void if Jordan Jenkins and Tarell Basham both depart. New York additionally just needs general help at that position, considering the team combined for 31 sacks last season (tied for 20th in the NFL).
Quincy Roche racked up 4.5 sacks for Miami last year but recorded 13 while with Temple in 2019. His 30.5 sacks across 45 collegiate games translate to 10.8 per 16 games.
Roche's efforts earned him the AAC Defensive Player of the Year Award and a spot on the All-AAC first team in 2019. He was a third-team All-ACC selection in 2020 and would probably find decent playing time with the Jets right away.
3rd round (No. 87 overall) — Rhamondre Stevenson, RB, Oklahoma
With the lingering uncertainty regarding La'Mical Perine's ability to be a true No. 1 back, the Jets will likely utilize a running back committee.
The team could use someone bigger than Perine (216 pounds), and Oklahoma's Rhamondre Stevenson (247 pounds) fulfills that requirement.
Stevenson underwent a productive 2020 at Oklahoma; he averaged 110.8 rushing yards per game with seven touchdowns to go along with 18 catches and 211 yards through the air.
He could be a multi-purpose back and wouldn't assume overwhelming responsibility given the other backs currently present on the Jets roster.
4th round (No. 98 overall) — Garret Wallow, LB, TCU
Hopefully Neville Hewitt returns on a new deal and the Jets get C.J. Mosley back after he opted out of the 2020 season due to coronavirus concerns. But regardless, it's beneficial to employ depth at the inside linebacker position, and in the fourth round, the Jets could address that need with the selection of TCU's Garret Wallow.
The Horned Frog is a tackling machine. He racked up 295 total tackles in 40 career collegiate games (7.4 per game) and ultimately recorded 125 total tackles (77 solo), 18 tackles for loss, and 3.5 sacks through 12 games in 2019.
The Jets could initially utilize him as a situational linebacker, and he may possess knowledgeable professionals in Hewitt and Mosley to learn from moving forward.
For what it's worth, Wallow was a two-time All-Big 12 first team selection (2019 and 2020), two-time Honorable-Mention Big 12 Defensive Player of the Year (2019 and 2020), and an Honorable-Mention All-American in 2019.
5th round (No. 130 overall) — Josh Ball, OT, Marshall
The Jets could use a reserve tackle, and a selection focusing on the offensive line would be beneficial just in case Mekhi Becton and/or George Fant suffers an injury.
Marshall's Josh Ball sports fantastic size at 6-foot-8, 309 pounds, and the height is surely an advantage.
On The Draft Network, Ball is the 18th-ranked offensive tackle prospect.
5th round (No. 138 overall) — Caden Sterns, S, Texas
You can never possess enough depth in the defensive backfield, as we say all the time. That's especially the case with multiple expiring contracts in the Jets secondary.
In the fifth round, the Jets could snag a young safety and utilize him as a situational defensive back, and if he efficiently develops, his role could expand down the line.
Texas' Caden Sterns is a physical safety who notched 173 total tackles through 29 games at the collegiate level (six tackles per game). His 62 total tackles, four interceptions, and four pass breakups in 2018 led to him receiving the Big 12 Defensive Freshman of the Year Award and a first-team All-Big 12 selection.
6th round (No. 162 overall) — Bryce Thompson, CB, Tennessee
It's the "never enough depth" concept, coming to you live once again in the sixth round.
While Bryce Thompson doesn't have outstanding size (6-foot, 180 pounds), he was semi-productive for the Volunteers, having notched eight interceptions and 100 total tackles through 31 collegiate games.
Given his late-round status, Thompson doesn't need to be a star in the NFL but could be a reserve cornerback for the Jets who finds playing time in certain on-field scenarios.
7th round (No. 215 overall) — Brandon Smith, WR, Iowa
Add one more offensive weapon, why not? Again, the team was at the bottom of the league (or at least near the bottom) in a multitude of offensive categories. And with a new rookie quarterback, you might as well stock up on potential passing-game targets.
Brandon Smith brings favorable size at 6-foot-2, 218 pounds and gained 1,031 combined yards through the air over the last three seasons (26 games) with the Hawkeyes.
He wasn't entirely productive, but that's why he could still be on the board in the later rounds. Not to mention, him going up against pro-like competition in college is a plus. In 2020, Smith and Iowa faced the likes of Northwestern, Penn State, and Wisconsin in the Big Ten.